9 Prolific Actor/Director Combos Not Quite as Cool as Johnny Depp and Tim Burton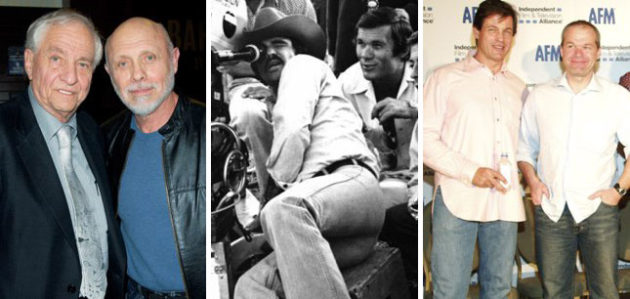 This weekend sees the release of Dark Shadows, marking the eighth time director Tim Burton has teamed with Johnny Depp, his second-favorite performer on screen. (He no doubt frequently has to tell Helena Bonham Carter as much.) So natural is their pairing that we have come to expect a certain level of quality and/or box-office performance from their combined efforts, and an announcement of a new Burton title has generally come to carry the promise of a Depp appearance. Although Hollywood has long brought us such fruitful and lucrative actor/director relationships — from both Cary Grant and James Stewart's collaborations with Alfred Hitchcock to Robert De Niro's legendary work with Martin Scorsese — consider nine other long-term pairings packing a little (or a lot) less luster.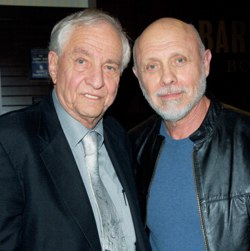 Héctor Elizondo / Gary Marshall
After Marshall cast character actor Elizondo in his feature directing debut, soap-opera spoof Young Doctors In Love, the two became friends to such an extent that the actor has now appeared in every one of Marshall's 17 movies. Be it the modern fairy tale Pretty Woman, to the retro fairy tales of The Princess Diaries, or Marshall's latest unwatchableholiday pictures, Elizondo always manages to steer things a bit closer to the side of classy.
Matt Walsh / Todd Phillips
As Phillips rose up the Hollywood ladder with his frat-boy-centric films he has done two things: struck box office gold, and taken actor-comedian Matt Walsh with him. Walsh has the kind of face you note, if not outright recognize, thanks to a long career of comedic appearances. But this co-founder of the Upright Citizens Brigade Theater is arguably best known as the doctor to whom the Vegas revelers turn for information in The Hangover, and Walsh worked with Phillips for a sixth time in the follow-up, Due Date. Many of those roles found him playing a character by the name of Walsh.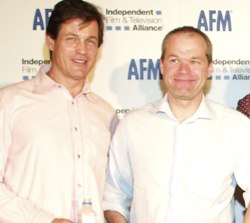 Michael Paré / Uwe Boll
Over the years, critics and Internet trolls have made the German director Boll a punchline — and a punching bag — for his output of horrific titles. Two questions continue to confound: How does he get funding for new projects, and how does he find actors willing to stand in front of his cameras? Paré might be the guy to ask. Despite the director's infamous reputation, the actor has teamed with Boll nine times so far. This may actually be a cunning move on Paré's part; after all, for all of the bile Boll's films manage to generate from the crowds Boll manages to absorb all of the scorn; his casts are not generally cited as a problem (Tara Reid being a notable exception).
Dom DeLuise / Don Bluth
Among the consistent threads running through the Pixar catalog, few are better known than the voice work of John Ratzenberger. Yet back when Ratzenberger was still Cliff Clavin on Cheers, Dom DeLuise was the go-to pet voice for ex-Disney animation director Don Bluth in such films as The Secret of NIMH, An American Tale, All Dogs go to Heaven, and A Troll in Central Park. In fact, DeLuise was so linked to Bluth in the '80s that when the popular The Land Before Time was released in 1988, DeLuise's exclusion was among its most noteworthy attributes. The reason for this absence? Deluise was already committed to working on the Disney title Oliver and Company.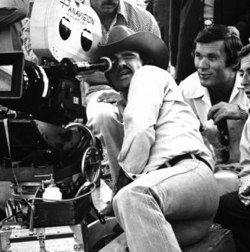 Burt Reynolds / Hal Needham
Needham was a longtime stuntman in the industry who innovated in his realm and graduated to stunt coordination and then second-team directing on action pictures. Along the way he befriended Burt Reynolds, and the pair teamed up in 1977 for Needham's hit directorial debut Smokey and the Bandit. Reynolds was key to Needham's development as a filmmaker; his ability to take on physical aspects of a role and his masculine persona (at the height of its popularity) helped spackle over the gaping holes in Needham's films. The audience reaction was palpable — of their six collaborations, only the 1983 auto-racing comedy Stroker Ace was a box-office bust.
Steve Kahan / Richard Donner
Donner's directing career dates back to television of the early '60s, with a varied collection of blockbusters over the decades. Lesser known is his partnership with his cousin Kahan, spanning 35 years and 12 films. Possibly best recognized as the put-upon Captain Murphy, who dealt with Mel Gibson and Danny Glover throughout the Lethal Weapon franchise, Kahan started as a cop in the original Superman. He parlayed that into a lengthy career as a character actor, something he can be grateful to Donner for helping promote.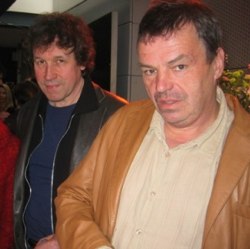 Stephen Rea / Neil Jordan
The Irish writer/director has built an impressive career, and it was a natural fit when he first teamed with the Irish stage actor Rea. They have gone on to make 10 films together, though perhaps none shows Rea's commitment to Jordan's craft than their Oscar-winning triumph The Crying Game.
Frank Oz / John Landis
The comedy director John Landis enjoys populating his films with cameo appearances by other directors, and none has crashed his party more than Frank Oz. First appearing in Landis's Blues Brothers (he was the prison storeroom clerk who returned John Belushi's prophylactics – one soiled) he went on to appear in six Landis films. In two other Landis titles – Into the Night and Coming to America – the director does not appear, but the name Frank Oz is heard being paged over an intercom. Oz once returned the favor, giving Landis a brief appearance in The Muppets Take Manhattan.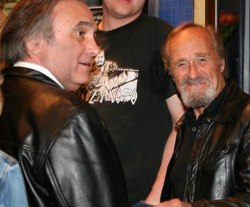 Dick Miller / Joe Dante
Dick Miller has an acting sheet that stretches back to the 1950s, with over 100 screen credits — many featured in projects by the prolific and inspirational Roger Corman. During that time Miller became friends with one of Corman's numerous acolytes, Joe Dante, and the pair formed a professional bond. Since Dante graduated to directing his own titles in 1976, he has included Miller in every one of his films. Miller's most iconic appearance under Dante's direction was probably in the wildly popular Gremlins.
Brad Slager has written about movies and entertainment for Film Threat, Mediaite, and is a columnist at CHUD.com. His less insightful impressions on entertainment can be found on Twitter.