Sean Penn vs. Ryan Gosling in Gangster Squad Trailer: Nothin' But a Gangsta Party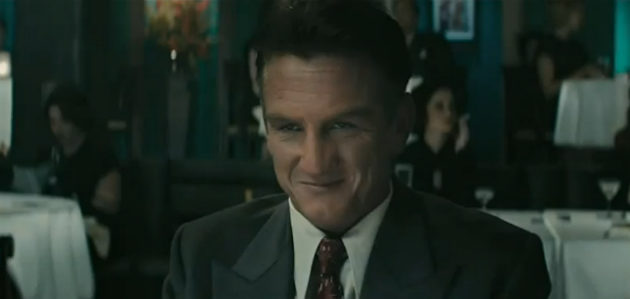 There's so much swagger on display in the first trailer for Ruben Fleischer's period crime drama Gangster Squad that I hardly know where to start. Maybe Sean Penn's growly Mickey Cohen, the East Coast mobster who's come out west to reign as a god over all of Los Angeles? Or Josh Brolin's stoic turn as the head of an off the books secret cop squadron trying to shut Cohen down? Or Ryan Gosling soft-talking his way into Emma Stone's underoos then blowing away baddies with the moral turpitude of the best tough-guy antiheroes?

And that's not even taking into account the rest of this insanely deep cast: Nick Nolte, Anthony Mackie, Giovanni Ribisi, Robert Patrick, Frank Grillo, Michael Pena, and Sarah Linden from The Killing?
Ultimately, I'm gonna award top gangsta points to Penn as Cohen, the boxer-turned-Capone compatriot who ran his mob racket in Hollywood in the '40s and '50s. It looks like he and Gosling will have a charisma-off in Gangster Squad, a film ballsy enough to end its trailer with a glimpse of mobsters literally shooting through a movie theater screen, coming at the audience, tommy guns blazing.
Verdict: Someone get this a release date, stat.