REVIEW: Bromantically Whimsical A Bag of Hammers Gets By on Scruffy Sweetness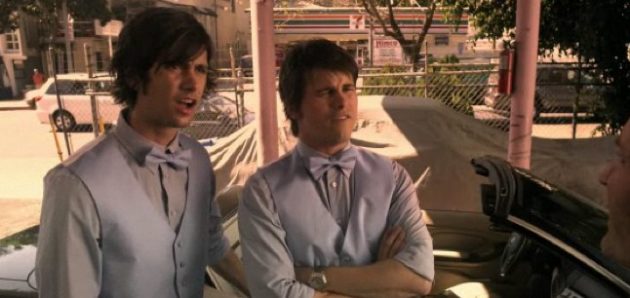 What if The Sting's Henry Gondorff and Johnny Hooker could be your surrogate parents? And what if they were also SoCal slackers? That seems to be the thought at the center of Brian Crano's directorial debut, an uneven but appealing dramedy about two car thieves and petty con-artists who end up taking charge of an abandoned 12-year-old boy. It's a film that should be appallingly twee, but more often than not is actually scruffy and sweet, thanks to a nicely underplayed turn by Chandler Canterbury as the kid, Kelsey, and the chemistry between Jason Ritter and Jake Sandvig (who co-wrote the film with Crano) as hipster grifters Ben and Alan.

The pair are incredibly unconvincing as criminals, which is partly the idea -- they dress up in hideous bow-tied uniforms and stand outside funerals with a notice offering complementary valet parking. It works because they look like schmucks -- why would anyone wear formal shorts and stand outside in the sun for hours if they weren't getting paid to do so? When someone bites, they take his or her car, throw their sign in the back and drive straight to a shady garage run by Marty (Todd Louiso), the least threatening stolen vehicle fence imaginable. This low-key illegal operation is barely sketched out -- wouldn't someone eventually spread news of this scheme? -- and ends up being more symbolic of the man-child refuge the two have created for themselves.
Ben and Alan live in the guest quarters in the backyard of a larger house they rent out to tenants; they have cookouts on the porch, on which they also like to sit in fancy bathrobes; and they pay regular visits to Alan's sister Mel (Rebecca Hall), who works at a chain diner that requires employees to do a dance to welcome their customers, and who's in school and disapproves of their illicit moneymaking schemes. It's hard to say whether A Bag of Hammers is deliberately stylized or simply so lo-fi it inadvertently comes across that way, but the simplicity of its elements works. (It resembles last year's Bellflower in that it creates a sense of an enclosed alt Los Angeles universe by stripping away all the mundane details and consequences.) Ben and Alan have created a loafer's Neverland in their Burbank back house, an easy life that's far from the troubled childhoods they mention in passing. They don't have any further plans to expand their criminal enterprises -- when presented with a gun by Marty, Ben looks shocked. And they have no desire or motivation to change, until Kelsey comes into their lives.
Kelsey and his mother Lynette (True Blood's Carrie Preston) are the front house's current tenants, driven, according to Lynette, from their home in Louisiana by Katrina. Kelsey's a serious kid, but his mother seems scattered and frazzled. While Ben and Alan are idly talking about who would win in a fight (the Ultimate Warrior being the answer to all scenarios) or accidentally stealing the car of Ben's ex girlfriend (Amanda Seyfried) while leading charmed lives ("What if our luck runs out?" one asks, to which the other replies "Our con luck or our regular person luck?"), Lynette goes from job interview to job interview. In her desperation for cash, she completely neglects her son -- and things get worse with child services and a concerned teacher (Gabriel Macht) lurking in the wings.
The shift between quirky comedy and emotionally scarred drama doesn't really work out, but A Bag of Hammers remains fairly light despite some serious developments threatening to encroach on the boys' bubble. When Kelsey ends up in their care, Alan is ready to commit to raising him (despite being utterly unprepared to care for a child), while Ben is alarmed -- "We can't even keep fish!" -- and Mel is the voice of reason, a voice pointing out that they're being ridiculous. A Bag of Hammers' mistrust of systems and authority figures -- who tend to either be abusive or too caught up in their own problems to pay attention -- seems strange given the bromantic whimsy with which its main characters have chosen to live their lives, like eternal kids whose parents are away. But Lynette's dilemma comes across as genuinely distressed and free of bathos, conveying the despair of running up against an unmovable wall again and again.
The title comes from the name Ben has for the difficulties life hands you -- you're burdened with "a bag of hammers" representing the poverty in which you grew up, or the cancer that claims your loved ones, or the accident in which your brother died, or the divorce that splits up your family. "The thing is what you do with these hammers," Ben explains. As metaphors go, it doesn't make much sense -- isn't the saying "a box of hammers," and doesn't it refer to someone's idiocy? -- but then, neither does the world in which the movie takes place. That it works as well as it does is a pleasing accident.
Follow Alison Willmore on Twitter.
Follow Movieline on Twitter.