REVIEW: Chloe Moretz and Blake Lively Almost Steal Away with Hick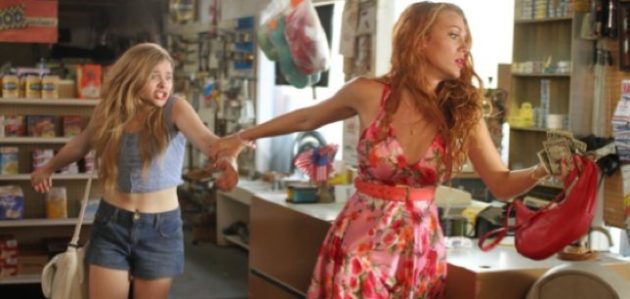 At age 15, Chloë Grace Moretz is now right in the center of the child/adult Venn diagram. Pretty soon we'll have to accept that she really is a young woman, but for now, it's slightly discomfiting to see her in the jailbait short shorts and tiny halter tops she wears in Derick Martini's Hick. Even in the old days, girlhood went by in a flash, and most contemporary parents will tell you that today those years of innocence — or at least perceived innocence — are even more compressed. Plus, some girls just move faster than others: Moretz's character in Hick is an unhappy 13-year-old named Luli who doesn't yet know how to use her sexual allure, though she's vaguely aware that she's got some. She can't wait to grow up and get the hell away from her tiny, repressive Nebraska town and her heedless parents (played by Juliette Lewis and Anson Mount), and her urgency gives the movie whatever momentum it has.

Which, unfortunately, isn't much. Hick, which is based on Andrea Portes' 2007 novel (she also wrote the screenplay), walks the jittery line between being exploitative and too sensitive, and while it's probably a relief that it tips more toward the latter, the movie also seems a bit unclear in its motives. In an early scene, we see Luli testing out the revolver — it's a Smith & Wesson .45, she's quick to correct anyone who merely calls it a "gun" — her uncle has just given her for her 13th birthday. She stands in her bedroom, dressed in a T-shirt and multi-colored frilly panties, her hair gloriously tousled in a Bardot-like way; she tilts the barrel this way and that as she tests out lines from tough-guy movies. She's adorable and, heaven help us, sexy, and at this point in the picture, Martini is very clear about sending that mixed message: The crossed signals are unsettling, but they're also full of life.
When Luli is betrayed — seemingly not for the first time – by her mother, she decides to leave her family's ramshackle house for a better life somewhere else, and she chooses Las Vegas. She puts on some fuchsia plastic sandals and a pair of oversized sunglasses, slings a fringed bag over her shoulder and hits the road — she's like a sweet, tadpole version of Jodie Foster's Iris. Not much later, she hitches a ride with Eddie (Eddie Redmayne), a cowboy of few words, though the ones he uses suggest that he's an untrustworthy hothead. After he tosses her out of his pickup for sassing him — did I mention Luli is a champion sassy-mouth? — she meets another wanderer, Glenda (Blake Lively), a tall drink of water in a twirly dress straight out of Picnic. (The movie is set, as suggested by source music that includes the Cars, in the early 1980s, though it has a somewhat stylized fairy-tale, any-era vibe.) Glenda ropes Luli into a robbery that goes wrong, though it's clear that Luli's conscience won't allow her to head too far down a crooked path.
And before long, she has bigger things to worry about, anyway: Through much of the movie — after that early guns-and-panties scene — most of the characters Luli encounters don't seem to notice how alluring she is. Then, suddenly, they do notice, and Martini and Portes attempt to steer the movie into darker, more sinister territory. In broad terms, the tone switch makes sense, but Martini — who previously directed the 2009 feature Lymelife — doesn't quite know how to signal it, or how to handle its seedier, grainier texture.
You can't blame him for working hard not to be too sordid and sleazy. And the picture, despite its potentially controversial subject matter, hasn't been accompanied by the same nervous anticipation that heralded Deborah Kampmeier's 2007 Hounddog, starring Dakota Fanning, a movie whose buzz was bigger than its actual bite. But Martini's sensitivity toward his lead character puts his movie in a bind: We desperately do not want bad things to happen to Luli, but we can't be indifferent to all of her charms, either. In the end, the story's potential emotional complexity — the idea that we might want to protect a young character while also recognizing her waiting-in-the-wings sexuality — ends up in a bland gray area.
That's frustrating, because you get the sense the actors, particularly Lively and Moretz, could have taken this story anywhere. In her off-duty hours Lively is certainly an upscale-looking girl, making repeat appearances on the cover of Vogue. But in the movies, she never plays down to her characters. Here, as she did in The Town, she makes you believe in her character's mixed-up soul, not just in a particular accent or in a way of standing that signals "person from the other side of the tracks." She's a promising actress who's probably capable of much more than she's yet been asked to deliver. And Moretz, standing in that slender oval center of the Venn diagram, plays Luli not as a victim-in-waiting but as an adult-in-waiting. She still has a degree of childlike innocence, and it's touching. But the bold curiosity in her eyes is far more interesting than that innocence is. Moretz doesn't have many years, or months, left to play characters like Luli. While she seems to be making the best of each moment, she also conveys the sense she's ready to move on, and it's probably time.
Follow Stephanie Zacharek on Twitter.
Follow Movieline on Twitter.