Kristen Stewart, On the Road Coming to America Via IFC Films/Sundance Selects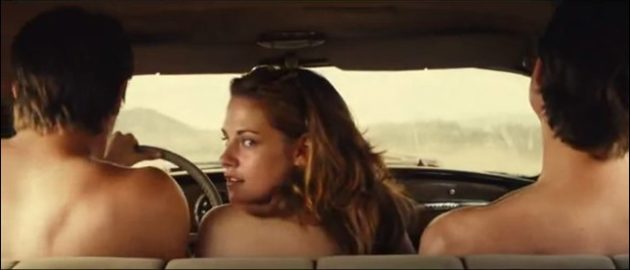 The 2012 Cannes Film Festival remains a week away, but the wheeling and dealing is already underway — and probably not coincidentally, for competition films starring Robert Pattinson and Kristen Stewart. Last week it was Pattinson's edgy David Cronenberg collaboration Cosmopolis going to E One, and tonight it's Stewart's long-awaited Jack Kerouac adaptation On the Road — just announced as the proud acquisition of IFC Films and Sundance Selects. Read on for the full details, and stay tuned to Movieline for more fest news as Cannes 2012 approaches.

===========
New York, NY (May 8, 2012) – AMC Networks announced today the acquisition of all US rights to acclaimed filmmaker Walter Salles' ON THE ROAD to be released jointly by the company's film distribution labels IFC Films and Sundance Selects. Based on the iconic novel by Jack Kerouac, the film stars Garrett Hedlund, Sam Riley, Kristen Stewart and Kirsten Dunst and features performances by Amy Adams, Tom Sturridge, Danny Morgan, Alice Braga, Elisabeth Moss and Viggo Mortensen. The screenplay is by Jose Rivera (Academy Award® nominee for THE MOTORCYLE DIARIES). The MK2 Production was produced by Nathanael Karmitz, Charles Gillibert, Rebecca Yeldham and Roman Coppola for American Zoetrope. Executive producer Francis Ford Coppola has been developing the project since 1978.
The World Premiere for ON THE ROAD is set for the upcoming Cannes Film Festival in the Competition Section. A major theatrical release is planned for late Fall.
Josh Sapan, CEO and President of AMC Networks said of the film, "Walter Salles has made an ambitious and accomplished film out of Jack Kerouac's iconic novel. It's a classic road movie with career-making performances from Garrett Hedlund and Sam Riley, and a terrific showcase for Kristen Stewart and Kirsten Dunst. This exceptional piece of filmmaking is the cinematic equivalent to the ground-breaking original content that our company produces for its networks."
Jonathan Sehring, President of Sundance Selects/IFC Films said: "This is a major step forward for us, and we plan to work across AMC Networks in putting all our resources together to make this theatrical release into a significant cultural event. We will show the same passion in releasing this film as the team took behind producing it. We're honored to be working with our friends Nathanael Karmitz and Charles Gillibert at MK2, Walter Salles, Rebecca Yeldham, Roman Coppola and Francis Ford Coppola."
Nathanael Karmitz (President-MK2) and Charles Gillibert (Producer-MK2) said: "ON THE ROAD changed the lives of many people, it changed the life of MK2 and it will also have that effect on AMC Networks and its labels' IFC Films and Sundance Selects. We had a lot of interest from US distributors but thecombination of AMC Networks great promotional appeal with IFC Films and Sundance Selects' experience in distribution is an innovative and ambitious way to bring ON THE ROAD great success in the US. We were also very touched by the passionate approach of Josh Sapan and Jonathan Sehring and by the enthusiasm of their team."
This marks the fourth time that the two companies have collaborated following Olivier Assayas' SUMMER HOURS, Abbas Kiarostami's CERTIFIED COPY, Gus Van Sant's PARANOID PARK and Assayas' upcoming SOMETHING IN THE AIR.
ON THE ROAD tells the provocative story of Sal Paradise (Sam Riley), a young writer whose life is shaken and ultimately redefined by the arrival of Dean Moriarty (Garrett Hedlund), a free-spirited, fearless, fast talking Westerner, and his girl, Marylou (Kristen Stewart). Together, Sal and Dean travel cross-country in a quest for freedom from the conformity and conservatism engulfing them, in search of the unknown, themselves, and the pursuit of "it" -- the pure essence of experience.
Seeking unchartered terrain and the last American frontier, the duo encounter an eclectic mix of men and women -- Bull (Viggo Mortensen), Camille (Kirsten Dunst), Carlo (Tom Sturridge), Jane (Amy Adams), Terry (Alice Braga), and Galatéa (Elisabeth Moss) – each adding meaning to their desire for a new way of life.
Born in Rio de Janeiro, Walter Salles is credited with helping Brazilian cinema return to international prominence in the late 1990s. His credits include THE MOTORCYCLE DIARIES about the life of young Enresto Guevara who later became known as Che. The acclaimed film was a success at the box office and received Academy Award® nominations for Best Adapted Screenplay for Jose Rivera and Best Song. Most recently he directed with Daniela Thomas the film LINHA DE PASSE, which won Sandra Corveloni the Best Actress at the 2008 Cannes Film Festival.
###