What are the Weirdest Avengers Merchandise Tie-Ins?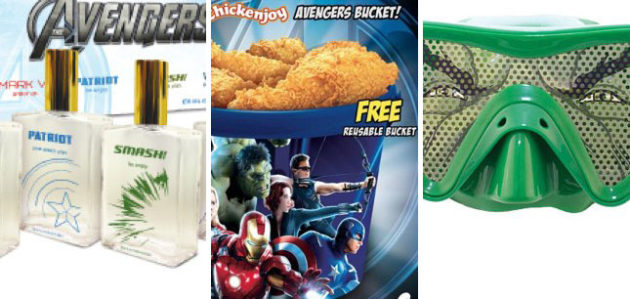 It has been years in the making. It is epic in scope. It contains elements beloved by millions. "It" is the marketing campaign for the hotly anticipated superhero gathering The Avengers, and as promotional surges go, those are high standards to maintain. Hence the $100 million worth of international promotional partnerships formed by Marvel and Disney — although, with such a global presence, it seems natural that a few of their marketing and merchandising moves would make less impact than Mjölnir. Behold the weirdest of what you may find touting the the comic-book blockbuster in the United States and beyond.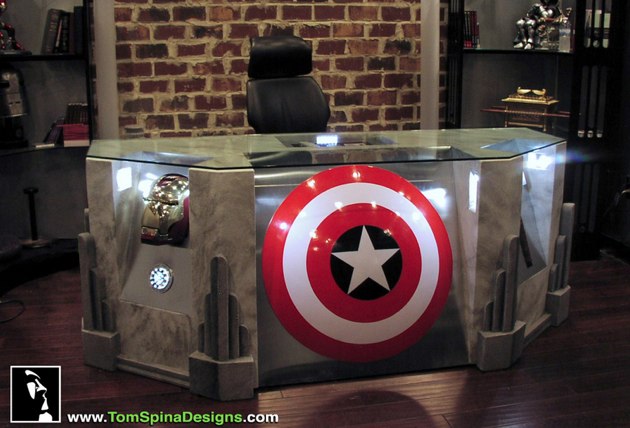 Breaking the mold from conventional products — and conventional fanboys — is this customized collector's desk, created by Tom Spina Designs. Made for a dedicated fan with a collection of screen props, this desk features items gathered from Captain America, Iron Man and all of their Avengers peers.
This calls to mind another high end piece of furniture based on the franchise...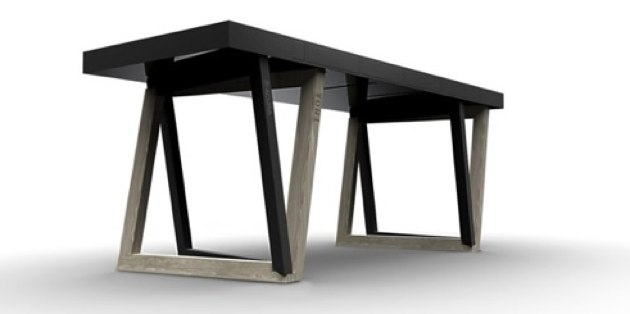 Studio Dror created a S.H.I.E.L.D desk in conjunction with movie partner Acura. The spartan surface hides a number of compartment, hidden speakers and an iPod dock. The overall appearance calls to mind a possible scene where the members of the team turn to Thor's Nordic experience to help them decipher the arcane instructions to an IKEA design.
Meanwhile, though the snake-oil element of power/balance bracelets has largely been exposed here in the U.S., it looks as if Japan still clings to the supposed benefits of these adornments. Fashioned after Tony Stark's suit-summoning device seen on screen, the firm Colantotte offers its Limited Edition Avengers Magtitan Neo Legend bracelet in titanium, stainless steel, and carbon fiber: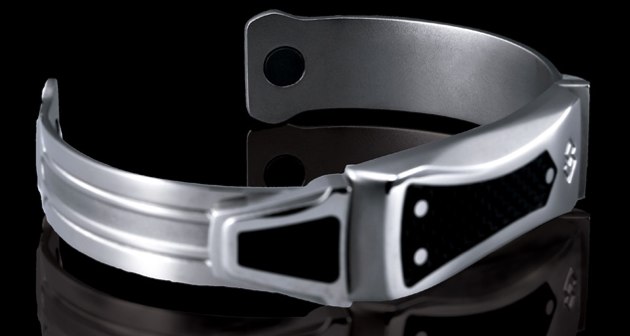 It uses the power of magnets to — uh, well, help you out. Plus it is versatile: "Perfect both for Avengers thwarting arch enemies at the top of their game, or for everyday casual/business use." The bling's benefits sound impressive: They are axially magnetized in their trademarked "alternating north-south polarity orientation" (ANSPO) — which basically means the manufacturer took one of the magnets and flipped it over.
Occasionally a major release will provoke a company to come out with a signature fragrance linked to either the film or a character. Well, credit the masterminds at JADS International with recognizing the immense scope of this film via seven fragrances based on Avengers players, including Nick Fury AND Loki:
Close your eyes for a moment and picture the behemoth that is the Hulk, veins coursing with secretions as he is covered in a sheen of perspiration. So what do you imagine he smells like? Nope, you're wrong. According to the company, his fragrance is one of "Yuzu, bergamot and tarragon which create clean, clear top notes along with unexpected accords of water lily and nutmeg. SMASH! then carries an intense woody drydown enriched with Indian sandalwood, vetiver, musk and sharp cedar." Tony Stark also gets his unique Mark VII aroma combining "mandarin, neroli, nasturtium and jasmine layered with light patchouli." I'd say they got that one wrong. Actually I was expecting a light expression of pneumatic fluid mixed with fumes from 12 year old scotch, and just a whiff of shame.
Fast-food tie-ins with comic book franchises are nothing new. However, one growing trend is the major studio release with tie-ins perfectly suited for American audiences yet unavailable Stateside. One such example is the Philippine chicken franchise Jollibee. For The Avengers, Jollibee not only offer up themed, reusable chicken buckets for their larger orders, but you can also purchase an additional item related to the film. Knowing the obsessives who collect Slurpee straws with characters on them, I presume many would clamor for these heat-reactive cups with hidden movie graphics. Just a couple of dollars in stores these will probably be fetching near $20 (after shipping, natch) on eBay very soon.
Comic book films generate copious toy franchising opportunities, even when they make no sense. Slapping the image of characters on anything from playground balls to flashlights generates sales. The Avengers has even lured one company into being the exclusive slot-car producer for the film. But one product that truly defies logic is the Hulk diving mask: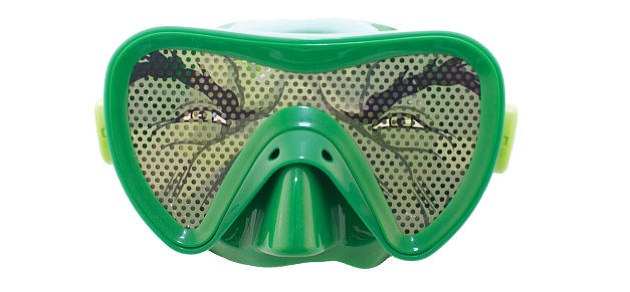 Is it really considered a clever move to obscure your child's vision while underwater, all in the name of "resembling" his or her favorite gargantuan green Avenger?
Anyway, the tie-in heft of a summer blockbuster with luncheon meat is obvious. I say this because it continuously occurs, even as you or I fail to see the connection. The Land-O-Frost company once again has joined a major studio in promoting its title by placing stickers on meat packs and staging a contest for customers. You, too, can feel a kinship with supernaturally gifted heroes by eating machine-stripped, processed and mechanically extruded ham loaf. Europe also has realized the cold-cut windfall to be had, with the Italian company Montana Foods following suit. Heroic baloney in Bologna — who'd have guessed?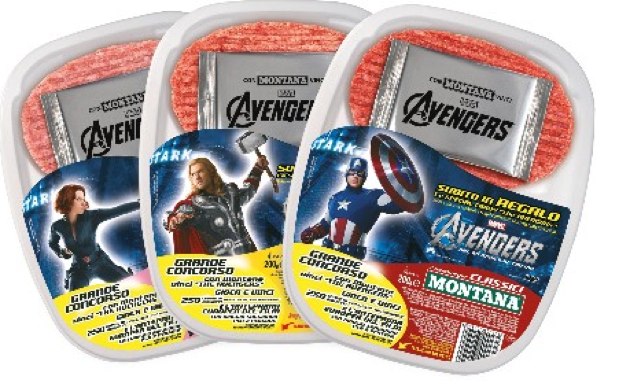 As we all know by now, Disney owns Marvel, and therefore the studio is able to platform its marketing with other company assets. Some can make sense, like covering the iconic monorails at Disney theme parks in graphics for the movie. But just because you can synergize doesn't mean you should synergize. To wit, Disney also owns the ABC network. Therefore it was decided by somebody with a John Carter-like vision to stage a scene of the dwindling soap opera General Hospital with characters standing in front of an ersatz movie theater, discussing deep emotional plot points in front of banners for Avengers.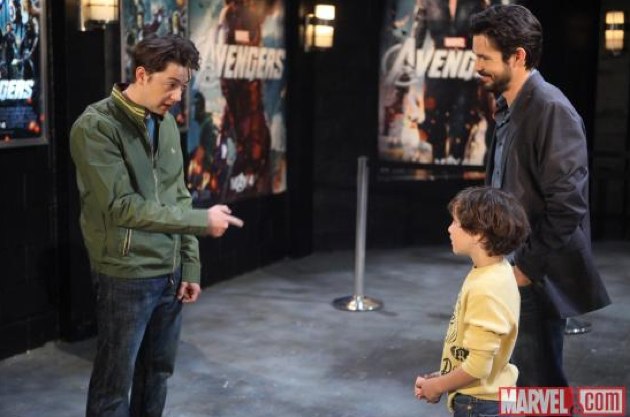 I'm betting some marketing suit was brought into a board room and schooled loudly on some of the basics of Demographics-101. It would take a James Franco stunt-cameo to get tickets sold from that aged audience.
Brad Slager has written about movies and entertainment for Film Threat, Mediaite, and is a columnist at CHUD.com. His less insightful impressions on entertainment can be found on Twitter.