Los Angeles Film Festival: Magic Mike, To Rome With Love Premieres Bookend 2012 Lineup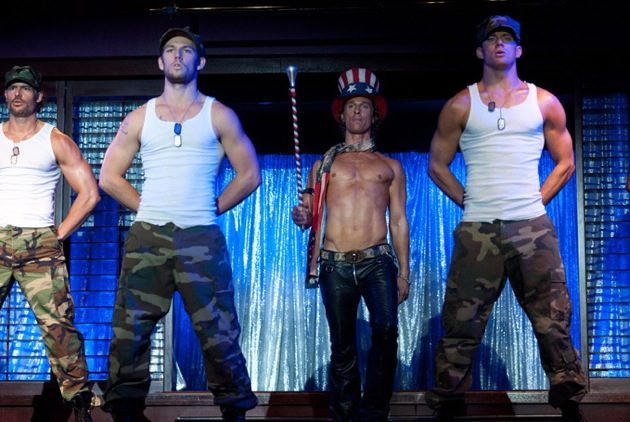 The Los Angeles Film Festival unveiled its lineup of nearly 200 features, shorts and more today. This year's event, which comprises work from 30 countries, will open with the North American premiere of Woody Allen's To Rome With Love (as previously announced), while the world premiere of Warner Bros.' Magic Mike by Steven Soderbergh will close out the festival, which runs June 14 - 24 at LA Live in downtown Los Angeles.

Other gala events include Lorene Scafaria's Seeking a Friend for the End of the World, Ava DuVernay's Middle of Nowhere and Benh Zeitlin's Beasts of the Southern Wild. And Dreamworks Pictures' People Like Us will have its World Premiere in LAFF's Summer Showcase screenings. Directed by Alex Kurtzman and written by Kurtzman, Roberto Orci and Jody Lambert, and the film stars Chris Pine, Elizabeth Banks, Olivia Wilde, Michael Hall D'Addario, Philip Baker Hall, Mark Duplass, Michelle Pfeiffer, and centers on a 20-something fast talker who is tasked to fulfill his estranged father's last wishes.
LAFF's lineup below include 30 World, North American and U.S. premieres, 19 of which are in competition. The festival's International Showcase spotlight narrative and documentary selections from outside the U.S., while Summer Showcase are advance screenings set for release this summer.
Narrative Competition (10) (with LAFF descriptions):
All Is Well – Portugal (Director Pocas Pascoal, Producer Luis Correia, Cast Cheila Lima, Ciomara Morais) – Strangers in a strange land, two beautiful Angolan sisters fleeing a civil war in their homeland struggle to survive in Lisbon. Pocas Pascoal's deeply personal saga shows us the face of exile with quietly stunning power. North American Premiere
Breakfast with Curtis – (Director/Writer/Producer Laura Colella, Cast Theo Green, Jonah Parker, David Parker, Virginia Laffey, Aaron Jungels, Yvonne Parker, Adele Parker, Laura Colella, Gideon Parker) – A balmy eastern summer and a lush, rambling backyard are the perfect settings for this mirthful tale of unlikely friendships and rekindled neighborliness amongst a quirky and charming cast of bohemians. World Premiere
The Compass is Carried by the Dead Man – Mexico (Director/Writer Arturo Pons , Producer Ozcar Ramírez González, Cast Gael Sanchez Valle, Pedro Gamez, Ana Ofelia Murguía, Eligio Melendez, Luis Bayardo, Marco Perez) – A young man and a dead man journey north through a subtly surreal desert landscape, picking up a wagonful of odd characters as they go in this darkly humorous satire of contemporary Mexico. North American Premiere
Crazy and Thief – (Director/Writer Cory McAbee, Producers Cory McAbee, Scott Miller, Cast Willa McAbee, John McAbee, Gregory Cook, Graham Stanford) – With only a homemade "Star Map" and their own imagination to guide them, a brother and sister take a fantastical journey through the real world in this ode to being a little kid from cult director Cory McAbee. North American Premiere
Dead Man's Burden – (Director/Writer Jared Moshé, Producer Veronica Nickel, Cast Barlow Jacobs, Clare Bowen, David Call, Joseph Lyle Taylor, Richard Riehle) – This tense, classically crafted indie Western, set in the aftermath of the Civil War, starts with a startling act of violence: a daughter shoots down her father on the open range. Then her long lost brother returns. This is not going to be just any old family reunion. World Premiere
Four – (Director/Writer Joshua Sanchez, Producer Christine Giorgio CAST Wendell Pierce, Emory Cohen, Aja Naomi King, EJ Bonilla) – Over the course of a steamy 4th of July night, a father and daughter, each trapped in loneliness, reach out for sexual connection — he with a self-hating teenage boy, she with a smooth-talking wannabe homeboy — in this psychologically complex, beautifully acted drama. World Premiere
A Night Too Young – Czech Republic (Director Olmo Omerzu, Writers Bruno Hájek, Jakub Felcman, Olmo Omerzu, Producer Jiří Konečný CAST Martin Pechlát, Jirí Cerny, Natálie Rehorová, Vojtech Machuta, Jan Vasi) – On New Years Day, two innocent 12-year-old boys score vodka for three strangers and get invited to an adult party they'll never forget.  This darkly comic tale by gifted 26-year-old Czech director Olmo Omerzu upends the conventions of the coming of age movie. North American Premiere
Pincus – (Director/Writer/Producer David Fenster, Cast David Nordstrom, Paul Fenster, Christi Idavoy, Dietmar Franosch) – An anchorless carpenter returns to his Miami home to help his ailing father. To escape the burden of his responsibilities, he seeks comfort in women, weed and his otherworldly German friend Dietmar. World Premiere
Red Flag – (Director/Writer/Producer Alex Karpovsky, Cast Alex Karpovsky, Onur Tukel, Jennifer Prediger, Caroline White, Keith Poulson, Dustin Guy Defa) – Writer/director/star Alex Karpovksy reveals his sterling comic chops playing an indie filmmaker named Alex Karpovsky who, unexpectedly dumped by his girlfriend, takes to the road for a misbegotten mini-tour of film screenings and overly ardent groupies. World Premiere
Thursday till Sunday – Chile (Director/Writer Dominga Sotomayor, Producers Gregorio González, Benjamin Domenech, Cast Santi Ahumada, Emiliano Freifeld, Francisco Pérez-Bannen, Paola Giannini) – With uncommon beauty and style, this Chilean road movie finds a family at a crossroads, as the daughter slowly realizes the divide between the adults in the front seat and the kids in back. North American Premiere
Documentary Competition (with LAFF descriptions):
25 to Life – (Director Mike Brown, Producers Mike Brown, Yvonne Shirley) – William Brawner contracted the HIV virus through a blood transfusion as a toddler and kept it a secret as an adult while living a promiscuous, womanizing life. 25 years later, he comes clean, and this unflinching, sure-to-be-controversial documentary records his struggle for redemption. World Premiere
A Band Called Death – (Directors Jeff Howlett, Mark Covino, Producers Matthew Perniciaro, Scott Mosier, Kevin Mann, Jerry Ferrara FEATURING David Hackney, Bobby Hackney, Sr., Dannis Hackney) – Equal parts electrifying rockumentary and inspiring family chronicle, this is the captivating and little known story of the Hackney brothers and their band Death, the best punk band the world almost never heard. World Premiere
Birth Story: Ina May Gaskin and The Farm Midwives – (Directors Sara Lamm, Mary Wigmore, Producers Kate Roughan, Zachary Mortensen, Sara Lamm, Mary Wigmore FEATURING Ina May Gaskin, Stephen Gaskin, Pamela Hunt, Farm Midwives past and present, Kristina Kennedy Davis) – Ina May Gaskin and the courageous midwives of the Farm commune inspired the modern midwifery movement. This beguiling documentary tells their empowering story with depth, intelligence and wit. World Premiere
Call Me Kuchu – (Directors Katherine Fairfax Wright, Malika Zouhali-Worrall, Producer Malika Zouhali-Worrall) – To be openly gay in Uganda is to risk imprisonment and death, yet brave men like David Katos, the country's first openly gay activist, have fought back. This heartbreaking and stirring documentary takes us inside this life and death struggle for human rights. US Premiere
Drought – Mexico (Director Everado González, Producer Martha Orozco) – Contrasting the lives of a cattle-ranching community with the arid northeastern Mexican landscape that surrounds them, this cinema vertité documentary paints a poetic portrait of a community on the verge of extinction. US Premiere
The Iran Job – USA/Germany/Iran (Directors Till Schauder, Producers Sara Nodjoumi, Till Schauder FEATURING Kevin Sheppard, Leah Sheppard, Hilda, Laleh, Elaheh, Abdullah, Zoran "Z" Milicic, Kami Jamshidvand, Ali Doraghi, Mehdi Shirjang, Gholamreza Khajeh, Asadollah Kabir, Fereidoon Reisi, Mohammad Ahmadi, Ehsan) – An American pro basketball player signs up for a season with upstart Iranian Super League team A.S. Shiraz. This sports documentary takes a surprising turn when this gregarious charmer meets three strong Iranian women fighting the repressive regime. World Premiere
Sun Kissed – (Directors Maya Stark, Adi Lavy, Porducers Jocelyn Glatzer, Maya Stark, Adi Lavy) – With remarkable strength of spirit, a husband and wife examine their lives and why their children and others have been struck with a rare genetic disorder in this powerful portrait of a small Navajo community. World Premiere
Vampira and Me – Director/Producer R. H. Greene) – Before Elvira there was Vampira, the playfully ghoulish host of a local L.A. late night horror movie show who became a national celebrity, then disappeared.  This loving, personal portrait reveals the remarkable woman behind the chalk-white mask. World Premiere
Words of Witness – Egypt/USA (Director/Producer Mai Iskander, Featuring Heba Afify) – Updating your Facebook status is a political act in this street-level documentary depicting the recent Egyptian revolution as seen through the eyes and social network accounts of a young female journalist working for an English language newspaper. US Premiere
International Showcase (15):
Bestiaire, Denis Côté – Canada
Bunohan: Return to Murder, Dain Said – Malaysia (Oscilloscope Pictures)
Canícula, José Álvarez – Mexico
The First Man, Gianni Amelio – France – US Premiere
The Last Elvis, Armando Bo – Argentina
Neighboring Sounds, Kleber Mendonça Filho – Brazil (The Cinema Guild)
On the Edge, Leila Kilani – France/Morocco/Germany
P-047, Kongdej Jaturanrasamee – Thailand
Return to Burma, Midi Z. – Taiwan/Myanmar
Sister, Ursula Meier – Switzerland (Adopt Films) – North American Premiere
The Strawberry Tree, Simone Rapisarda Casanova – Canada/Cuba/Italy
Summer Games, Rolando Colla – Switzerland
Teddy Bear, Mads Matthiesen – Denmark (Film Movement)
Unforgivable, André Téchiné – France (Strand Releasing)
Without Gorky, Cosima Spender – UK
Summer Showcase (16):
About Face, Timothy Greenfield-Sanders (HBO Films)
Beauty Is Embarrassing, Neil Berkeley
Big Easy Express, Emmett Malloy
Celeste and Jesse Forever, Lee Toland Krieger (Sony Pictures Classics)
Gayby, Jonathan Lisecki (Wolfe Releasing)
Gimme the Loot, Adam Leon (IFC Films)
The House I Live In, Eugene Jarecki
It's a Disaster, Todd Berger – World Premiere
La Camioneta: The Journey of One American School Bus, Mark Kendall –  USA/Guatemala
Neil Young Journeys, Jonathan Demme (Sony Pictures Classics)
An Oversimplification of Her Beauty, Terence Nance – USA/France
People Like Us, Alex Kurtzman (Dreamworks Pictures) – World Premiere
The Queen of Versailles, Lauren Greenfield (Magnolia Pictures)
Reportero, Bernardo Ruiz
Robot and Frank, Jake Schreier (Samuel Goldwyn Films)
Searching for Sugar Man, Malik Bendjelloul (Sony Pictures Classics)