Martin Scorsese Sure is Guzzling the 3-D Kool-Aid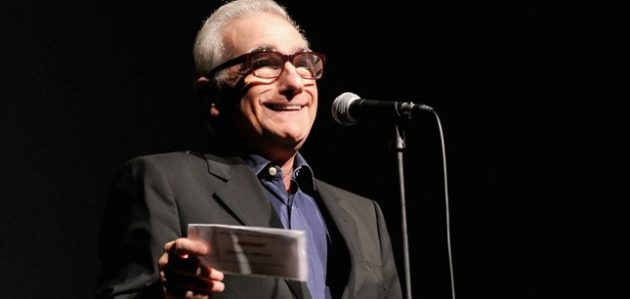 Martin Scorsese has long proven his mastery of filmmaking, passion for storytelling and an infectious worship of the medium in which he's produced nearly five decades of singular, sometimes legendary work. Perhaps it should come as no surprise, then, that man of such fervency and skill would take so well to one of the rapidly developing hallmarks of contemporary cinema culture: Trolling.

Scorsese joined fellow Oscar-winner Ang Lee on a panel Wednesday at CinemaCon, where the filmmakers told the industry crowd how sincerely they believed in the 3-D renaissance. I mean, sure, Hugo turned out OK (critically, anyway; commercially, oof), and Lee's forthcoming 3-D epic The Life of Pi has plenty worth anticipating with or without the stereoscopic extras. But this... I mean, I just can't:
Martin Scorsese has become so enamored with 3-D filmmaking that he expects to use the technology in all his future projects.

The Academy Award-winning director of The Departed told a crowd of theater owners at the CinemaCon convention in Las Vegas on Wednesday that he wishes his landmark films Raging Bull and Taxi Driver had been three-dimensional. Scorsese is so convinced of the power of 3-D, he said he only saw Hugo, his first 3-D movie released to critical acclaim last year, once in 2-D.

"There is something that 3-D gives to the picture that takes you into another land and you stay there and it's a good place to be," he said.
Yes! That land is called Migrainetown, and it is a good place to be if you are director with back-end points and/or an exhibitor selling the eye-cramping privilege for $16 a pop, both shuttered away in the local bank reinvesting the community's money in more 3-D "infrastructure." ("Keep them open," Lee implored, for example, on behalf of Migrainetown's independent movie houses. "Especially with 3-D, this is a new era coming. We have to keep up with it.")
And then there was... this, which apparently is the stock defense for anyone advocating new technology that completely takes viewers out of the movie:
Scorsese compared 3-D to the rise of color movies. He said as a film student at New York University in the early 1960s, he was shocked when he heard predictions that all future movies would be filmed in color. He said anyone harboring doubts about the rising influence of 3-D technology should consider how color movies have taken over the industry.

The 3-D craze allows filmmakers to accomplish the original goals of cinema, Scorsese said.

"The minute it started people wanted three things: color, sound and depth," Scorsese said. "You want to recreate life."
Wrong, wrong, wrong — they wanted color, sound and texting. Get it straight, Marty! Also: Come back to us! Also: If what happens in Vegas truly stays in Vegas, then why do I keep smelling sulfur?
[AP via Awards Daily]
Follow S.T. VanAirsdale on Twitter.
Follow Movieline on Twitter.