Moody Monster Flick? Lesbian Letdown? Puzzling Jack and Diane Debuts at Tribeca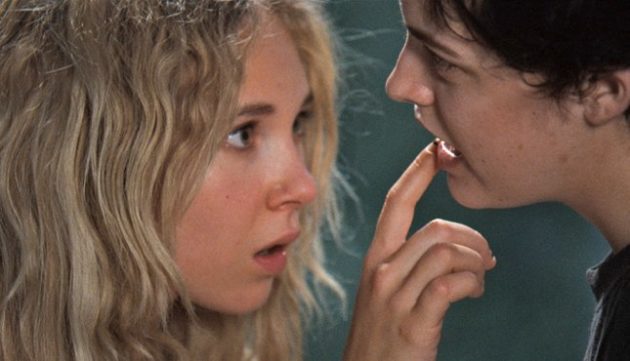 Oh to be young and in love and periodically a flesh-rending creature of globular, hairy, throbbing pulp. That's the curse heaped upon the eponymous romantics in Jack and Diane, one of the more anticipated — and more disappointing — features in Tribeca 2012's narrative competition.

It's hard to be too down on such lean passion; Jack and Diane's premiere Friday night amounted to the culmination of nine years of work by filmmaker Bradley Rust Gray, whose acclaimed 2010 drama The Exploding Girl served as sort of a hetero prelude to the lesbian body horror/romance mashup swamping his latest: Diane (Juno Temple) is a hot British teen mess visiting her aunt in New York City, all babydoll dresses, knit watermelon halter tops and purple knee socks, rocked by the hormonal lighting strike that is butch, brooding Jack (Riley Keough). The girls club, they kiss, they bond, they exchange vaguely sweet Manhattan banalities ("I have a Metrocard if you want it"), and then...
I don't even know. On the one hand it's not worth spoiling; jumpy genre reveals are involved, hinted at by customarily grisly animation by the Brothers Quay. On the other hand, Jack and Diane is too much of a mess to spoil, suffocated in the dynamics of longing without even the hope of dramatic — or even darkly comedic — satisfaction. It's a movie whose shadowy genre overtones — a girl! In a bathroom! With a bloody nose! And a monster! — surrenders to the same auteurist A.D.D. that sank The Exploding Girl. For once, I would like to see Gray's New York not refracted surveillance-style through long lenses and the fraught nubile wits of characters whose doe eyes and costumes connote virtually the whole story. Temple's expressive genius — all matted blond hair and mischievous (and monstrous) pixie — goes only so far against Keough's near-total blankness, getting most of its mileage out of a single early, affecting confessional between the star-crossed girls.
Ultimately, though, it's hard to know just how seriously to take Jack and Diane, with all its sinewy portent and bizarre porn digressions and tragicomic pube-shaving and actual straight-faced dialogue such as, "Do you have to take a shit? Try to do like I do and fart it out." Viewers familiar with The Exploding Girl might realize after a while that they're only staying with Jack and Diane for the promise of more B-list hipster-goddesses losing control; then it was Zoe Kazan's simmering epileptic panic, and now it's the viscera-devouring prospect of sapphic passion — in one case featuring Elvis Presley's grandaughter (Keough's mother is Lisa Marie Presley) and Kylie Minogue in a heavily tattooed cameo. It is what it is, and it never feels like much more.
Nevertheless, there is at least one glint of salvation in Jack and Diane, though it has nothing to do with its filmmaking or performances (and here I should issue a spoiler alert): Keough and Minogue make out to the strains of Shellac's rare and entrancing hate-punk ballad "Doris," which I suppose means that someone somewhere has a clean MP3 of the notoriously vinyl-only single. Rejoice! Can I have a copy?
Read all of Movieline's Tribeca 2012 coverage here.
Follow S.T. VanAirsdale on Twitter.
Follow Movieline on Twitter.