Tribeca 2012: Redefining a Festival of Range and Diversity — and a 'Wild Ride'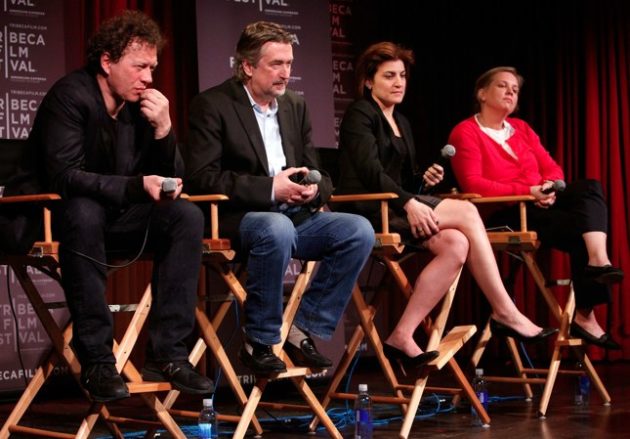 Ahead of tonight's official kick-off of the Tribeca Film Festival with the world premiere of Universal's The Five-Year Engagement, festival brass reflected on the event's 10 years — and its upcoming second decade — at a pre-launch mimosa (and bloody mary) breakfast event downtown where it all began in 2002.

"It's been many things since we started, but it's always come back to community, discovery and innovation, which are our core values," said TFF co-founder Jane Rosenthal. Her partner Robert De Niro — one of Tribeca's biggest trump cards in terms of public exposure — made a salutary drive-by today as well, quickly introducing the festival's revamped programming team before shuffling off. "It's best to let the programmers speak," he said. "We're excited for this year's festival and ready for our next decade," Tribeca Enterprises creative director Geoff Gilmore said to the gathering of about 100 people. "The biggest change here has been the programmers, but you'll see major range and diversity in this year's lineup."
Range and Diversity and a 'Wild Ride'...
Though the festival has become more streamlined compared to five years ago — when it screened about 120 features compared to this year's 90 or so — Tribeca's programmers describe this year's lineup as a "balance" that showcases American and foreign work, reflected in the festival's seven sections.
"The competition is a snapshot of the range of the program," said Genna Terranova, TFF Director of Programming. "And that competition points to the diversity of the other sections of the festival." She went on to cite examples including Morgan Spurlock's Spotlight section world-premiere Mansome, a documentary exploration of the rise of 'man-scaping,' and directing duo Ricki Stern and Annie Sundberg's Knuckleball!, another debut doc that deconstructs the erratic pitching style of the film's title.
Terranova then continued on to another festival section: "Tribeca's Viewpoints includes films that push the boundaries of storytelling, including [world premiere] Resolution, which infuses genre elements. And the Cinemania section is a wild ride where most of our genre movies can be found, including Graceland from the Philippines to Jackpot from Norway."
What is a "Tribeca film"?
Tribeca's identity has dogged the festival almost since its start. Its earliest incarnation kept the bulk of the festival's programs in the Tribeca neighborhood, and Hollywood fare didn't figure as prominently as it will in 2012, when Five-Year Engagement and The Avengers open and close the festival, respectively. After the festival lost some key venues in the downtown area, it moved north to theaters in the East Village, Chelsea and beyond. (Like past openers, tonight's premiere will take place at midtown Manhattan's Ziegfeld Theater.)
But organizers say Tribeca is less about where it is than what it says it hopes to reflect. "What is a Tribeca Film?" Gilmore asked rhetorically, perhaps hoping to head off a question some journalist inevitably brings up every year. "That is not an easy answer. We're born of a diverse community, and we want to showcase quality and discovery for that audience, and we have no geographical limits."
"Not Pandering" to World Premiere Status...
"We don't have the same pressures to program only world premieres here," said Tribeca's new Artistic Director Frédéric Boyer, adding that programming an event where world debut status is obligatory usually spells doom in terms of quality for most festivals outside Cannes (where Boyer programmed Directors Fortnight) or Sundance. Still, the festival will be a launching pad for 54 titles this year — in addition to other North American and U.S. premieres.
It's the economy, stupid...
Four years after the first wave of the financial crisis, Movieline asked if the after-effects of the meltdown were reflected in this year's crop of films, since many have been conceivably in production in the last two or more years. "It's not as popular a theme as you might think," Gilmore said, though Terranova and Tribeca Film Festival executive director Nancy Schafer contended that the "great recession's" aftermath can be found in a number of films in the festival. "[Competition drama] Nancy, Please is a product of economic anxiety that is born out of the crisis," said Schafer, who added that the budgets of American filmmakers overall are significantly lower compared to pre-crisis levels.
Looking forward, Tribeca's programmers touted the festival's evolution into the online space reflected in its ongoing Tribeca Online Film Festival component and are looking beyond, teasing a broader agenda to re-evaluate or even redefine what it is to be a film festival.
"I think the Tribeca Film Festival has come into its own over the decade," said Gilmore, who served 19 years as director of the Sundance Film Festival before joining Tribeca in 2009. "We are advancing strategies online, and we're going to expand that going forward. We're looking at how Tribeca can be on the cutting edge of how film festivals will be in the future. That's our agenda right now."
Read all of Movieline's Tribeca 2012 coverage here.
[Top photo of [L-R] Frédéric Boyer, Geoffrey Gilmore, Genna Terranova, Nancy Shafer: Getty Images; middle photo of Jane Rosenthal and Robert De Niro: Movieline]