The Baytown Disco Trailer: Smokin' Aces Meets... Gigli?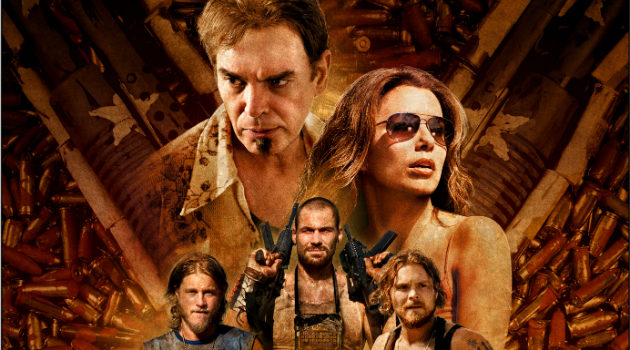 If the Tremor brothers were slightly less-deranged they might be the Southern-fried antiheroes of The Baytown Disco, whose trailer reveals a startling lack of disco and copious amounts of gun-battling, yee-hawing, and evil Billy Bob Thornton. (Oh, evil Billy Bob! How I love you.) Watch as Eva Longoria taps the trio of redneck bros to kidnap her godson -- and in the process, invite road warriors, Thornton's "whore assassins," and Stefan from The Vampire Diaries to hunt them down -- in Baytown Disco's Smokin' Aces-meets-Gigli trailer.

The Oodie brothers are played by Clayne Crawford (who actually battled the Tremor bros. in the direct-to-video sequel Smokin' Aces 2: Assassins' Ball), Daniel Cudmore (Twilight, X-Men), and Travis Fimmel; The "Southern whip-ass extravaganza" is directed by Barry Battles from his Black List '09 script with Griffin Hood and also stars Andre Braugher (!), Meagan Good, Michael Rapaport, Paul Wesley, Thomas Brodie-Sangster, Zoe Bell, and Agnes Brucker.
The synopsis:
The rousing rebel spirit of a family of Southern thugs takes off at breakneck speed in "The Baytown Disco" — a wickedly playful, high-velocity action-comedy in which three infamously ruthless Alabama brothers find themselves on the wrong side of crooked cops, relentless Feds, mad mobsters, road pirates, tomahawk-wielding bikers, tricky femme fatales and an unforgettable cast of characters as colorful as they are lethal when they finally try to do a single good deed.

Academy Award® winner Billy Bob Thornton and Golden Globe winner Eva Longoria headline this wildly explosive, yet ultimately moving, tale of honor breaking out among thieves with madcap results. It all starts when the fetching Celeste (Longoria) has a falling out with her nefarious ex-husband Carlos (Thornton) who kidnaps her beloved son, Rob (Thomas Brodie Sangster). Knowing her ex can be a maniacal psychopath, not to mention a bit trigger-happy, she turns for help to the most bad-ass, lawless hit-man trio in Alabama: the Oodie Brothers.

Ringleader Brick (Clayne Crawford, "24," "The Glades"), mute wrestling phenom Lincoln (Daniel Cudmore, "The Twilight Saga"), and the baby of the brothers, the kick-ass G.I. McQueen (Travis Fimmel, "The Beast") are known for being mean as a bag of rattlesnakes –and measly kidnap rescues are not on their menu of services. But when Brick is unexpectedly moved by Celeste's plight, what he thinks is going to be an easy smash-and-grab job turns out to be the most hair-raising and hilariously intense adventure of his and his brothers' harrowing careers.

Suddenly the Oodies have their hometown Sheriff (Andre Braugher, "Men of a Certain Age," "Salt"), in a tangle; a pesky DEA Agent (Paul Wesley, "Vampire Diaries") on their trail, and Carlos and his heinous assortment of henchman out for their hides. With no one quite who or what they seem, they are headed for a showdown — and a shot at redemption — they never saw coming.
The Baytown Disco is seeking distribution, release TBA.