Nellie McKay: The Musician, the Myth, the... Movie Star?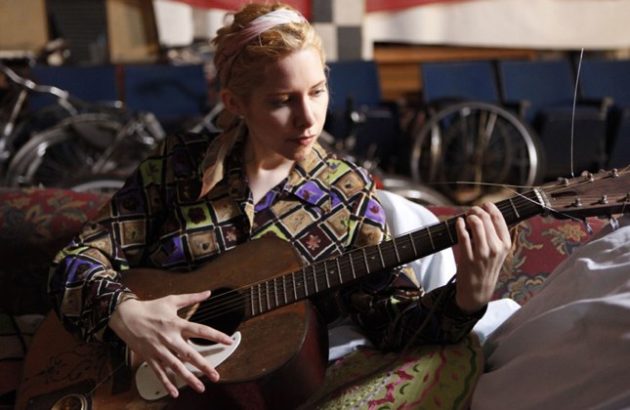 On the last day of her twenties, Nellie McKay paused to contemplate the milestone before her — or not. Taking a deep breath that soon escaped as a halting laugh, the singer/songwriter/actress and all-around pop polymath brought to mind another benchmark that loomed in her decade past.

"In P.S. I Love You," McKay began, citing the 2007 film in which she co-starred, "we go over to my sister, played by Hilary Swank, and we surprise her. And she's really down and out. So I hold up a 'Happy Birthday' sign, and I say, 'You're 30!' It's a big laugh line — or it's supposed to be a big laugh line. I don't know if it landed. So that's kind of surreal to have done that. But I don't know if…"
She trailed off. "Who knows?" McKay finally asked. "I don't know."
McKay's feelings about 30 are reflected in her art, a trademark blend of genuine wonder and calculated mystique enveloping myriad styles and influences — musical, historical, cultural and otherwise. Eisenhower-era gloss? Check. Nixon-era rage? Check? Jazzy, postmodern feminist fusillades against the crises of capital punishment and environmental wreckage? Er, check? The sweet irrepressibility of following your dreams, even if the path detours into fetching your next meal from a dumpster in Brooklyn?
Check — at least for Ramona, the spunky songstress played by McKay in this week's microindie Downtown Express. "It's the land of plenty!", Ramona coos with ironic relish to her new bandmate and beau Sasha (Philippe Quint), himself a Russian immigrant and subway busker whose forthcoming classical violin recital conflicts with his more rockin' aspirations for the good life in America. The almost obsessive balance of passions and principles that has characterized McKay's work since her 2004 breakthrough album Get Away From Me undergirds much of director David Grubin's Express, but it's the consequences — the privation, the insecurity, the searing frustration of it all — that stand out in McKay's haunted screen persona. For all the creative and romantic capital that Ramona and Sasha may accrue, her eyes reflect the bitter awareness that utopia is out of reach.
McKay is reticent about Ramona's ghosts. "I have my own theory," she said, "but I don't want to interfere with what anyone might think while watching it. I guess I think there is something like that, but I think people should just invent it for themselves."
And McKay knows a few things about invention. The daughter of a British director and an American actress, her mythology commenced with a very public battle to release her debut as a double album ("Should have signed with Verve instead of Sony," she sang in one typically melodic lament; Verve has since rescued her from the Sony deal's scorched wreckage) and meandered through confused reports about her age, her upbringing, her activism and even the true meaning of her songs. What ratio of caustic social criticism to earnest romanticism was to be found in a ballad like "I Wanna Get Married," and how were listeners to reconcile such schisms with album-length tributes to the likes of Doris Day?
That's just for starters. More recently, McKay has explored the vicissitudes of notoriety with acclaimed tributes to Barbara Graham (the murderess put to death in California in 1955; her story inspired both the Oscar-winning film I Want to Live! and McKay's 2011 song cycle of the same name) and the conservationist and writer Rachel Carson. The latter show, Silent Spring—It's Not Nice to Fool Mother Nature, is touring presently, its own heroine reflecting Ramona's brassy vulnerability in Downtown Express — and, in turn, reflecting much of McKay's own complex, confrontational character.
But ultimately, while McKay may have mellowed out slightly since her politically aware broadsides of eight or nine years ago, she seems to acknowledge that her sprawling worldview has only gathered more focus and strength when distilled through real-life subjects.
"We're just starting the Rachel Carson [show], so I'm still finding it," McKay said. "But to be able to tell their stories and channel them some way is a relief and a pleasure. I think those shows are far superior to solo shows." Asked what relief and pleasure she could take from such turbulent, troubled stories, McKay didn't flinch. "Well, Rachel's was troubled because we live on a devastated planet," she replied. "But I think she found a lot of joy. And actually, Barbara did, too. Barbara knew how to have a good time."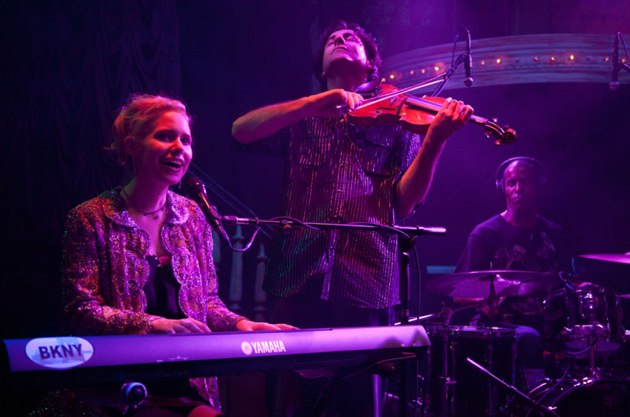 Fundamentally, McKay said she cherishes the "relief from yourself" that her acting efforts have afforded her. "I don't want to be myself," she told me. "I have to live with her." Yet she does hesitate when asked about the real Nellie McKay — the one Grubin cast after seeing her perform on Broadway in The Threepenny Opera in 2006, or the one who generously tips NYC subway musicians for making her commute "a beautiful thing" (as well as "to make up for the people who don't give anything"), or the one who self-effacingly credits vodka for the chemistry shared with her Russian co-star Quint, or the one who even wants to put "the real Nellie McKay" in any kind of perspective at all. "I think you try to find what works, and that can be very elusive," she said. "I mean, gee…"
McKay paused again. "I have…" And then followed a longer, struggling pause, relieved only by invoking yet another pseudorealist icon: "I feel like Woody Allen tearing up the driver's license in Annie Hall." (Did I mention McKay also used to be a stand-up comic?)
Which brings us back to 30 — or "57," as McKay cheekily replies about her milestone before going a little darker about its meaning (or lack thereof).
"I don't know that anything means much," she said. "I don't see that anything leads to much. I mean, I don't really feel that things change. They just mutate. For instance, if you look through the century, certain things have gotten better and certain things have gotten worse. I wouldn't say overall that things have gotten better. I think you could say things have gotten worse, but I don't think you could say that things have gotten better. Overall. You can't say that."
Does McKay — this ivory-tickling, ukulele-slinging avatar of '50s class, millennial angst and every fraught neurosis in between — even think she was born at the right time?
Another pause. "Well," she said, "I think maybe you do choose your parents. I know I chose the right mother. But born at the right or wrong time? Gee, I don't know. Do you think you were born at the right time?"
Maybe? Would I like to have experienced the Jazz Era? The Renaissance? Sure. Slavery? The plague? Not so much.
"I guess you deal with what you get," McKay said. Indeed. And as tough and mercurial a nut as she is to crack, Nellie McKay's art makes her mystery worth it. On screen, on stage, on record, you deal with what you get. The payoff is worth it.
Downtown Express opens Friday in New York.
PREVIOUSLY: Nellie McKay Plays My Favorite Scene
[Top photo of Nellie McKay: Danny Bright; bottom photo of McKay and Philippe Quint: Susan Meiselas]
Follow S.T. VanAirsdale on Twitter.
Follow Movieline on Twitter.