Write a Horror Haiku, Win a Cabin in the Woods Bong (and More) [UPDATED]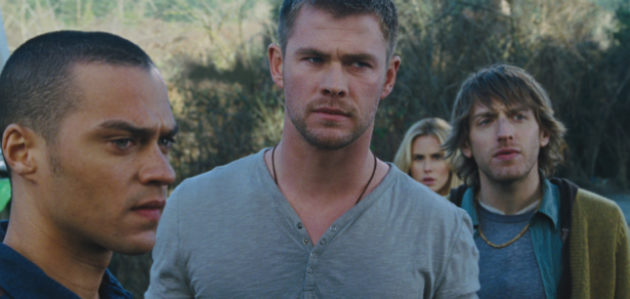 In honor of today's horror extravaganza Cabin in the Woods, pen a masterful horror-themed haiku and you could win a bounty of Cabin swag! Included in the grand prize: A Cabin t-shirt, a signed poster, the visualization "movie tie-in" book, the novelization (so you can understand the twists and turns and surprises at hand), and your very own Cabin in the Woods expanding bong (to, um, help you expand your mind and grasp what writer-producer Joss Whedon and director Drew Goddard are doing in this ultra meta-horror send-up). [UPDATE 4/16, 9:30 a.m. ET: The deadline has moved up! Read on for details...]

Cabin in the Woods is best left unspoiled, but suffice to say it's about a cabin... in the woods... where a group of unsuspecting coeds arrive one weekend, unprepared for what's to come. (Read Movieline's spoiler-free review here, or this spoilers-redacted SXSW report, for more.) Chris Hemsworth, Anna Hutchison, Kristen Connolly, Jesse Williams, Fran Kranz, Richard Jenkins, and Bradley Whitford star.
The rules are simple: Submit an original haiku (using the 5-7-5 format) inspired by either Cabin in the Woods or your favorite horror classic, in the comments below or on Facebook/Twitter.
One grand prize winner will receive the following prize pack:
(1) Shirt
(1) Bong
(1) Visualization "Movie Tie-in" Book
(1) Novelization
(1) Signed Poster
But wait! FOUR runners-up will win a t-shirt, a poster, AND the coveted Cabin in the Woods bong. That's five chances to get your hands on the best (and arguably most useful) piece of movie swag to come along in a while. So hop to it, folks! Get your horror haiku on now.
[ED. NOTE: Due to site maintenance (including a commenting outage) Monday morning PT/afternoon ET, this contest will close earlier than originally expected. See details below.]
Contest closes Monday, April 16 at 5pm ET/2pm PT 12pm ET/9am PT. Entries must include an email address for contacting winners. Winner must be located in the U.S. Only one submission per person.