Leonardo DiCaprio Too Busy to Attend Titanic 3D Premiere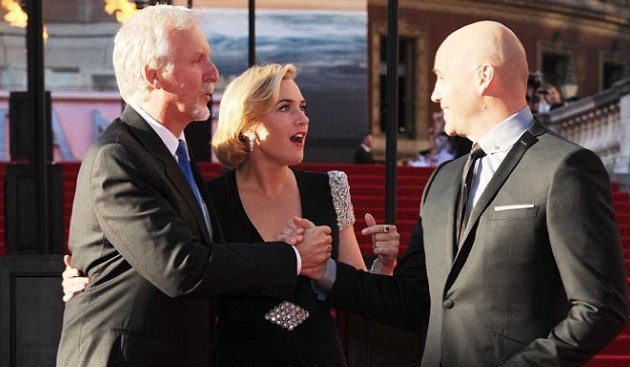 Browsing through the photo record of Tuesday's Titanic 3D premiere in London, one notices immediately the absence of Leonardo DiCaprio. What gives? I mean, if Billy Zane can make time, then lord knows Leo should be able to drop in for at least a few snapshots with James Cameron and co-star Kate Winslet. At the very least, he'd better have a good excuse — which, according to Cameron, he did.

Speaking to reporters on the red carpet, the filmmaker/deep-sea habitué explained that DiCaprio was busy shooting Quentin Tarantino's Django Unchained, and thus unavailable to travel. But that wasn't all:
"I didn't show him the whole film but I showed him 18 minutes of it a few months ago," Cameron continued, "It was a good reunion for us but great to watch his reaction. He couldn't believe it. He said to me, 'I'm such a young punk. Look at me.' He was practically crawling under the seat. It was a good moment."
I can only presume this was the same clip package Cameron showed Movieline, which wasn't that bad. Winslet, meanwhile, said she would seek similar refuge — from her nude scenes in particular:
"I'm not going to look. I'll be in the bar by that point or on the floor. [...] I haven't seen the whole film in a very long time, I've seen little pieces of it, but it's a whole different me and we look much younger and our acting was different, hopefully not as good as now."
Never let go, babe. Now someone tell us where Kathy Bates was.
[OK! via Yahoo!, Metro; photo via Daily Mail]
Follow S.T. VanAirsdale on Twitter.
Follow Movieline on Twitter.