Is Leprechaun Being Rebooted for WWE Wrestler Hornswoggle?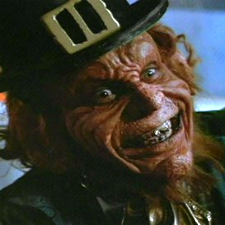 This is pure speculation, but it's St. Patrick's Day weekend! Let's connect the dots: Lionsgate and WWE Studios are teaming up on a reboot of the 1993 pic Leprechaun, the creature comedy-horror which infamously featured a young Jennifer Aniston and kicked off a series of terrible films centered on a murderous Irish fairy hell-bent on recovering his precious gold. World Wrestling Entertainment (WWE), meanwhile, has a diminutive wrestler named Hornswoggle under contract, whose ring persona is that of a mischievous leprechaun. Pure coincidence, or will Leprechaun mark the next screen debut for a WWE star?

Granted, it's a bit of a longshot given that Hornswoggle (real name: Dylan Postl) isn't one of the major stars in the wrestling world. And beyond its slate of tailor-made wrestling champ vehicles (The Scorpion King, The Marine, The Condemned) WWE Studios have been branching out, picking up titles for distribution that don't feature any of their wrestlers-turned-thespians. But it's kind of too perfect an opportunity for cross-branding to pass up, don't you think?
No stars have yet been announced for the Leprechaun reboot, so marinate on the possibilities over a mug of green beer this weekend. I mean, who doesn't want to see Warwick Davis's shoes filled by an actor who has a finishing move called the Tadpole Splash?