Weekend Receipts: Why You Shouldn't Cry For John Carter Just Yet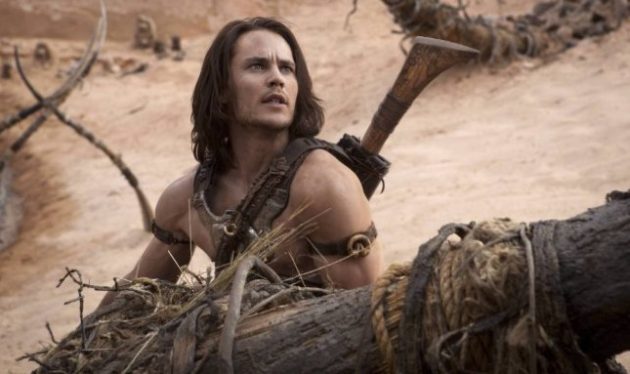 Everything went pretty much according to plan at the box office over the weekend: Scurrilous liberal plot The Lorax indoctrinated enough kids and families to reign over a second consecutive week, while Disney's super-expensive sci-fi gamble John Carter settled somewhat anemically into second place. But it's not all bad for our boy on Barsoom. Your Weekend Receipts are here.

1. Dr. Seuss's The Lorax
Gross: $39,100,000 ($121,950,000)
Screens: 3,746 (PSA $10,438)
Weeks: 2 (-44.3%)
The year's biggest hit to date achieved that distinction in nine days, as opposed to roughly three full weeks for the likes of Safe House and The Vow. And there was even one less hour this weekend. Summer is here! Break up The Lorax!
2. John Carter
Gross: $30,603,000 (new)
Screens: 3,053 (PSA: $4,487)
Weeks: 1
Right or wrong, the widely reported $250 million (at least) price tag will precede any and every conversation regarding John Carter as long as people are talking about John Carter. Which may be longer than the sluggish domestic gross implies — though not that much longer — if the rest of the world has anything to say about it: Andrew Stanton's epic took in nearly $70 million abroad, including the fourth-highest debut ever in Russia. The takeaway remains relatively grim: No blockbuster status is foreseen, but at least the unprecedented write-down foreseen at Disney may not be that bad. Happy Monday?
3. Project X
Gross: $11,550,000 ($40,125,000)
Screens: 3,055 (PSA $3,781)
Weeks: 2 (Change: -45.1%)
Not a remarkable hold, but considering the competition both above and below it &mdash plus the long-ish tails of several of the year's bigger releases to date — Warner Bros. will take it. The only question remaining: What's the threshold to greenlight the sequel?
4. Silent House
Gross: $7,010,000 (new)
Screens: 2,124 (PSA $3,300)
Weeks: 1
Here is a conversation sure to have ensued in roughly 750 theaters screening the very soft-performing Elizabeth Olsen thrller:
Viewer 1: "That doesn't look like Ryan Reynolds."
Viewer 2: "When does Denzel show up?"
Viewer 1: "Are we in the right theater?"
Viewer 3: "Shhhh!" [Throws popcorn]
5. Act of Valor
Gross: $7,000,000 ($56,100,597)
Screens: 2,952 (PSA $2,372)
Weeks: 3 (Change: -48.4%)
Slowly, inexorably, probably futilely, Relativity continues to push its Navy SEALs experiment toward $100 million theatrically. Look for a special St. Patrick's Day weekend campaign pushing Act O' Valor: "Erin go BLAM," "Kiss me, I shot Osama bin Laden in the face," etc. Or... not.
[Figures via Box Office Mojo]
Follow S.T. VanAirsdale on Twitter.
Follow Movieline on Twitter.