REVIEW: Project X, a Todd Phillips Production™, Made for Those Who Find the Hangover Franchise Too Sophisticated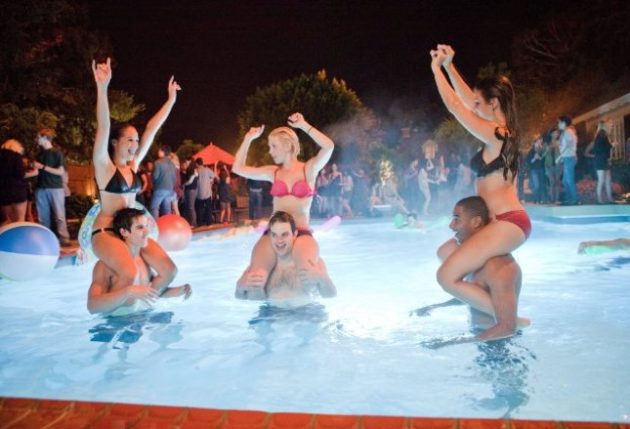 I'm pretty sure I ruined the night of a pair teenage boys huddled in the back row of a recent screening of Project X, a party disaster movie targeted at kids who find the Hangover franchise too sophisticated. All I did was sit down beside them, but I may as well have poked my head up into their treehouse. Girls ruin everything, especially the unmitigated enjoyment of a new Todd Phillips movie. A few seconds after the lights went down, as a shrill junior impresario named Costa (Oliver Cooper) was shouting 2 Live Crew lyrics about wanting pussy, the one beside me began twisting in an agony I came to enjoy much more than the movie we were watching.

Costa is not a complicated man. 2 Live Crew could actually do much of his speaking for him. This is hilariously ironic because Costa is a schlubby white kid who wears sweater vests and hangs out with two equally mollusk-like pals, JB (Jonathan Daniel Brown) and Thomas (Thomas Mann). The script, by Michael Bacall and Matt Drake, has enough "bitches" and "faggots" and midgets tossed into ovens to scandalize everybody, which seemed to be their best hope. When Project X begins Thomas's parents are about to go away for the weekend to celebrate their anniversary, which also happens to be Thomas's 17th birthday. Costa is pushing for a party, the big social event that will turn them into "big time players" at school.
Oh, there's also Dax (Dax Flame), the kid who is documenting everything that happens. A note prefacing the movie ("Warner Bros. would like to thank everyone who contributed footage…") makes it clear that this will be another found footage exercise. After first drawing attention to the conceit, first-time director Nima Nourizadeh (Phillips is the producer and Project X is heavily branded with his name) lets it fade into the background. Especially once the party gets started, the ratio of intrepid, conceit-driven camerawork to slick video montages of booty-shorts bacchanalia is far enough out of whack that you wonder why they bothered with the construct in the first place.
Phillips got his start in documentary, notably Frat House, the 1998 exposé of fraternity life. Young Dax Flame, whom we glimpse once in a mirror shot, became a YouTube star by documenting his high school life in Texas. But Project X is not interested in showing us what it's "really" like when a high school party goes nuclear. Like The Blair Witch Project and the recent Chronicle, it wants to apply the terms of found footage realism to an established genre. Although it behaves as if its closest antecedent is a John Hughes teen movie, Project X plays more like a blend of music video, College Rules-style porn, and apocalypse-gazing. It's all hyper-sensory flash and amateur titillation, ain't it cool party-dogging and an ecstatic taxonomy of all the different ways you can drink a beer.
Thomas, long, pale and apprehensive, does have a certain Alan Ruck vibe. And his father is quite protective of his fancy car. But further comparisons to Ferris Bueller's Day Off will only make you want to cry. Over a thousand people show up at Thomas's very swanky Pasadena house, and at every step his better judgment is overruled by the promise of popularity. A gorgeous neighborhood friend (Kirby Bliss Blanton) seems receptive, but Thomas is steered -- by Costa, who only gets more pointlessly awful as the night goes on -- to think more like a social climber, and go for the girl with the most cachet. Of course that girl, like all of the others, will remove her clothes more or less on command.
Project X threatens to become slightly interesting just as the party enters a death spin and Thomas takes his first hit of ecstasy. Anyone who has thrown a bender while mom and dad were away and gotten in over his head knows the consequences really do feel like the end of the world. But the pitch of this amazingly fatuous, tediously low-toned, aggressively sensational movie is too erratic for the "I'm famous, bitch!" nihilism of the finale to touch on anything real. It's just an adjustment of the volume in a movie that manages to look and feel as well as sound like endless noise.
Follow Michelle Orange on Twitter.
Follow Movieline on Twitter.