The Winners Speak! Backstage at the 2012 Film Independent Spirit Awards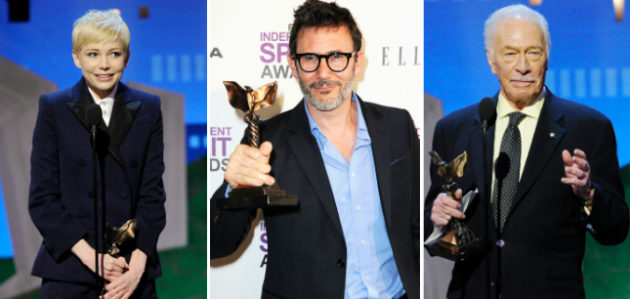 "Nothing will come from this if you win!" joked Seth Rogen as he opened his hosting gig at the 2012 Film Independent Spirit Awards. "Absolutely nothing. This won't help you get paid anymore -- if anything, it proves you'll work for nothing." That may be painfully true for many of the indie film nominees honored today at the annual Spirit Awards, held in a tent on the beach in balmy Santa Monica. But what does it mean that the night's big winner was the Harvey Weinstein-backed awards season juggernaut The Artist?

The Oscar frontrunner swept the Spirit Awards Saturday in a precursor to what most pundits expect will transpire Sunday night at the Academy Awards; the black and white silent film took home four awards, including Best Feature, Best Director (Michel Hazanavicius), Best Actor (Jean Dujardin), and Best Cinematography, further sealing its grip on the 2012 awards race.
Along the road to Spirit Awards victory, the $15 million The Artist went up against the likes of more conventional indies. (Rules of eligibility includes films made for no more than $20 million.) In the Best Cinematography category, the Weinstein-backed favorite competed against, for example, Evan Glodell's Bellflower, a film shot on a production budget of $17,000; for Best Feature it vied with 50/50, Beginners, Drive, Take Shelter, and The Descendants.
Additional winners on the night included Dee Rees' Pariah, Alexander Payne's The Descendants (which won Best Screenplay and Best Supporting Actress for Shailene Woodley), Asgar Farhadi's A Separation, Michelle Williams for My Week with Marilyn, and Christopher Plummer for Beginners. (Full winners list here.) In other words – on the whole, not quite so different from the field competing tomorrow at the mainstream Oscars.
Maybe that's why, after Rogen's fantastic Hollywood-skewering opening monologue, the Spirit Awards started to flag a bit in, well, spirit. By the time the absent Jean Dujardin won Best Actor about halfway through (co-star Penelope Ann Miller, the film's mascot for the night, accepted on his behalf) the certainty of Artist domination seemed to loom in the air. Once Michel Hazanavicius arrived, fresh from the LAX runway with a police escort minutes before his name was called as Best Director, the sweep was sealed. Would any non-Oscar frontrunning independent filmmaker honorees have gotten the VIP treatment all the way down the 10? Were these the Oscar rehearsals, or the preeminent celebration of American independent film?
Well, at least the show had its moments. Highlights included Rogen's monologue; John Waters acting as MC for the night; Michelle Williams accepting her trophy with a nod to the very first Spirit Awards she ever attended, back when she wore her own clothes and cut her own hair and felt at home in the "room full of misfits, outcast, loners, dreamers, mumblers, delinquents, dropouts – just like me."
Backstage, winners trickled in throughout the night, sharing their own perspectives on craft and the awards show mania.
Christopher Plummer, Best Supporting Actor:
The jovial Plummer kicked off the winners' room. "[Michael's father, his character] was a true character and was written with such affection, such a lack of self-pity. It was fun to do, it made me so relaxed. His marvelous humor against all odds [is] a marvelous lesson to everyone who goes through cancer and dying. He treated it with a sort of carefree sense of humor, no self-pity at all."
Hinting at his next gig on an HBO project, Plummer addressed his continuing career at age 82. "I have to [keep acting] because I may croak at any moment – I have to keep going!"
How did he keep from being upstaged by Cosmo the dog on the set of Beginners? "We had a little private talk, and now that you mention it Cosmo and Uggie, I think our Cosmo was much more human than Uggie. Uggie was just a trickster – our dog had soul."
Shailene Woodley, Best Supporting Actress:
"I'm so grateful," Woodley began. "I don't know if 'surprised' is the right word. I think gratitude kind of fills it all. It's been such a beautiful experience for me in my life and totally transformed me as a human being, so I'm grateful to have been a part of the film and to have learned so many valuable amazing lessons."
"Every single person involved in the film was incredibly positive and had such gentle, kind, graceful souls. Being on the film as an 18-year-old and experiencing that right as I was about to start my life on my own, it was kind of the catalyst for me coming into my own. I don't think there are words for me to express my gratitude for that."
As for the Oscars, Woodley has love for the Help star she went up against during the Golden Globes. "I am so stoked for Octavia [Spencer] – she is so awesome! She's such a nice human being. [Pause] This is crazy. I was not expecting it and I got up there and said um a lot, I'm sure I'm going to be mortified when I watch it."
The Artist crew, Best Feature/Best Actor/Best Cinematography/Best Director:
What did producer Harvey Weinstein bring to the film? "His weight," joked producer Thomas Langmann, who credited Weinstein with taking a chance on The Artist when most backers balked. "We kept going to try to finance this meeting and we had very short meetings… nobody wanted to hear about this one. People told me this is against conventional wisdom. We managed to find the money and wanted to shoot here in Hollywood…"
"This movie was made to be a tribute to Hollywood and cinema and especially American cinema. So to come back… and be rewarded by the Hollywood community, is a dream come true."
How's life treating director Hazanavicius, who's been on a nonstop tour through the home stretch of his award tour? "It's not the worst job you can find," he answered. "You come, you receive awards, everyone is smiling at you and is nice and they tell you you're talented and have a very funny, charming French accent. [The police escort from LAX] was great. That was the best part."
"It's physically tiring but the energy is so good that you don't really feel it," he said. "We're really excited and are enjoying every moment we can enjoy." Looking back to the beginning of their journey, did Weinstein promise the Artist crew he could get them to the Oscars? "Harvey knows how to promise things like that, yes. Sometimes he's right."
Michelle Williams, Best Actress:
"My friend was joking that until now I have been the Susan Lucci of the Indie Spirit Awards!" Williams said, beaming. "I have been luckier and luckier to be working with better and better people."
On how she found her way into Marilyn Monroe: "In a way you had to remove the fact that she was an icon, because that was too daunting… and think of her as an ordinary girl. There wasn't a direct path in to her, I found. The only way in was time, so much time, and in a way letting her dictate, letting her take shape -- letting all this information take shape instead of me trying to control it."
"I just do some work. I just sort of keep my head down, which is a very sort of Montana attitude. There's this Amish thing, this Quaker thing I like – 'Eyes to the ground and heart to the skies.' I just keep focused."
Steve James, dir. The Interrupters, Best Documentary:
"It means a lot for a film like this because this is a film about urban violence in Chicago, and when we were making it we never would have anticipated the reaction the film has gotten in the past year. It means a lot for what the film's about and for us as independent filmmakers – I've been doing this now for 27 years, so it means a lot."
Follow Jen Yamato on Twitter.
Follow Movieline on Twitter.