Math-Based Oscar Predictions Not Too Different From Hype-Based Oscar Predictions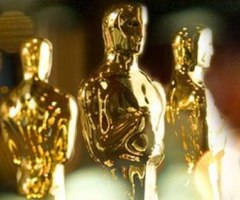 And why? Because they're based on hype. But that's OK, Ben Zauzmer — Harvard freshman, analytical whiz kid and proprietor of the new "matrix algebra"-based awards prognostication site Ben's Oscar Forecast! Movieline's Institute for the Advanced Study of Kudos Forensics has the science down and is soliciting interns for next year's awards-season death march. Inquire within.

According to his site, Zauzmer's predictions derive quantities for each film's Oscar nomination (or non-nomination) showing, representation at other awards shows, and Metacritic and Rotten Tomatoes data for the "major categories." Next:
With all of these numbers in the chart for each nominee in the category over the past decade, using a formula from linear algebra, Ben derived the best approximation of the relative factors of each award and critic score. These factors were applied to this year's nominees – one formula for each category – and the percentage was calculated as a movie's score out of the total scores.
Pretty cool, except... uh:
Best Picture
Winner: The Artist (18%)

Best Director
Winner: Michel Hazanavicius – The Artist (28%)

Best Actor
Winner: Jean Dujardin – The Artist (28%)

Best Actress
Winner: Meryl Streep – The Iron Lady (24%)
Viola Davis – The Help (24%) [ED: Davis and Streep are separated by 0.7%, surprise]

Best Supporting Actor
Winner: Christopher Plummer – Beginners (29%)

Best Supporting Actress
Winner: Octavia Spencer – The Help (27%)

Best Writing – Original Screenplay
Winner: Woody Allen – Midnight in Paris (27%)

Best Writing – Adapted Screenplay
Winner: Alexander Payne, Nat Faxon, Jim Rash – The Descendants (24%)

Best Animated Feature
Winner: Rango (32%)

Best Foreign Language Film
Winner: A Separation – Iran (27%)
...so on and so forth. Where have we seen these before?
There's no doubt something here, though — perhaps what's missing is to factor in the average Academy voter's age? Oh, and the average weekly advertising outlay by The Weinstein Company. OH, and Uggie's own age multiplied by the crucial tail wags-per-minute (TwPM) metric. Anyway, yeah. Needs work! But math is hard, etc.