Drive, Fassbender, Serkis Honored at the 2nd Annual YouReviewers Awards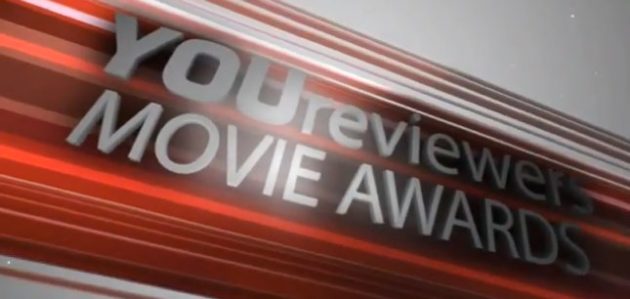 The 2nd Annual YouReviewers Movie Awards aired on YouTube this past weekend, and we've got to say, it was quite a show! This year, our friends at ENTV played host as YouTube heavy hitters Jeremy Jahns, The Schmoes, and a host of other notables from the ever-opinionated YouTube film community presented their favorite films, performances and trailers (because, after all, this is YouTube) of 2011.

If you haven't yet, be sure to check out the full show below – we think it's safe to say that in the never-ending glut of awards shows this time of year, there's nothing else like it. Or you can skip to the full winners list below to see what the small-screen scene picked as the best of the big screen.
2012 YouReviewer Awards Winners List:
BEST PICTURE
Drive
50/50
The Girl With The Dragon Tattoo
Rise Of The Planet Of The Apes
The Artist
Harry Potter and the Deathly Hallows, Pt. 2
Hugo
The Descendants
Midnight in Paris
Warrior
BEST DIRECTOR
Nicolas Winding Refn (Drive)
David Fincher (The Girl With The Dragon Tattoo)
Martin Scorsese (Hugo)
Steven Spielberg (War Horse)
Michel Hazanavicius (The Artist)
BEST ACTOR
George Clooney (The Descendants)
Ryan Gosling (Drive)
Joseph Gordon-Levitt (50/50)
Michael Fassbender (Shame)
Brad Pitt (Moneyball)
BEST ACTRESS
Rooney Mara (The Girl With The Dragon Tattoo)
Viola Davis (The Help)
Emma Stone (The Help)
Charlize Theron (Young Adult)
Michelle Williams (My Week with Marilyn)
BEST SUPPORTING ACTOR
Nick Nolte (Warrior)
Christopher Plummer (Beginners)
Albert Brooks (Drive)
Jonah Hill (Moneyball)
Andy Serkis (Rise Of The Planet Of The Apes)
BEST SUPPORTING ACTRESS
Octavia Spencer (The Help)
Shailene Woodley (The Descendants)
Elle Fanning (Super 8)
Melissa McCarthy (Bridesmaids)
Carey Mulligan (Shame)
BREAKTHROUGH ACTOR
Joel Courtney
Michael Fassbender
Ryan Gosling
Jean Dujardin
John Boyega
BREAKTHROUGH ACTRESS
Rooney Mara
Shailene Woodley
Berenice Bejo
Jessica Chastain
Brit Marling
BEST ANIMATED FEATURE
The Adventures of Tin Tin
Arthur Christmas
Rango
Puss in Boots
Kung Fu Panda
BEST VILLAIN
Albert Brooks (Drive)
Voldemort (Harry Potter)
Kevin Bacon (X-Men: First Class)
Loki (Thor)
Bryce Dallas Howard (The Help)
BEST HERO
Rooney Mara (The Girl With The Dragon Tattoo)
Gosling (Drive)
Harry Potter (Harry Potter and the Deathly Hallows Part 2)
Moses (Attack the Block)
Caesar (Rise Of The Planet Of The Apes)
BEST SCORE
Drive
The Girl With The Dragon Tattoo
War Horse
The Muppets
Harry Potter and the Deathly Hallows Part 2
BEST VISUAL EFFECTS
Super 8
Hugo
Harry Potter and the Deathly Hallows Part 2
Rise of the Planet of the Apes
Transformers 3: Dark of the Moon
BEST TRAILER
The Dark Knight Rises Trailer 2
The Hobbit
The Girl with the Dragon Tattoo
The Avengers
Prometheus
MOST UNDERRATED FILM
Warrior
The Adjustment Bureau
Win Win
Hanna
Attack the Block
THE I'M SHOCKED IT DIDN'T SUCK AWARD
Real Steel
Fast Five (tie)
Rise Of The Planet Of The Apes (tie)
MI:4: Ghost Protocol