Josh Hutcherson Prepares for a Pounding in High School Slasher Detention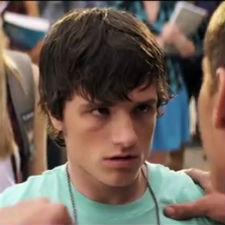 Joseph Kahn's Detention had me from its first knowingly self-aware trailer, and while word out of SXSW was polarizing -- a love it or hate it kind of deal, by many accounts -- it's one of my more anticipated films of the spring. True, the competition this season isn't too stiff, but still! Watch Josh Hutcherson (of next months The Hunger Games, perhaps you've heard of it?) as a cute hipster kid get ready to take a beating from the school tough guy while an actual killer runs rampant through town and tell me this isn't worth putting on the calendar for April.

Here's the film's full trailer, to give you a sense of what we're in for. Admittedly, the nonstop pop culture references schtick has been almost fully exhausted by now but good, clever high school comedies never get old. Call it Not Another Not Another Teen Movie, if you will/must.
Adding to the intrigue: Detention was shot half a year before Hutcherson was cast as Peeta in The Hunger Games, so the timing of release here is obvious. Will Hunger Games fans flock to the R-rated horror comedy to see a new side of Hutcherson in what may be the edgiest/darkest/ballsiest project since he graduated from family flicks?
Detention will be released in select theaters on April 13.
[via Badass Digest]