99-Year-Old Oscar Voter Down on Artist, Up on Brad Pitt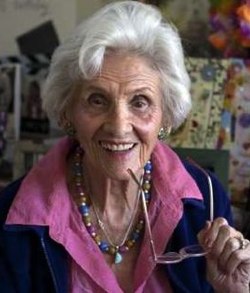 Academy Awards ballots are due today at 5 p.m. PT, and procrastinators in the actors' branch might do well to take note: One of your eldest peers has an upset or two in mind.

The Los Angeles Times had a fun set of features over the weekend exploring some of the principals and predilections set to influence this year's Oscar vote, none more illuminating than this profile of 99-year-old (and still active!) actress Connie Sawyer. In a nutshell: Sure, she's squarely Team Streep in the Best Actress category. But Sawyer's preferences in Picture and Actor defy the easy generalization of rank-and-file Academy voters as pliant, disengaged blue-hairs:
Sawyer, who was a 15-year-old living in Oakland in 1927, when The Artist's story begins, wasn't so enamored of the black-and-white film. The movie was enjoyable enough, she says, but she frankly doesn't understand what all the fuss is about.

"Hasn't anybody seen old films?" Sawyer asked in exasperation. "They're easy to make and easy to act. All you have to do is overact. I saw a lot of those films in my day." [...]

For lead actor, the category in which The Artist star Jean Dujardin is favored by some, Sawyer picked Brad Pitt for his starring turn as Oakland A's General Manager Billy Beane in the baseball drama Moneyball. The film, she said, "was the best work he's done."
Of course, this from a former Oakland girl and a woman who calls the Oscar itself "the most legitimate movie award there is in the whole world." Ahem. Still! No better time than the present for a second wind among contenders and observers alike. I love you, Connie Sawyer.
[LAT]