Ever Wanted to Bite the Head Off Uggie? Now You Can
Despite the Consider Uggie campaign's global impact on social media, auteur awards strategies and the ever-sensitive dynamics of poster giveaways, many adversaries would just as soon see the Artist wonder dog shot into space, Laika-style, never to be seen or heard from again. I hesitate to acknowledge or dignify their numbers, but since this is news we can both use, let's all rally round one of the best Uggie-specific developments to date: Uggie is now a cookie.

Eleni's, the New York-based bakery renowned for its Oscar-season confections, this week announced its 2012 collection of Best Picture, Best Actress and Best Actor cookies. Among the Best Picture assortment -- which annually transforms one or two key story elements from each nominee into an edible treat -- we find a Hawaiian shirt from The Descendants, a clock from Hugo, a bloated, dripping hunk of Oscar bait for The Daldry, and a cheerful Jack Russell terrier representing Michel Hazanavicius's Oscar front-runner: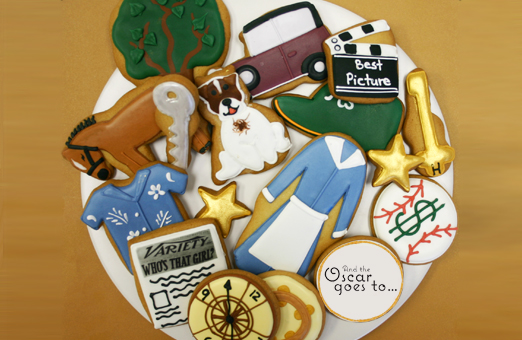 True, the tree representing The Tree of Life seems a little underimagined, but it's not like you want to be devouring the goddamned baby's foot we've seen for the last year-plus.
Anyway. Uggie! Is a cookie! As an avowed devotee of this particular awards tradition for years (nothing -- and I mean nothing -- will ever beat the airgun cookie from No Country For Old Men, but hey), I can't overstate my pride in this milestone. I also can't stop you from hungrily snapping the head off the little guy in punitive glee, followed by the tambourine from The Daldry just to add to the puppy cookie's prolonged gastric suffering. The possibilities are endless. Or endless-ish. Whatever.
The Best Picture set is available now for $75 at Elenis.com. Enjoy!