Weekend Receipts: Chronicle, Woman in Black Make For Potent 1-2 Punch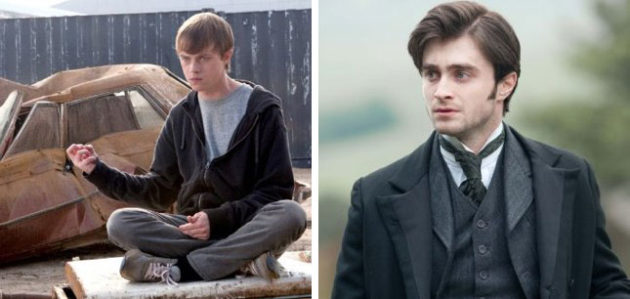 Two supernatural thrillers joined a pair of spooky holdovers in the top five of this weekend's box office, where one of the world's biggest stars was no match for the low-budget telepathic shenanigans of Team Chronicle. And, er, what happened to Drew Barrymore? Your Weekend Receipts are here.

1. Chronicle
Gross: $22,000,000 (new)
Screens: 2,907 (PSA $7,568)
Weeks: 1
The found-footage phenomenon continues! It's only a matter of time before Martin Scorsese is inspired to legitimize the genre with the story of a boy who lives in a train station and unearths the secret identity of an old toy-seller with the help of obscure archival film thought lost to the ages. Oh, wait.
2. The Woman in Black
Gross: $21,000,000 (new)
Screens: 2,855 (PSA $7,356)
Weeks: 1
"What did they see?" indeed. Daniel Radcliffe's strong post-Harry Potter debut indicated as much about his smart choices as they did about his loyal fan base. I still don't understand how that Allen Ginsberg role is going to work, but at least he's on the board as bankable beyond the Hogwarts bubble.
3. The Grey
Gross: $9,500,000 ($34,756,000)
Screens: 3,208 (PSA $2,961)
Weeks: 2 (Change: -51.7%)
Yikes. For all the credit I gave Neeson last week, it's worth noting that <>The Grey sustained an unusually high week-two drop -- nearly three times higher than Taken in 2009, and well above even last year's Unknown. What gives, America? That's just mean.
4. Big Miracle
Gross: $8,500,000 (new)
Screens: 2,129 (PSA $3,992)
Weeks: 1
Cue the "Who's going to free Drew Barrymore's career from the thickening, encroaching arctic ice?" lines in 3...2... OK, forget it.
5. Underworld: Awakening
Gross: $5,600,000 ($54,353,000)
Screens: 2,636 (PSA $2,124)
Weeks: 3 (Change: -54.7%)
More like Underworld: Sleepening! Seriously, folks, I've got nothing.
[Figures via Box Office Mojo]
Follow S.T. VanAirsdale on Twitter.
Follow Movieline on Twitter.