Write a 10-Word Review, Win an Artist Poster 'Pawtographed' by Uggie (UPDATED)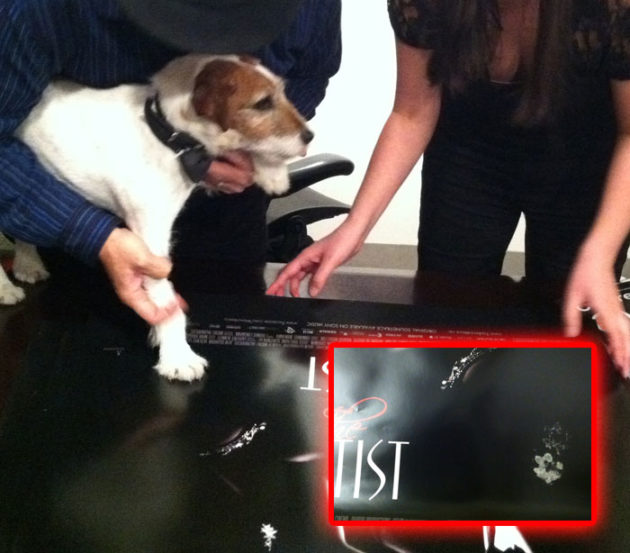 For the grand finale of Contest Week at Movieline -- which previously entailed conjuring Daniel Radcliffe-flavored fan fiction and Hunger Games haiku -- I humbly bring you the single greatest prize we have ever offered our readers. One word: Pawtograph. (UPDATE: Many thanks to everyone who played along here, on Twitter and Facebook; read on for our winners!)

Feb. 3: Congrats to the winners of our 10-word review contest, both of whom will receive Artist posters "pawtographed" by Uggie:
@ClaudeZilla: The Artist's Uggie has a certain je ne sais paw.
Tim: Uggie tugging on pant leg, sweeter than Paula Deen's diet.
Huzzah! There were so many excellent submissions here at Movieline, on Twitter and at Consider Uggie HQ on Facebook -- I wish we had prizes for everyone! At the very least, thanks for rallying around this awards season's most stirring underdog! (Ahem.) Go Uggie!
EARLIER: And you thought the Consider Uggie campaign making 10,000 Facebook friends (and an adversary out of Martin Scorsese) was a milestone. In fact, it gets better still as the Artist wonder dog has imprinted his paw on posters for his Oscar front-runner (see above), and I have two of these things to give away. All you have to do is write a 10-word review -- no more, no less -- of Uggie's performance in The Artist at either...
· The comments section below
· On Twitter, with the hashtags #ConsiderUggie and #MLgiveaway
· On the Consider Uggie page at Facebook
The contest is open to U.S. residents only, alas, and if you choose to comment at Movieline, you must include your e-mail address so we can notify you if you win.
The deadline to submit is Friday, Feb. 3 at 5 p.m. ET. Our pair of winners will be announced shortly afterward. Entries will be judged based on creativity, imagination and good humor.
On your marks, get set... go. Good luck!