Report: Samantha Barks, Not Taylor Swift, To Play Eponine in Les Miserables Movie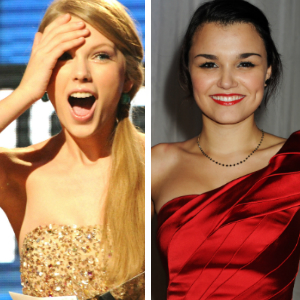 Taylor Swift may have been offered a role in Tom Hooper's Les Miserables film, but has she recently been replaced? According to Broadway World, theater impresario Cameron Mackintosh, who is also producing Hooper's film, announced onstage at a curtain call for Oliver! that stage actress Samantha Barks has been chosen to play Eponine -- the role he cast her in for the 2010 25th anniversary Les Mis concert. Les Mis purists, you may exhale in 3, 2, 1...

According to Broadway World, reports flew in from audience members in attendance:
"He told the cast and audience that he had a big announcement to make before flying to America, and then revealed that Barks would be taking the role of Eponine.

It seems to have come as a surprise to Barks - audience members reported that 'the look on her face was priceless.'"
The 21-year-old Barks competed on the 2008 BBC reality musical television show I'd Do Anything and played Eponine onstage multiple times previously in London, and she certainly knows the material (see below); she'll be joining a cast that already includes Russell Crowe, Hugh Jackman, Sacha Baron Cohen, Eddie Redmayne, Anne Hathaway, Helena Bonham Carter, and Amanda Seyfried.
There's been no word yet on what happened with Swift and her camp, but Mackintosh's grand gesture in front of a packed house at the Manchester Palace was a pretty public way to break the news. Oh, don't you worry, Swifties. The busy warbler has a film coming out this year (The Lorax) and is bound to pick up another acting gig sooner or later.
UPDATE: THR confirms the initial report here.
BREAKING NEWS: Samantha Barks To Play Eponine In LES MISERABLES Movie [Broadway World]