Which Golden Globe Winner Topped Quentin Tarantino's Top 11 of 2011?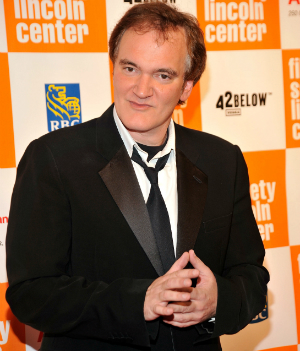 Considering how unabashedly Quentin Tarantino wears his cinephilia on his sleeve, it's always fascinating to get a peek inside that movie geek brain of his to see what's swimming around. And thanks to The Quentin Tarantino Archives, the world now knows which 11 films of last year topped QT's best-of list, which just missed the cut, and which movies, interestingly enough, earned his "Nice Try" award.

Last year Tarantino named Toy Story 3 the best of the year while also praising Animal Kingdom, I Am Love, and Enter the Void in his choice cuts. This time around he seems to have stuck with mainstream cineplex offerings -- no Melancholia, for example, and only one foreign language movie in the entire list!
Browse his picks and see if you agree:
Quentin Tarantino's official Top Eleven of 2011
1. Midnight In Paris
2. Rise Of The Planet Of The Apes
3. Moneyball
4. The Skin I Live In
5. X-Men: First Class
6. Young Adult
7. Attack The Block
8. Red State
9. Warrior
10. The Artist / Our Idiot Brother (tie)
11. The Three Musketeers
Others he liked (no particular order)
50/50
Beginners
Hugo
The Iron Lady
Carnage
Green Hornet
Green Lantern
Captain America
The Descendants
My Week With Marilyn
Fast Five
Tree Of Life
The Hangover Part II
Mission Impossible 4
The Beaver
Contagion
The Sitter
War Horse
Nice Try Award
Drive
Hanna
Drive Angry
Real Steel
Maybe in 2011, while prepping Django Unchained, Tarantino didn't get out much. It's possible he watches more older movies than new ones. Perhaps genre exercises Drive, Drive Angry, and Hanna hewed too close to QT's own wheelhouse to impress. But seriously, Quentin -- the mess that was Green Lantern over the ubercool stylings of Nicholas Winding Refn? Explain thyself!
Midnight in Paris, meanwhile, is such a solid #1 pick that I forgive any other oversights; after all, we all have gaps in our viewing habits, and no list is perfect. (I'm guessing/hoping Tarantino simply missed out on Shame, for example.) Eh, it's Woody Allen's best work in years. It won Best Screenplay at the Globes. I love the thought of Tarantino giving into the romance of it all, since he of all filmmakers gets the allure of nostalgia, clearly.
Head over to The Quentin Tarantino Archives for the full list, including Tarantino's picks for Best Director, Best Adapted Screenplay, and Best Original Screenplay.
[The Quentin Tarantino Archives]