New Snow White and the Huntsman Art Suggests Alice-Like Tone
Set photos of an armored Kristen Stewart and the star's own description of Snow White and the Huntsman's bloody edge had me thinking this could be the more transgressive of the two Snow White projects in the works (the other being Tarsem's newly titled Mirror, Mirror, starring Lily Collins and Armie Hammer). The first official SWATH banner art, however, suggests something a bit more kid-friendly, even Alice in Wonderland-esque. Or am I reading too much into the fantastical, Photoshopped flora and fauna swirling around Stewart, Chris Hemsworth, and the disembodied head of evil queen Charlize Theron?
Judge for yourself: It's a pretty piece of banner art clearly attempting to convey the world-building of a fantasy world with scope and sharp things. All three players -- Stewart's battle-ready Snow White, Hemsworth's axe-wielding Huntsman, Theron's wicked witch of a queen -- are prepared for war. They're also all looking askance in different directions. "There's so much to see here," their steely looks scream. "Just wait til you get a load of what I'm/he's/she's looking at over there!"
(Click for hi-res image)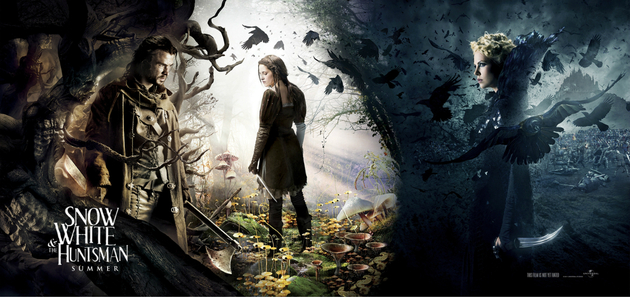 Compare with Disney's tableau art for Alice in Wonderland: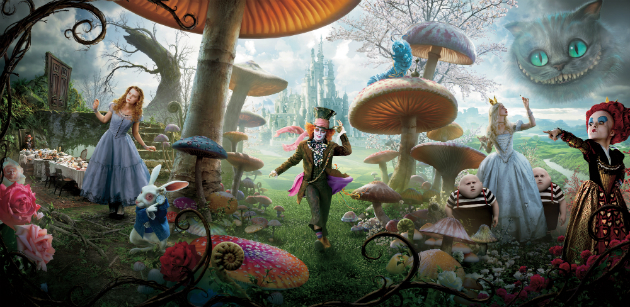 The Alice similarities aren't surprising seeing as producer Joe Roth also made the Tim Burton blockbuster over at Disney, and also since Alice made a crap-ton of money catering to the younger fantasy demographic (which also overlaps with Stewart's Twilight demo). Should've seen this coming, but it makes sense nonetheless.
The SWATH synopsis, courtesy of Universal:
In the epic action-adventure Snow White and the Huntsman, Kristen Stewart (Twilight) plays the only person in the land fairer than the evil queen (Oscar® winner Charlize Theron) out to destroy her. But what the wicked ruler never imagined is that the young woman threatening her reign has been training in the art of war with a huntsman (Chris Hemsworth, Thor) dispatched to kill her. Sam Claflin (Pirates of the Caribbean: On Stranger Tides) joins the cast as the prince long enchanted by Snow White's beauty and power.

The breathtaking new vision of the legendary tale is from Joe Roth, the producer of Alice in Wonderland, producer Sam Mercer (The Sixth Sense) and acclaimed commercial director and state-of-the-art visualist Rupert Sanders.
Snow White and the Huntsman will his theaters June 1, 2012.