Universal Chief Ron Meyer Addresses VOD Fiasco, Admits Cowboys & Aliens, Land of the Lost, Wolfman Kinda Stunk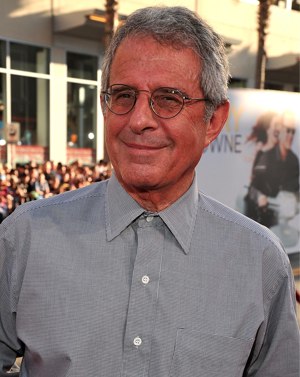 Of the major Universal Studios flops in recent memory, a handful stand out for their massive, and high profile, box office failings: 2009's Sid and Marty Krofft adaptation Land of the Lost, 2010's abysmal Wolfman and geek cult film Scott Pilgrim vs. the World, and this summer's megawatt disappointment Cowboys & Aliens. No one, it seems, is more painfully aware of Universal's missteps than longtime studio head Ron Meyer, who candidly addressed his recent Tower Heist VOD experiment, revisited his rise through the ranks to the top of the Universal chain, and admitted Wednesday in Savannah that some mediocre movies deserve their fate: "We make a lot of shitty movies. Every one of them breaks my heart."
Appearing at the Savannah Film Festival to speak to students and members of the public at the Savannah College of Art & Design, special guest Meyer -- founder of CAA, President/COO of Universal Studios, and the longest-running studio head of his generation -- spoke openly about his fortuitous rise through Hollywood's ranks and the many well-publicized moves Universal has made under his tenure, for better and for worse.
"There was no nepotism," Meyer told a group of assembled SCAD students and filmmaking hopefuls, recalling his beginnings. The son of Jewish immigrants who fled Nazi Germany, Meyer dropped out of high school at 15, joined the Marines at 17, and decided it might be nice to work as a Hollywood agent after reading Stephen Longstreet's The Flesh Peddlers: A Novel About a Talent Agency while locked up in military quarantine with the measles.
"It was about a guy who worked at an agency, drove a fast car, and went out with beautiful women," Meyer recalled. "I thought, why shouldn't I be that guy?... So when I got out, I went looking for a job in the agency business."
From there, Meyer moved to Hollywood, worked odd jobs, and landed his big break as a messenger for talent agent Paul Kohner; six years later he was working at William Morris; five years later he and four colleagues left to start their own agency, Creative Artists Agency. The rise of CAA would make industry history alone ("I was the Henry Kissinger to Richard Nixon. Mike Ovitz was Nixon, of course. He was never as bad as he was made out to be, and I was never as good as I was made out to be, but we were a good combination"), but then Meyer took the gig heading Universal Pictures, a position he's now held for 16 years.
Below, read selected highlights from Meyer's hour-long chat.
On the failed Tower Heist VOD experiment, which he's not given up on just yet:
Meyer's seen a lot change through his nearly five decades in Hollywood. Recent efforts to advance Universal towards what he sees as the future of film distribution -- through the studio's Tower Heist VOD experiment, cancelled due to the loud objection of theater owners -- seem to be minor hiccups in an inevitable process.
"If someone's going to get our movies two weeks after they're released, then they have to pay a premium for that... We still think that's a valid model. Obviously the theater owners didn't want us to do it; we were led to believe that might work, but I think eventually we will get it to work in conjunction with theater owners."
Meyer is hopeful that the narrow VOD/theatrical release window is still a possibility: "I think there are a lot of people who won't go to the theater and are happy to pay a premium price -- whether $66 is the right price, or it's more or less. I think there are people that would be willing to pay that price to not have to leave their house and be able to watch that first-run movie while it's still in theaters, on whatever size screen you have at home. I think we have to be better about it, the studios, and the theater exhibitors have to probably be a little more accepting of what we want to do. We'll have to find a way to do it together."
Awards contenders and critically-lauded films are, unfortunately, not his top priority.
"[A critical hit is] great when it happens. But we did A Beautiful Mind, and I don't know that we'd do A Beautiful Mind again. That's the sad part. It's great to win awards and make films that you're proud of and make money, but your first obligation is to make money and then worry about being proud of what you do."
Building more Harry Potter-themed amusement parks, like The Wizarding World of Harry Potter at Universal Orlando, which falls under Meyer's jurisdiction, may be a priority.
Asked if there were plans to build additional Harry Potter amusement parks built outside of Orlando, Meyer would only respond, "Yes." The tight-lipped mogul couldn't reveal further details.
3-D is a seductive gimmick that audiences and studios should resist carefully.
"I'm not a believer that every film should be 3-D," said Meyer, acknowledging his own fiscal concern over Universal's expensive upcoming 3-D film 47 Ronin, led by Keanu Reeves. "I think there's a place for it; I think certain films lend themselves to it. Warner Bros. did Journey to the Center of the Earth; that movie would have never worked had it not been 3-D. The only thing that made that film palatable at all was the 3-D aspect."
"None of us would be able to do, or afford, what Jim Cameron was able to do with Avatar," Meyer continued. "Avatar was everything money could buy, and we can't afford to be in that business. He spent a lot of money, he did a brilliant job... you were inside that movie, and that's what made it work. You were surrounded by that film. I think 3-D has a limited capacity, but a capacity. I don't think all films should be 3-D and we should be careful about falling for that."
Universal's biggest recent disappointment? The Wolfman.
"We make a lot of shitty movies," Meyer admitted. "Every one of them breaks my heart."
"We set out to make good ones. One of the worst movies we ever made was Wolfman [produced, coincidentally, by local Savannah resident Stratton Leopold.] Wolfman and Babe 2 are two of the shittiest movies we put out, but by the same token we made movies we believe in. We did United 93, which is one of the movies I'm most proud of. It wasn't a big moneymaker, but it's a film I believe every American should see and it showed you what people can do in the worst of times and how great the human spirit is and all that, so there are moments that can make up for all the junk that you make."
What happened, then, with well-publicized financial disappointments Scott Pilgrim, Land of the Lost, and Cowboys & Aliens?
Movieline put the question to Meyer: Why did the aforementioned Universal event films fail?
"Cowboys & Aliens wasn't good enough. Forget all the smart people involved in it, it wasn't good enough," Meyer said, without pause. "All those little creatures bouncing around were crappy. I think it was a mediocre movie, and we all did a mediocre job with it."
"Land of the Lost was just crap," he continued. "I mean, there was no excuse for it. The best intentions all went wrong."
"Scott Pilgrim, I think, was actually kind of a good movie. [Addressing a small section of the audience, cheering.] But none of you guys went! And you didn't tell your friends to go! But, you know, it happens."
"Cowboys & Aliens didn't deserve better. Land of the Lost didn't deserve better. Scott Pilgrim did deserve better, but it just didn't capture enough of the imaginations of people, and it was one of those things where it didn't cost a lot so it wasn't a big loss. Cowboys & Aliens was a big loss, and Land of the Lost was a huge loss. We misfired. We were wrong. We did it badly, and I think we're all guilty of it. I have to take first responsibility because I'm part of it, but we all did a mediocre job and we paid the price for it. It happens. They're talented people. Certainly you couldn't have more talented people involved in Cowboys & Aliens, but it took, you know, ten smart and talented people to come up with a mediocre movie. It just happens."
Next: How Meyer has lasted this long, why he passed on At the Mountains of Madness and The Dark Tower, and a surprise Savannah Film Festival confrontation
Pages: 1 2