Caption This, Win Tickets to the L.A. Premiere of Immortals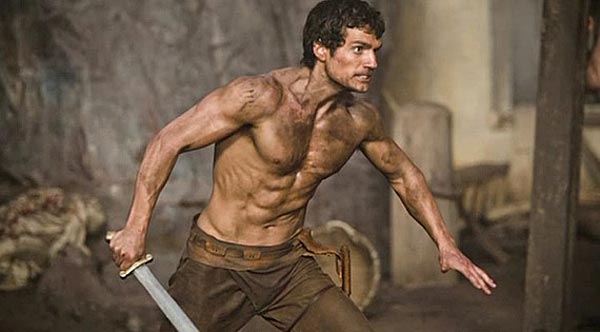 Tarsem fans and Greek mythology nerds, get your thinking caps out; Movieline's got four (4) pairs of VIP tickets to give away to send you and a guest to the Los Angeles premiere of Immortals, and the tix will go to the commenters who submit the best captions to accompany any of the below fantastical stills (or the one above) from the Henry Cavill-starring action pic. Ready, set, caption away! Details after the jump. [UPDATE: Contest is now closed to new submissions.]
The Tarsem-directed epic actioner follows Theseus (Cavill) on a quest to battle the evil King Hyperion (Mickey Rourke), who's hell bent on releasing the imprisoned Titans to end the rule of Zeus (Luke Evans) and co. Along for the ride: The goddess Athena (Isabel Lucas), the god Poseidon (Kellan Lutz), and the priestess Phaedra (Freida Pinto).
You've got 24 hours to caption any of the below photos (or the ab-tastic one above) in the comments below, to enter to win tickets to the Immortals premiere, held Monday, November 7th, at the Nokia Theater L.A. Live (777 Chick Hearn Court, Los Angeles, Ca 90015), at 7:30 pm. Ticket holders must be in seats by 6:45 pm to guarantee seating.
And since Immortals is rated R for "sequences of strong bloody violence, and a scene of sexuality," only those 18 and over can win. Under 18? You can still submit your caption for bragging rights, of course!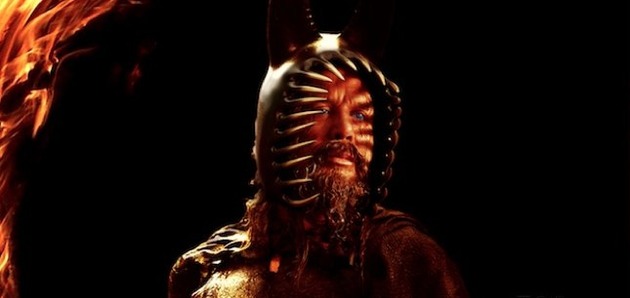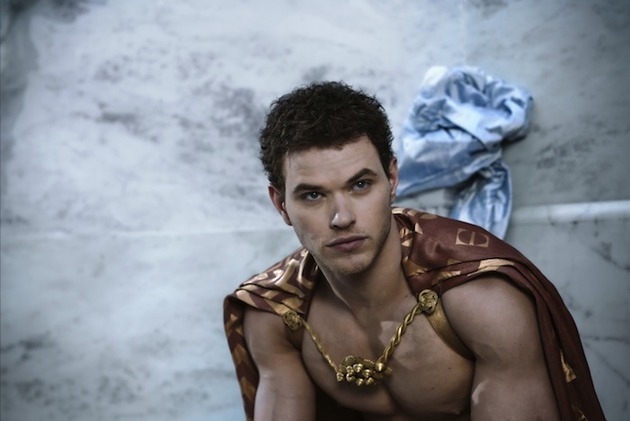 The official synopsis:
Visionary director Tarsem Singh (The Cell, The Fall) transports us in this epic tale of treachery, vengeance and destiny in Immortals, a stylish and visually spectacular 3D action adventure. As a power-hungry king razes ancient Greece in search of a legendary weapon, a heroic young villager rises up against him in a thrilling quest as timeless as it is powerful.

The brutal and bloodthirsty King Hyperion (Mickey Rourke) and his murderous Heraklion army rampage across Greece in search of the long lost Bow of Epirus. With the invincible Bow, the king will be able to overthrow the Gods of Olympus and become the undisputed master of his world. With ruthless efficiency, Hyperion and his legions destroy everything in their wake, and it seems nothing will stop the evil king's mission.

As village after village is obliterated, a stonemason named Theseus (Henry Cavill) vows to avenge his mother, who was killed in one of Hyperion's brutal raids. When Theseus meets the Sybelline Oracle, Phaedra (Freida Pinto), her disturbing visions of the young man's future convince her that he is the key to stopping the destruction. With her help, Theseus assembles a small band of followers and embraces his destiny in a final, desperate battle for the future of humanity. Immortals is produced by Gianni Nunnari (300), Mark Canton (300) and Ryan Kavanaugh (The Fighter).
Entries must be received along with your name and an email address where you can be reached. You may enter in the comments below or on Movieline's Facebook or Twitter pages. Contest ends Friday, November 4 at 9:00 a.m. PT/12:00 p.m. ET.
UPDATE: The contest is now closed. Thanks for playing! Movieline will announce the four winners shortly.