9 Milestones in the Evolution of Demi Moore
In this weekend's Margin Call, Demi Moore plays a workaholic risk management exec whose reckless peers at a fictional Wall Street investment firm help ignite the 2008 economic crisis. So how did a Brat Packer from the '80s transform herself into a high powered finance exec?
You can always trace a direct line through a few important roles to illustrate what led to an actor's current success. As such, let's look at nine pivotal performances that track the evolution of Demi Moore.
General Hospital(1982)
Born Demetria Guynes in Roswell, New Mexico to a single mother, Moore spent her formative years moving around the country before ultimately dropping out of high school at the age of 16 to model and act. After taking the last name of her first husband (musician Freddie Moore), she landed two forgettable film parts (Choices and the low budget horror flick Parasite) before scoring a recurring role on General Hospital. As Jackie Templeton, an unfailingly ambitious and ruthless reporter, the 19-year-old impressed casting directors enough during her two-year stay at the soap to start being cast in meatier big screen roles.
St. Elmo's Fire (1985)
After a pair of sizable film roles (opposite Jon Cryer in the rom-com No Small Affair and Michael Caine in Blame It On Rio) failed to get the actress much attention, Moore was cast by Joel Schumacher in his coming-of-age '80s classic St. Elmo's Fire as Jules, the hard-partying, extravagant, emotionally distant member of the ensemble bunch. It has been widely reported that Moore didn't just "play" a hard-partyer -- she was reportedly fired from the film after showing up to set high one day. Fortunately, Moore was re-hired after sobering up and signing an ultimatum from Schumacher. Moore proved herself on and offscreen with the role, which would launch her into the beginning stage of stardom and forever associate her with the "Brat Pack" clique along with her co-stars Emilio Estevez, Rob Lowe, Andrew McCarthy, Judd Nelson and Ally Sheedy.
The Seventh Sign (1988)
After cementing herself as a viable actress in About Last Night, the relationship comedy-drama co-starring Rob Lowe, Moore found her first star vehicle in the apocalyptic drama The Seventh Sign. As a pregnant woman trying to stop the end of the world, Moore impressed critics -- including Roger Ebert who said that this role confirmed she had "a genuine charisma, an aura of intelligence and resolve, reinforced by her throaty voice" -- but could not save this otherwise mediocre movie.
Ghost (1990)
In 1990, Moore reached the milestone that would establish her as a star: Ghost, the romantic drama co-starring Patrick Swayze that is best remembered for its erotic (and oft-parodied) pottery wheel scene. Moore stars as a widowed artist whose husband finds a way to stay on Earth as a ghost. Grossing over $500 million worldwide, Ghost remains the most lucrative film of Moore's acting career. Because of Ghost's box office success, Moore became one of the most sought-after and most expensive actresses of the '90s, even after her follow-up flops The Butcher's Wife and Mortal Thoughts.
Vanity Fair Cover (1991)
Even after proving that she could play vulnerable in Ghost, Moore was never considered a contender in the "America's Sweetheart" race like her '90s leading lady peers Julia Roberts, Meg Ryan and Sandra Bullock. This is partly because of her husky voice, her onscreen steeliness and her inherent sexiness -- the latter of which which she capitalized on with the controversial Annie Leibovitz Vanity Fair cover. The cover portrait shows Moore seven months pregnant with her second child and nude -- an image that was supposed to be an anti-Hollywood statement and proof that mothers could be sexy...or something. The cover succeeded in getting Moore attention and causing controversy but it failed in that turned more traditional audience members off of her work.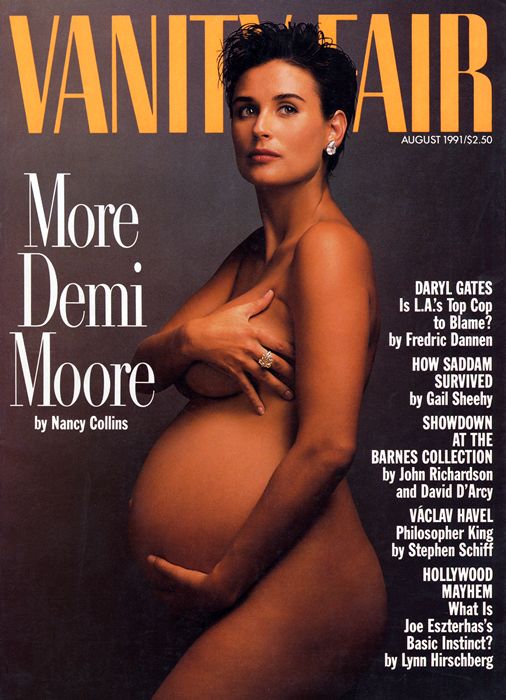 Pages: 1 2