Cinemark Chain Protests Tower Heist VOD Test, Refuses to Play Movie Nationwide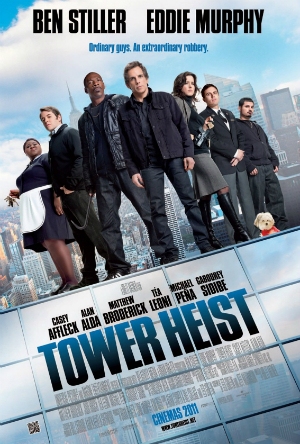 The latest in what's sure to be an ongoing and convoluted affair: national theater chain Cinemark has lobbed the first return volley in the face of Universal's Tower Heist VOD experiment, refusing to play the Brett Ratner-directed Eddie Murphy-Ben Stiller comedy in any of its 300 locations and 3,800 screens come November 4. The question is: Will Universal back down from its $59.99 video-on-demand market test -- or will other exhibitors join Cinemark to boycott the move?
Earlier today, Movieline's own S.T. VanAirsdale outlined the $59.99 Tower Heist conundrum, which will test moviegoers' willingness to shell out the big bucks to watch a new release in the comfort of their own home. (Read his analysis, and what it could mean for the way we consume movies, here.) The implications of Universal's Tower Heist gamble working and catching on, either with other Uni titles or at other studios, are game-changing -- and Cinemark's public stand is evidence of just how much the theater chains are worried it might work.
From The L.A. Times:
It appears that Universal chairman Adam Fogelson and his team had hoped that the theater chains would feel included in the process and decide that their business was not threatened due to the limited nature of the Tower Heist test, which would be available in about 500,000 homes.

But Cinemark, which operates about 3,800 screens in the U.S., is sticking with its fierce opposition to the premium VOD business. It and the two larger exhibitors, AMC Entertainment and Regal Entertainment, last spring waged a public battle against a premium VOD test by four studios, including Universal, that made movies available -- for $29.99 -- 60 days after their debut in theaters.

Those companies believe that making movies available to watch at home sooner than 90 days after the premiere encourages consumers to not go out and buy tickets.
It remains to be seen if the other major chains will join Cinemark in the boycott -- or even if the public at large cares enough to take the studio on its Tower Heist offer. A more impactful event film, perhaps, might entice viewers to pay $59.99 to skip theaters and instead watch a film this pricey on demand. Tower Heist doesn't quite have the pull of an Ocean's 11 or even Ratner's Rush Hour hits, properties that come to mind as predecessors to the ensemble comedy. Was this the right movie to wage war over to begin with?
• Cinemark theater chain to ban 'Tower Heist' over premium VOD plan [LAT]