You're Next Graffiti Art: Is Banksy at Fantastic Fest?
A cool bit of graffiti art popped up overnight at Fantastic Fest for Adam Wingard's buzz film You're Next, which screens later tonight. Passes to the hotly anticipated horror pic, which was picked up by Lionsgate after a Toronto Film Festival bidding war, sold out quickly online and with fest faves A.J. Bowen and director Ti West (who both star in the film) in town it's one of the hot tickets for tonight. Is Banksy in our midst as well, spraying movie promos all over Austin? Or Mr. Brainwash? (Or both, if they're the same person??)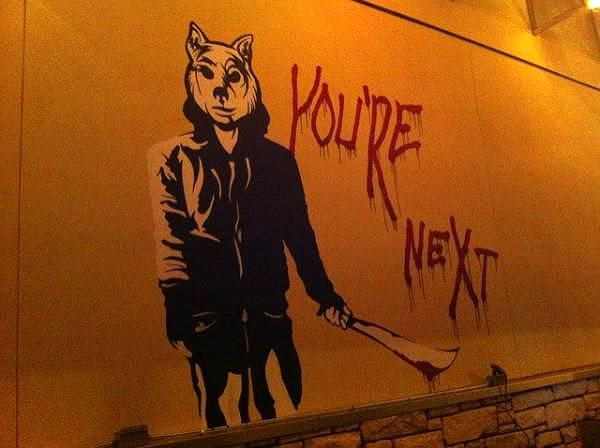 Probably neither, but you never know. A similar graffiti campaign materialized in Toronto when You're Next premiered there; this piece adorns the outside wall at the Alamo Drafthouse. This is the kind of thing that could make for a distinctive, out of the ordinary marketing move for Lionsgate come next fall, when they'll reportedly release the film.
[Photo via Chase Whale/Fantastic Fest]
Follow Movieline on Twitter (@Movieline) for more updates from Fantastic Fest.