Photo Evidence Found in Toronto of the One Thing Hotter Than Ryan Gosling
Ryan Gosling may be a real street fight-stopping hero in man capris and the vulnerable getaway driver next door in this week's Drive, but a keen-eyed Movieline reader in Toronto sent in evidence of the one thing hotter than the Goss. No, not those Scarlett Johansson pics. Something even sweeter! Feast your eyes upon this discovery and stay for more in today's Buzz Break!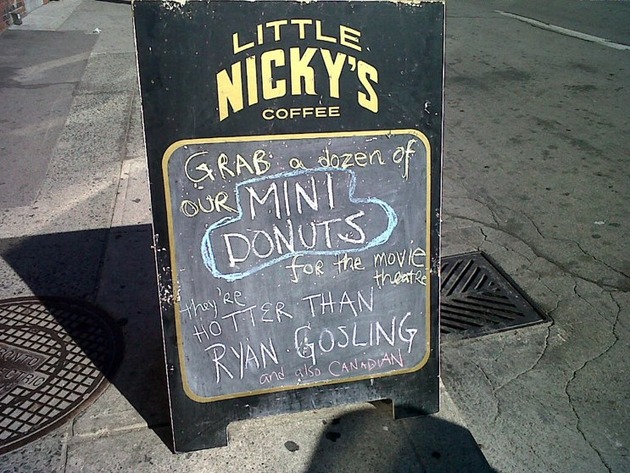 • Cinematic Method present possibly the worst-conceived movie joke ever from a scene between Mandy Moore and Kellan Lutz in the Dermot Mulroney-directed, Love, Wedding, Marriage. [Cinematic Method via @EricDSnider]
• Who ya gonna call when Ghostbusters gets a theatrical re-release this October? (And will enough fans go to convince Bill Murray to finally read that Ghostbusters 3 script?) [Facebook]
• Booze, booze, fried chicken, more booze. Dine like Liz Taylor, circa 1960! [It's All About the Dress via Village Voice]
• Fascinated by the near-incoherent action cutting in the chase scene from The Dark Knight? Jim Emerson takes a look at Chris Nolan's chaotic techniques in a well-studied, semi-academic video essay on the crazyballs sequence. [Press Play]
In the Cut, Part I: Shots in the Dark (Knight) from Jim Emerson on Vimeo.