Auction Time: How Much Would You Pay for the Limited Edition Back to the Future Nikes?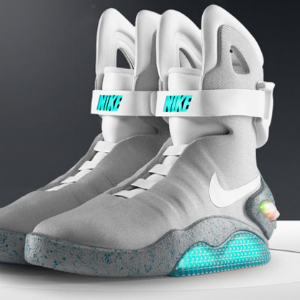 Turns out Frank Marshall's mysterious Back to the Future tweets this week weren't just for a cash-grab retro Nike tie-in shoe, but part of an entire operation created to raise money for the Parkinson's research charity of Michael J. Fox, the film series star. As of 9:30pm PT Thursday, one hour into the 10-day auction of 150 pairs of the limited edition kicks -- fully replicated from Marty McFly's shoe closet and pimped out in futuristic detail -- bids were already in the thousands for a single pair. Worth the money? Check out specs, photos, and more on the worthy cause.
The 2011 Nike MAG shoes in gray previously only existed in the year 2015 in the Back to the Future universe (and in your dreams, BTTF nerds). Between the MAGs and Kyle Reese's Nike Vandals from The Terminator, the '80s were rife with sneakers you wish you owned. So it's nice that instead of simply re-releasing the BTTF shoes, Nike paired up with Fox to capitalize on sneaker freak culture and raise money for charity at the same time.
Among the shoes' accoutrements, designed by Tinker Hatfield and Tiffany Beers, are "an electroluminescent outsole, space-age materials and a rechargeable internal battery good for 3,000 hours." A certificate of authenticity designed like the DeLorean's license plate comes with each pair.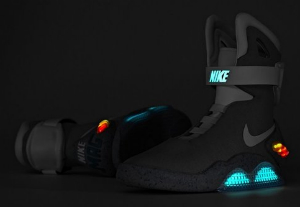 (Left: Also, when the lights go off, the Nike MAGs look like this.)
The Nike auction website states that all net proceeds from the auction will go to the Michael J. Fox Foundation for Parkinson's Research. In addition to a live auction event hosted last night in Los Angeles by Joel McHale, where a pair of MAGs were sold to a high bidder for $37,500, the online portion of the auction event is taking place over a 10-day span at eBay running from Sept. 8 to Sept. 18. There, 150 pairs of Nike MAGs are each up for bidding in separate auctions in sizes 7-13.
Within an hour of the online auction's opening Thursday night, things got so nuts that one pair of size 11s were going for $75,100, with over 100 bids placed. (That particular auction appears to have been eventually removed from the public auction website for unknown reasons and replaced with this pair of 11s, currently at $8,200 with 27 bids.) The current high bid overall, 12 hours into the 10-day event, is $9,000 for a men's size 8.
Meanwhile, a new promo short directed by Frank Marshall, shot by Dean Cundey, and produced by Robert Zemeckis and Bob Gale, starring Bill Hader, Christopher Lloyd himself (!) and Kevin Durant, has been released in conjunction with the auction. It's part shoe commercial, part familiar hijinks, but am I crazy to think super-producer Marshall, who directed second unit on the first Back to the Future and exec produced the whole trilogy, wouldn't be bonkers if he looked into somehow making yet another BTTF film? I'd watch it.
And a personal message from Marty McFly himself, Michael J. Fox:
Find more information on the charity auction at www.back4thefuture.com.