Jaimie Alexander on Her Thor Breakthrough and Visions of Lara Croft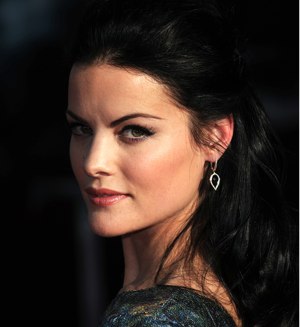 From her first leading role in the tiny horror thriller Rest Stop to her casting on the cult-darling TV series Kyle XY, Jaimie Alexander already knows a thing or two about career milestones. But little could prepare her for Thor, the Marvel blockbuster that over the last month has put her on silver screens and red carpets around the world.
Directed by Kenneth Branagh, the film features Alexander as Sif, the Asgardian warrior goddess who accompanies the arrogant but well-meaning Thor (Chris Hemsworth) on his interplanetary exploits. When he is banished from Asgard following an ill-advised incursion into mortal-enemy territory, Sif and the rest of Thor's crew travel to Earth to help initiate his return to heroic glory.
It's a role you can expect Alexander to be busy with for a while to come as Marvel develops sequels, continuations, franchise overlaps and the rest of its movie universe, but the actress has other heroes in mind as well. Are we in the presence of the next major female action star? Alexander talked over that future -- as well as her theater past and blockbuster present -- with Movieline.
I hear you're on the road. Where are you off to now?
I'm just up in Toronto. I can't tell you what I'm working on, though.
Ooohh! Top secret!
Yeah! Well, kind of, at least for now. That's what I've been told. It's not a huge deal it's more of a fun project that I decided I wanted to do.
Movie or TV show?
Television, but I'm not a regular. I can tell you that much.
Your bio notes your hometown of Grapevine, Texas. Where is that?
That's where I grew up. I was actually born in Greenville, S.C., but we moved to Texas when I was really little -- maybe 4 years old. And then I grew up in Grapevine. It's right outside of Dallas.
Is that where you first got into acting?
When I was grade school -- maybe seventh or eighth grade -- I took theater for fun. Then, when I got into high school, I actually got kicked out of theater because I can't sing, and a lot of time the productions they put on were musicals. The teacher thought my time was best spent somewhere else. So I went into sports.
So how and when did you continue to pursue acting?
Well, I definitely had a passion for it. I always thought it would be fun, and I was a big goof-off and things like that. And one time, a friend of mine was sick in Texas -- she had her wisdom teeth taken out, and they put her on some kind of medication that made her ill. She had paid a scouting agency -- and we were about the same size, same height, same weight -- and she said, "Will you go in my place? They won't give me my money back." I said, "All right, though I don't really know what you want me to do." So I went.
At the same time, coincidentally, my manager -- who's still my manager today, Randy James -- was in the audience of this showcase because someone he knew was pregnant. They were going to have a baby, and so he went in their place. It was very serendipitous.
What's the path from there to Hollywood?
Randy found me and sent me a few scripts, and this is when I was 17. I was still in high school, so I waited about a year and a half. The summer after graduation I decided to move to L.A. and give it a shot because I wasn't that passionate about much else, to be honest with you. I think if I wasn't an actress I would have been a chef. I might have gone to culinary school. But I just ended up moving to L.A. and trying. It took me a couple years to break in a little bit, but then I just started working.
When did Kyle XY come along?
I think I got that four years after I'd been in L.A., maybe three and a half. I was 22 when I booked that show, but I turned 23 very soon after. It must have been four years.
When you got that show, did it feel like the break it became for you?
You know, it did and it didn't. I thought, "This is going to be an interesting character to play," and I knew I would get publicity from it and that sort of thing. But I also knew that it was on ABC Family, which is a network a lot of people weren't aware of yet. So it was one of those things where I said, "This'll be a great learning experience." I had no idea that I would get as much attention as I did. I had no idea that I was going to be on the billboards with Matt Dallas and all that. So that was a shocker -- coming back to L.A. after shooting the first season I was in, which was season two -- driving around and seeing myself with no belly button on a billboard.
But you also had a leading role in a film at that point, too, right? Rest Stop?
Rest Stop actually came before Kyle XY, and I had no idea what I was doing. Before then I had done some guest starring here and there and some commercials, but I had never really done anything of that caliber that was so demanding. But it was a great experience because I learned the I could take on physical roles really well. I still didn't know what I was doing. It was pretty intense, but it was a lot of fun. Such good people worked on that movie; it was a great experience for me.
How do you mean "physical"? Like rough-and-tumble, or just using your body differently for the character, or...
I had no idea it was going to be as physical as it was, and as time went on, day by day, I thought, "This is really demanding -- but I enjoy it." There's something about it that made me feel more connected to the character and required less effort in the "acting" department because there was so much physicality -- there was so much going on. And then, you know, I got Kyle XY, and that was another physical role. There were a few projects in between that were also physical. So I just think, "Wow." Naturally, when people meet me, I suppose they think, "This girl can really take on this kind of stuff." I'm not sure how it happened, but it seemed to be the alley I walked down.
Pages: 1 2