Dolores Fuller, Ed Wood Ingenue and Elvis Songwriter, Dies at 88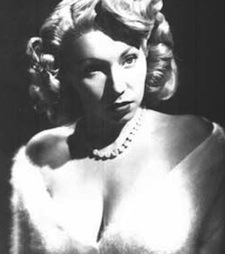 Let's all take a moment to remember the late Dolores Fuller, the B-movie actress whose soft angora sweaters brought out the best in filmmaker boyfriend Ed Wood. Portrayed by Sarah Jessica Parker in Tim Burton's Ed Wood, Fuller starred in Wood's early films Glen or Glenda, Jail Bait, and Bride of the Monster, and later enjoyed a successful career as a songwriter.
After parting ways with Wood in 1955, Fuller teamed up with Elvis Presley songwriter Ben Weisman and wrote lyrics for a dozen '60s-era Presley films, including Blue Hawaii, Fun in Acapulco, and Kid Galahad.
One of my fave Fuller jams, the poppy beach surf ditty "Do the Clam," was written for 1965's Girl Happy. Watch it below along with clips of Parker as Fuller in Ed Wood and Fuller herself in Glen or Glenda.
· Dolores Fuller dies at 88; actress dated director Ed Wood [LAT]