Brit Marling on Sound of My Voice, DIY Filmmaking, and Her Dream Director Wish List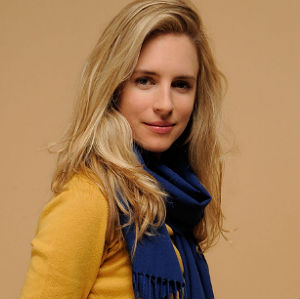 Brit Marling studied economics at Georgetown and might have been an environmental activist or banker in another life if she hadn't answered the siren call of Los Angeles and moved west to risk it all as an actor. And what a payoff: having co-written, produced, and starred in two critically acclaimed films at Sundance (the sci-fi romance Another Earth and the wonderfully hard-to-define cult drama Sound of My Voice), Marling's smack dab in the middle of her well-deserved breakout moment. Movieline caught up with Marling at SXSW to discuss borderline illegal guerrilla filmmaking tricks, taking professional risks, and avoiding the "morally-corrupt swamp" that is Hollywood.
Perched at a table at Austin's Highball Lounge, the affable Marling expressed genuine humility and gratitude at the attention she's received since emerging as one of the defining new faces of Sundance 2011. In town to present the provocative, not-yet-acquired Sound of My Voice at SXSW with director Zal Batmanglij (who, like Another Earth director Mike Cahill, has collaborated with Marling since their days as students at Georgetown University), Marling still seems surprised and humbled by the hype.
Poised and utterly self-possessed, she's got a confidence and determination that promises to sustain her through a long, fruitful career full of challenging choices, whether with Batmanglij and Cahill or any of the iconoclast directors on her wish list. Much of that fierceness comes through in Sound of My Voice, in which Marling plays Maggie, an enigmatic young cult leader who claims to be from the future and whose strange cult is being infiltrated by two aspiring documentarians. Meanwhile, she explores an entirely different side of herself as an MIT astrophysics student pondering mirror lives in Another Earth, which will be released by Fox Searchlight this summer.
Sundance was a huge coming out event for you. How did you process the sudden attention of being named a Sundance darling in your first major festival appearance?
To be perfectly honest, it's a little weird. It's weird because, I guess, you're working for so long in a vacuum -- writing this work, making this work -- and you're doing it really on your own. It hasn't met up with the world, and you're totally sustained by just making the work. So it's a completely different experience for it to enter the world and to get responses and reactions. And of course, the Sundance experience was amazing. I'm incredibly moved by the programmers of that festival -- that they would search out these films that are so small, handmade, truly outside of the system of filmmaking, and that they would bring these movies that were made in little caves in Silverlake and take them and bring them into the light. It's pretty amazing.
Not only that, you also got to bring two films to Sundance with two of your close collaborators, Mike Cahill and Zal Batmanglij. You were all three roommates once upon a time, right?
For a long time in L.A. the three of us lived together and we were kind of each others' family in L.A., in a way. We'd all left family on the East Coast and come out to the West Coast, and L.A. can be a very isolating city. Doing this kind of work is really extreme work. I think we were really lucky that we had each other and could encourage each other, because there was quite a bit of time before we were able to make these movies. And of course you're filled with doubt; can you really do this? So it's nice to have each other for encouragement, to keep going. Otherwise I'm not sure. Maybe I would have ended up doing something else.
What would you be doing instead?
When I think about what I would be doing if I wasn't an actor... maybe an environmental activist? An eco-terrorist of some kind? I don't know. [Laughs]
Take us back to your days at Georgetown. How did you meet Zal and Mike in the first place?
I was a freshman and they were seniors and there was a film festival at Georgetown, which is really odd because everyone there is going to work on Capitol Hill or at an investment bank. But they had a festival, and it was the first year they'd had one, and the films were all horrible. I mean, the worst student filmmaking ever. And then there was this film that came on at the end, and it was colorful and poetic and it was digital filmmaking like you'd never seen before. It had all this breadth to it, really beautiful imagery, the rhythm of it, an interesting story. I remember it won first place and I just popped up and led the standing ovation for the film. The filmmakers came onstage to get the award and it was Mike and Zal, and I saw them and I was like, "Okay. I have to be friends with these people." And the three of us started making movies together.
That was an amazing time; I don't think we thought we would ever end up making movies that way later. We came out to L.A. and assumed we'd learn to make films properly, whatever that means, but because of the recession, because of the way filmmaking and technology has changed, we pretty much ended up making movies in the same sort of completely illegal guerrilla fashion that we'd been using to do stuff at Georgetown.
Another Earth has been picked up and Sound of My Voice has gotten so much positive buzz that it seems like a distribution deal should be on the horizon, but you folks still talk, and openly so, about the semi-legit hustle of getting Sound of My Voice made...
Like returning our Mac every 14 days! It was actually really hard; we would pull up, I would put on the emergency lights and Zal would run in with this heavy computer. Tamara Meem, the editor, had to reinstall the Final Cut software every time. It was an intense way to go about it but it was also the only way we could afford to do it. [Laughs] Yeah, we were pulling a lot of tricks like that.
You have to think that somewhere out there, aspiring filmmakers are hearing these stories and thinking to themselves, "Brilliant idea!"
Yeah, I think one of the things we realized is that sometimes in life when you're doing your craft, you're often waiting for permission -- for someone to give you money, for someone to read a script and say yes, you can go do it. And I think at some point I was like, "I don't want to wait for permission anymore." Let's just do this, let's make these movies for whatever money we can raise, we'll figure it out. And it's kind of cool because there ends up being as much creativity in the execution of figuring out how to make a movie with limited resources as there is in the screenwriting or in the acting.
You multi-task with your films, acting, producing, writing -- but you studied a very different field. At what point did you decide to go full-force into filmmaking?
I had done plays and studied acting a bit in high school, and I think when I was graduating a lot of my friends were going to theater school. I really wanted to act, but I felt like I knew a lot about plays, about Shakespeare and Chekhov and plays, but not enough about being a human being in the world. I didn't understand how you could be an actor if you didn't also study philosophy and study political science, astronomy. And also just go out and live life and have experiences. These are all somehow part of being able to bring something to Chekhov, or bring something to any play or any story.
Or just merely having something to say.
Yes! And at the time I decided that I was going to get a broader liberal arts education and also just go live some life, because the drama world felt small and a bit self-referential. Not a lot from the outside was coming in. I ended up studying economics -- I don't know exactly how all of that happened -- and I ended up working in an investment bank for a while, then I think at some point I just decided that I didn't want to be afraid. I think when you decide you're going to go act in L.A. it's just an overwhelming wave of fears: I'll never make any money, I won't survive, I'll waste all this time in my life that I could have used pursuing another direction, I'll fall behind... the feelings of illegitimacy, of struggling for so long and not getting to do the work you want to do. Everybody's writing you off as another young girl who's gone off to L.A. It's a huge risk. And I guess I finally came to a point when I was working at this bank and studying econ when it didn't feel like a risk anymore because I was so not living the life I wanted to live. And that felt like its own kind of death. So at some point you realize that your life is not just going to start one day in the future, that you're living it. You are nothing more than the
sum of the small choices you make on a daily basis, so if you choose to study economics or you choose to be a banker, this is going to be who you are. It gave me more courage to go be an actor, because the more time I spent acting the more I liked who I was. I feel like I'm a much better person when I'm developing my imagination and my innocence and my vulnerability. I like that version of me better than the version where I'm just working on my analytical mind.
Pages: 1 2