Mia Wasikowska on Jane Eyre, Growing Up Kieślowski, and Avoiding 'the Popcorn Stuff'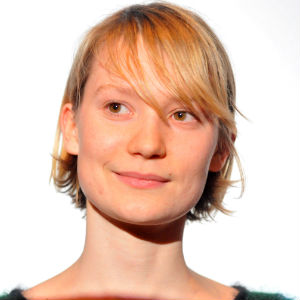 Following a stellar year in which she starred in two Oscar-nominated films (Alice in Wonderland, The Kids Are All Right), Australian actress Mia Wasikowska continues to impress in Jane Eyre, a moody and gorgeously haunting adaptation of the Charlotte Brontë classic helmed by director Cary Fukunaga (Sin Nombre). The 21-year-old commands the screen as the titular heroine, an unloved orphan-turned-headstrong young governess who falls for her employer (Michael Fassbender) as sordid secrets threaten to destroy her chance at happiness. Challenging material for most young actresses, but what did you expect from a girl who grew up watching Kieślowski?
Wasikowska spoke with Movieline days after the Oscars, revealing that she hadn't actually attended Hollywood's big night despite the high-profile nominations of her two 2010 films. But given her startlingly mature and delicately nuanced performance in Jane Eyre (in limited release this week) and her proclivity for working with independent-minded directors (upcoming films include Gus Van Sant's Restless and Rodrigo Garcia's Albert Nobbs -- a far cry from the clichéd popcorn roles she told Movieline she avoids), it can't be long until Wasikowska takes the Academy stage herself.
How was your first Oscar weekend?
I didn't go, but it was the first time I'd been in something that was nominated.
Well, you had two films nominated -- you're batting pretty high for a young actor.
Yeah, it's wonderful! It was a good year.
Jane Eyre continues the streak; it's an incredibly beautiful film. What piqued your interest about playing this literary heroine?
I think that the story is so modern, in a way, in the sense that if you took away the costumes and the setting, at the core of it is a story that is very much a modern story. And it's testament to the book -- the book's popularity has never wavered, it's never died down. If anything it's gotten stronger and continued and it keeps connecting with people. And that's because at the core of it you have a young woman who's trying to find a family and love and a connection, in a very dislocated world. I was completely struck by her character when I read the book.
Had you read the book before reading the script?
I read the book mid-2009, and I was halfway through it when I emailed my agent and I was like, "Is there a project around, are they developing a script -- is there anything happening with this?" There wasn't at the time but about two months later she emailed me the script and I met with Cary. So it was amazing timing.
No kidding! You just happened to be reading Jane Eyre at that time?
Yeah! I came back home to Australia from filming Alice in Wonderland and it was the first time I didn't have to go back to school, and I was at such a loss for what to do. So I decided to make a list of books I should read to try and educate myself, and Jane Eyre was one of them. It was amazing.
It's a classic. What else was on your reading list?
I had a lot of catching up to do so I had a lot of the typical classics - To Kill a Mockingbird, 1984, Animal Farm, One Hundred Days of Solitude, Love in the Time of Cholera. All the big ones. And Jane was my English literature component. [Laughs]
Having known and loved the character, what was your reaction to how Moira Buffini adapted the story?
The book is from start to finish 500+ pages of Jane's inner monologue. Everything we know is because of what she's told us directly. So the challenge of adapting it to screen is that you have such a limited opportunity to show actual dialogue, but then you want to get a sense of her intense thought and her observations and everything that's going on in her mind. I thought the script really captured that. And I loved how it begun instantly, with her running away -- for people who don't know the story, you're instantly with her, running away. It's a mystery; you want to know who she is, what she's doing, and why she's there, and how she got to be there. And that I really love.
Another actress, Amelia Clarkson, plays the younger Jane. Did you work with her to establish commonalities in your respective portrayals?
Yes, we hung out for a few days during the rehearsal period and talked about Jane, read some scenes just for fun, and she's excellent.
Jane Eyre is such a different film from Cary Fukunaga's feature debut, Sin Nombre, that he may have taken some people by surprise with this project as his follow-up. How do you see the fit between director and material?
He brought a really fresh energy to it and a lot of youth and enthusiasm to the material. And also kind of an outsider's perspective, which I think is really great. One of the things that struck me reading the book was that for some reason, in my mind, Jane was an adult. Then when I read the script, I realized she's only 18 -- she's a teenager. And I'd always thought of her as this older person, but she's the same age as me, yet her responsibilities are so elevated. She has so much on her shoulders, compounded by an incredible isolation, and her main company is with an 8-year-old and Mrs. Fairfax. Cary's ideas from the beginning really emphasized her youth. That makes the dynamic between Jane and Rochester really interesting, I think.
Did you feel the age difference on set with Michael Fassbender?
You know, not really. The thing is, I had so much fun with Michael. From the beginning I think there was a sigh of relief on everybody's part that we got on so well, and from there half your job is done in the sense that we have a similar way of working, so we were able to counter the intensity of the material with a lot of fun and then channel that energy into the intensity of the scenes. And I think we just brought out the kid in each other, really. I felt like a 10-year-old hanging out with my buddy with Michael.
In terms of your other love interest, you got to reunite with your Defiance co-star Jamie Bell, which was fun for me as a viewer, thinking "Forest wife!" to myself in the theater.
I know! We've already been married in a previous film! It was so much fun -- Jamie is one of my favorite people to work with. We had a blast.
Was it completely coincidental that Jamie was cast in Jane Eyre?
I think I was already on the project and then Cary told me that he was doing it and I was like, "Excellent!"
While we're on the subject of Michael and Jamie as Rochester and St. John, if Jane was your friend do you think you'd counsel her to make different romantic decisions?
I think she made pretty good decisions -- I think she'd be counseling me!
As a young person of the 21st century, how do you relate to Jane's predicament and the specific period gender politics at hand?
There was such etiquette and such a system, a way that things happened. If something happened outside of that pattern, it was like, "Whoa!" It was scandalous. For me now, I feel like we still have that -- a certain amount of the way things happen, the way things are done. But we have a lot more freedom, and that's part of my admiration for Jane. She was an independent thinker, had such strength of character and thought, and in that time she was kind of radical. I feel like if she was in our time she'd be running Parliament or something, running the country.
Another element of this adaptation that Cary emphasizes is the Gothic horror feel, the bumps in the night and ghostly whisperings. How did you play that up in the moment?
So much of that is credited to Adriano Goldman, the cinematographer -- his lighting, and the score, and the way Cary shot things. And I just had to inhabit those areas. But it's a really dark book and a Gothic novel, so I was happy those things were included.
You've cited Kieslowski as an artistic influence. How were you exposed to his work, and what other artists have inspired you?
Both my parents are photographers and my mom is Polish, so I grew up watching a lot of European cinema and independent cinema. My mom would always kind of educate me on that. Kieslowski was her favorite director and his Three Colors trilogy always seemed to be playing on a loop in my house all the time, so I kind of grew up watching it. I've always had such strong memories of it playing. And when I watched it seriously all the way through for the first time, I was really struck by it. He's one of a number of other filmmakers who've really
changed my perspective on cinema and what it can mean and do.
You're of an age where, in Hollywood, many of your peers take the teen movie route. How deliberate have your choices been as you've emerged as an actress? Do you shy away from those mainstream young person roles and projects?
Yeah, and I feel like I've been very lucky. You know, it's rare to get a character that resembles something of what it's actually like to be a teenager or a young person. There are so many clichés and stereotypes, and I feel like although they're very attractive to watch -- it's very attractive to watch clichés and stereotypes -- I feel like they're so hard to connect to. It's all popcorn stuff. It's fun to watch but at the end of it they're kind of void of substance. So I love trying to find material that I think is true to what it's like to be a young person or a young girl, from my understanding of it or my friends' understanding of it.