9 of the Youngest Stars to Ever Host Saturday Night Live
Even though Miley Cyrus has a lifetime worth of experience (especially in the bong department), the former Disney star is still just 18 years old. And this weekend, like many more established actresses before her, Cyrus will publicly test her sketch comedy chops for the first time when she hosts Saturday Night Live. Before you give the multi-hyphenate a sympathy handicap for her young age though, let's take a look at the youngest Saturday Night Live hosts and see how they fared.
8. and 9. Mary-Kate & Ashley Olsen, Age 17 (2004)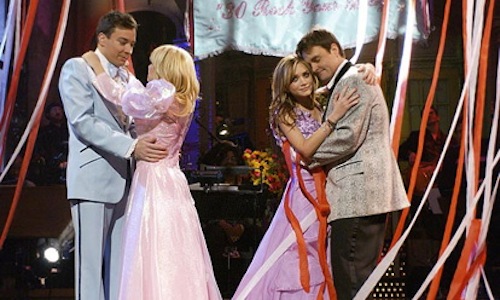 Teenage fame comes at a price. Back in 2004, the billionaire twins forfeited their high school prom to co-host Lorne Michael's little sketch show. To make up for their loss, Jimmy Fallon and Will Forte stood in as the Olsens' prom dates, gave them ugly gowns and then stood by as Maya Rudolph projectile vomited all over them. Which experience would you rather have? [View the clip here.]
7. Taylor Lautner, Age 17 (2009)
Not even musical guest Bon Jovi could salvage robo-Lautner's episode last year. Instead of showing off deft comic timing and wit, Twilight heartthrob Taylor Lautner was left to stiffly play an ugly girl on Team Edward and poke fun at the unfortunate Kanye stage-crashing that affected his then-girlfriend Taylor Swift at the VMAs. Sadly, the show would have been better if he sat onstage shirtless for 90 minutes.
6. Lindsay Lohan, Age 17 (2004)
Remember back when Lindsay Lohan was relevant -- and not just some actress more popular for her jail time than her IMDB credits? Well, that was seven long years ago when burgeoning starlet took the Saturday Night Live gig to promote Tina Fey's film Mean Girls. Harry Potter boobs skit aside, Lohan was funny and demonstrated a knack for sketch comedy that could have helped her later in her career. This episode is also of note for the classic first appearance from Debbie Downer.
5. Malcolm-Jamal Warner, Age 16 (1986)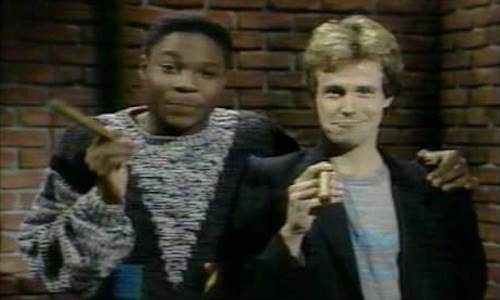 In one of the more classic episodes of the '80s, The Cosby Show's Malcolm-Jamal Warner hosted, Sam Kinison appeared for stand-up, Run-DMC performed and Spike Lee stopped by as a special guest. In spite of its host, cast member Phil Hartman ruled this episode -- as Phil Donahue, Bing Crosby (for a sketch called The Crosby Show) and World War II actor Johnny O'Conner.
Pages: 1 2