Mia Wasikowska on That Time Michael Fassbender Gave a Horse a Boner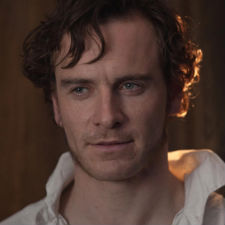 When Cary Fukunaga's moody adaptation of Charlotte Brontë's Jane Eyre hits theaters this month, Mia Wasikowska's titular heroine might not be the only one seen onscreen making restrained-but-passionate googly eyes at everybody's favorite man-crush, Michael Fassbender. Even the equine species, it seems, is susceptible to Fassbender's dashing good looks and charm, as one enamored horse very ardently demonstrated on the set of Jane Eyre.
Fassbender plays the handsome Mr. Edward Rochester, whose love for the headstrong and spirited Jane Eyre (Wasikowska) grows after they meet one day when she startles his horse on the misty grounds of Thornfield Hall. During filming of the scene, cast and crew were treated to a firsthand view of the Fassbender Effect, which Wasikowska delightfully related during her Jane Eyre press tour.
"Michael had a very... huge effect on any horse he got on," Wasikowska recalled. "There was a horse on the third day of filming [when] we were shooting the scene where Jane and Rochester meet, and every time Michael hopped on the horse it got a huge erection. And he'd get off and they'd run the poor thing around the block to try to make it go away, and he'd hop on it again and it would happen all over again, and they'd have to get him off and run it around."
"It happened in rehearsals and then on the day of shooting," she added with a smile. "So it was great."
Can you blame that poor horse for getting Fassbended? Neither can we. Check back for more the full Movieline Interview with Mia Wasikowska next Wednesday.