Oh No They Didn't: The Hunger Games Casting for 'Underfed' White Teenage Girls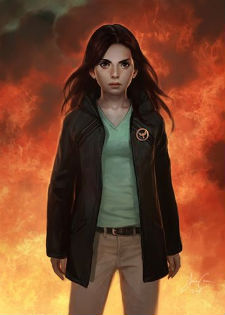 There's a little something wrong with the casting breakdown for Lionsgate's upcoming adaptation of Suzanne Collins' YA smash The Hunger Games. Or rather, a few little somethings: in a widely circulated casting call for the central part of Katniss, the fiercely independent young heroine of the dystopian survival trilogy, filmmakers are seeking girls who are Caucasian and look "underfed but strong." Is this fantasy franchise off to the wrong start?
A Wall Street Journal article detailing casting director Debra Zane's search for the perfect Katniss Everdeen -- the most sought-after role among young Hollywood actresses at the moment -- includes the four following criteria: The candidate must be between the ages of 15-20, be Caucasian, appear "underfed but strong," and be "naturally pretty underneath her tomboyishness."
The debate over Katniss's on-screen ethnicity (or lack thereof) has raged in the Hunger Games fan community ever since a film adaptation was announced, owing to author Collins' seemingly specific descriptions of the young heroine's ethnicity. Described as having dark hair, olive skin, and gray eyes (in contrast to her fair-haired mother and sister), Katniss is thought by some readers to be of Mediterranean, Latin, Asian, or mixed descent.
By the same token, Katniss's colorings could also suggest a brunette Caucasian girl, as in the novel's official marketing materials (above). Either way, it's fair to say that Collins' ambiguity was purposeful in this regard. So the question isn't, "Is Katniss white?" but "Could Katniss possibly be anything other than white?"
In casting only for Caucasian performers, the filmmakers seem to close the door on that possibility. But as in the racebending issue surrounding last year's Avatar: The Last Airbender (a controversy unlikely to continue unless sequels follow, which they won't), is that move warranted by the material or simply another case of Hollywood whitewashing? There aren't many good reasons for excluding non-white performers from consideration based on Collins' books and characters, aside from the desire to appeal to the dominant paradigm in the film's marketing materials. If Collins is on board with this and has any argument in favor of the casting move, she should start explaining.
Still, it's unclear if the ethnic criterion applies to the 50 actresses who have already read in person for the role, or if the limitation is in place to filter results of Lionsgate's open casting call, which has garnered over 1600 resumes from unknowns according to the WSJ. Just based on the numbers, you'd think that Zane and director Gary Ross have given consideration to the dozen or so established young actresses who've been championed by fans, including Chloe Moretz, Oscar nominee Hailee Steinfeld, The Vampire Diaries' Malese Jow and The Twilight Saga's Jodelle Ferland - the latter two of whom would give Katniss a more ethnic feel. (Both Jow and Ferland made the shortlist for Movieline's Hunger Games casting gallery, but were omitted on the basis of Jow's age and Ferland's unproven action chops, respectively.)
Which brings us to the second troubling requirement in Lionsgate's casting breakdown, which specifically targets teenagers as young as 15 years old: What does it mean to look "underfed but strong," and does such wording send an unhealthy message out to the thousands of Katniss hopefuls dreaming of being plucked from obscurity for the part?
Alternate words that might have conveyed Katniss's small stature, which the books explain as the product of living on a limited food supply and having to hunt to provide for her family, include: Lean, petite, athletic, wiry. All physical traits, but considerably less suggestive than "underfed."
I mean, yes. It's called The Hunger Games. But does that mean its star has to look like she's been starving before the cameras roll? Sound off below, Mockingjays.