Nico Tortorella On Scream 4 Set Troubles and Learning to Love Joel Schumacher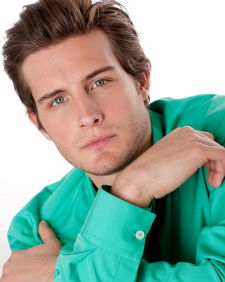 When Ghostface starts picking off teens and townsfolk again in April's Scream 4, expect 22-year-old Chicago native Nico Tortorella to land somewhere near the top of your list of potential killers. Tortorella, who once compared his character Trevor to Skeet Ulrich in the original, played coy with his character's true nature with Movieline but was refreshingly candid when it came to addressing widespread rumors of behind-the-scenes drama, as well as his close ties to director Joel Schumacher and the appeal of dueling YA properties Mortal Instruments and The Hunger Games.
But first things first: Despite his successes in the fashion world (he's currently contracted with Ford New York) Tortorella is not a model-turned-actor. He's been acting on stage since the age of 8, happened upon his professional modeling career by accident, and subsequently appeared on the short-lived CW series The Beautiful Life (playing, well, a male model). Despite having only a handful of credits under his belt, Tortorella's shown comic range as a recurring guest star on ABC Family's Make It or Break It and, following his turn in Wes Craven's Scream 4, next reunites with director Schumacher on the home invasion thriller Trespass opposite Nicolas Cage and Nicole Kidman.
Needless to say, Tortorella's committed to showing the world he's more than just a pretty face. He tells Movieline he was recently cast as a "super dark, emo-hipster artist/creative type" in The Lowenfish Party, "a Breakfast Club - meets - Can't Hardly Wait"-type film also rumored to star Glee's Kevin McHale, The Vampire Diaries' Michael Trevino, and Tortorella's rumored real-life girlfriend, Sara Paxton.
For all of the models-turned-actors out there in Hollywood, you were actually an actor first. Does your modeling background give people the wrong idea about you when you go out for roles?
Yeah, most interviews that I do say "model-turned-actor Nico Tortorella" and most of the press that comes about me is all "model-turned-actor" if they haven't talked to me first. And you know, it's fine. It's somewhat of a stigma; everyone thinks that a model can't act, but an actor can definitely model. But it's okay. I'm still pretty new and I feel like once I'm exposed a little bit more the truth will be there.
How did you come to modeling in the first place?
That was totally on a whim. I went to art school in Chicago for a year at Columbia College. I had this whole master plan of getting into sustainable development and green architecture and construction, so I wanted to go to business school and then get my masters in construction and development. But that whole thing kind of flopped and crumbled on itself because coming from art school, transferring to the business program at Loyola Marymount for a semester -- it was just completely not the right place for me at all. I went on my computer one day, I was living in Playa del Rey, I saw that Ford was having an open call... I walked into Ford that day and they offered me a four-year contract on the spot. Like, "Sign now." So I did. Since I was going to school I hadn't jumped into acting, and modeling was sort of just the first thing I went and did. But I always knew I was going to be out here. I was just kind of seeing which path I would take. Then I started acting right away.
You've played models twice before, in Joel Schumacher's Twelve and on the CW's The Beautiful Life. So how do you get beyond the stereotype of just playing pretty when you're going out for roles?
Well, I grow my beard out as much as I can. [Laughs] But if I don't have to go into an audition where I'm playing a high school kid, I will be scruffy and dressed down. Because a lot of the feedback I get is, "You're too pretty to play this role." Which is better than, I guess, you're not pretty enough to play this role. But as I get older I'm turning from, as cliché as it sounds, a boy to a man, and the man that I'm becoming is less pretty than the boy that I was.
You've got Scream 4 coming up. I heard your audition process was pretty lengthy, and at once point you had to go in front of the Weinsteins. Was that intimidating?
Relatively. I don't really get nervous in front of people. I kind of walk into every situation like I'm walking in to meet my peers, and they either like me or not. It was cool. They're super nice guys. Bob is hysterical, and his whole team works really hard. There's a work ethic that's unlike anything I've ever seen, and when I walked in I clicked with that energy. But it was definitely a long audition process. I auditioned five or six times, and at once point they told me that I was too tall, because I'm like 6'-6'1", and everyone else that was cast, between Hayden [Panettiere], Rory [Culkin], Emma [Roberts], and even Erik [Knudsen], everyone's under 5'5". I'm a foot taller than everyone else!
The Scream franchise has a strong self-awareness to it. What were the challenges of playing that multi-level, meta self-awareness, and how do you do it?
Good question. I think a lot of Wes' movies; if you go back to the first Last House on the Left, there's this human tone to it that makes everything more realistic. It was easier going into something like this than going into a new project that hasn't been developed, that hasn't had a tone throughout the series. I watched the first three, and having met Courteney [Cox] and David [Arquette] on set, there was definitely an energy that they were honing in on. Because of the subject matter and because we knew who the killer was going into it and had to start from the beginning and make it look like every single one of us could be the killer, I feel like you have to have the self-awareness. And at the same time, it's funny. It's not super intense all the time. There are moments of humor and satire that really make this project human.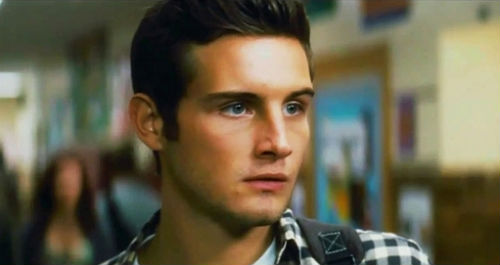 How would you describe your character, Trevor? So far we don't know much about him.
You don't know a lot about any of us, but I feel like from the trailer especially my character's the one kept secret the most. Trevor's the kid everyone loves to hate in high school. On a group level he's an asshole and he picks on people, but on a one-on-one level when you see him in his relationship he has a huge heart and just wants to love and be loved, and may hide all that in his walking life when he's being the bad guy.
You've compared your character to Skeet Ulrich's character in the first film, but you do know that everyone knows what he did in the first film, right? Are you trying to send us a secret message that you're really Ghostface?
I didn't say that. [Laughs] When I said that, I meant that it's set up that in the first movie there was Neve [Campbell], there was her boyfriend, and there was that whole storyline. The parallel that I have with Emma in the new movie, even certain scenes are set up a lot like the first movie. Granted, the end... I guess we'll all just have to wait and see what happens.
There were widely circulated reports of strife behind the scenes on Scream 4, between Kevin Williamson leaving and talk of re-shoots and Courteney and David separating shortly afterward. How much of that tension carried over to the set?
I mean... right when we sat down for the first table read, everyone knew there were issues going on with the script, everyone knew what was going on with Courteney and David, and it was there. But we're such a light group of people, all of us involved with this movie, and cast-wise we jumped into this and wanted to have a party and have a good time doing this. And I feel like that kind of overshadowed what was going on underneath, especially with relationships that were going on, and even the script. It was all good. We were here to learn and have
a good time and go along with the process. We had heard stories from the first three movies that were all the same, if not worse, than what was going on with this fourth movie. The original three had been through a lot more than we went through on this fourth movie. They just grandfathered us into it. They were like big brother and sister, like, "Listen, guys, this is all good." That being said over and over again was like, all right, cool. Let's keep going.
So there is a sense that you collectively banded together to charge through and get the job done.
We definitely did. I mean, the script was changing on a daily basis and we just had to do what we had to do.
Pages: 1 2