Nico Tortorella On Scream 4 Set Troubles and Learning to Love Joel Schumacher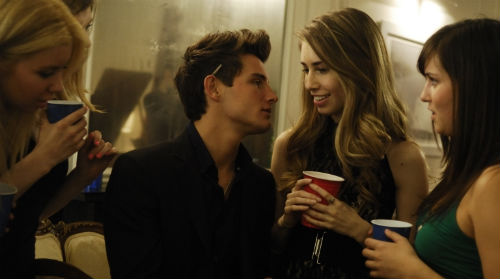 Now, there happen to be three young actors in Scream 4, yourself included, who also appeared in Twelve. Was that a happy coincidence?
Yeah! Completely coincidental. I was the last one of the three to be cast -- Emma [Roberts] and Rory [Culkin] were cast. And it's funny; Joel Schumacher even called Wes after the two of them had been cast, saying "Nico can do this. He has what it takes to kill this role." It was a coincidence, but it totally works because our characters are so much different in Scream than in Twelve. And we all have different relationships with each other. Rory and Emma barely knew each other in Twelve; I don't think they even had a speaking line once together. And Emma and I just talked for a brief five seconds in the movie. But it worked. It was nice getting that family back together. I knew I was walking into a situation not completely blind.
What kind of rapport do you have with Joel that made him nudge Wes in your direction and cast you again in Trespass?
He's just such a sweetheart, and from the second we met we hit it off and understood where we were. He's such a good guy, and I kind of get his energy in a way. We had a blast working together; he just respected me and I respected him, and he's one of the funniest people I've ever met in my life. We've been in talks since I wrapped on Twelve and when I knew his new script was coming out he sent it to me. He said, "Listen, Nico -- there's not a huge role in this movie for you, and I keep casting you as the asshole, but there's this nice little role and if you'd like to play it I would be so blessed if you would be a part of it." I was like, "Joel, are you kidding? I would come and hold the boom for you during the shot if I had to. Tell me when and I'm there." He was like, "I just can't wait to cast you as a nice guy at some point!"
That's what every young actor probably hopes to find: a relationship with a director that they can build on.
And he's such an epic director who has been doing that for forever. I mean, look at his career. How many people he's started. He is the father of the Brat Pack. So many people, he's jump-started their career. I mean, he's the first director I ever worked with! I remember the first audition I went in on, it was just me and him and we were talking for an hour about sh*t that wasn't even in the movie! I never even auditioned for my role in Twelve -- I auditioned for Chace Crawford's role. Clearly they wanted to go another route for the role, but he called me and said, "Listen, Nico -- I love you and I want you to play this other role." I was like, "Yeah, absolutely. I don't even know what it is but sure, let's do it." There was just this immediate understanding of each other and I think that's what's going to carry us through a lot more movies, hopefully.
How would you describe your character in Trespass and how he fits into the story?
The whole movie takes place in this house that's been taken hostage, and the daughter is not in the house. She's at a party doing her thing for the first quarter of the movie and my storyline takes place there. Just trying to keep her, if you will. It's cool, he's a funny guy. He's not a whole lot different from my character in Twelve (pictured above).
Does that mean you didn't get to work with Nic & Nic?
I didn't! It's a shame, but just to be involved with a movie with them, knowing that my name will come up sometime after theirs does... [Laughs] We were all staying in the same hotel so I was introduced to him, but my stuff was the last to be shot and everyone was leaving as I was getting there.
Well, you can still clear this up for us: In what world does Nicolas Cage being married to Nicole Kidman make sense?
[Laughs] I don't know, but it just kind of does for me! Originally Nic was going back and forth between playing the good guy and the bad guy, and eventually he settled on the good guy and it makes total sense. The bad guys they have cast bring a different light to the situation. And I'm kind of excited to see Nicolas Cage as a good guy... and married to Nicole Kidman. Their daughter, Liana Liberato -- she's like 15 and she's way past her years, so professional and a great actress. She has a long career ahead of her, that one.
Now I have to Google her to see what the hypothetical lovechild of Nicolas Cage and Nicole Kidman might look like.
It's a good mix!
And that brings me to Make It or Break It, which I've become obsessed with. Your storyline reminds me of that great Gilmore Girls love triangle. So you are going to return and steal Emily back, right?
I don't know! The thing with that show is, I was the last one again to be cast. But they cast one too many series regulars and there wasn't enough room to fit in another series regular. Then I shot the pilot and they wanted to make me a series regular right off the bat, but then I got cast in The Beautiful Life on the CW and it was just a different scale of a show at the time. I went and I took that job, and then I booked Twelve, and I was still flying back to shoot Make It or Break It while I was shooting Twelve. I love the show and everyone involved with it. It's funny; every time Make It or Break It calls me to come back for a few episodes, I wind up booking a movie that starts shooting at exactly the same time. It happened with Twelve, it happened with Scream... but I'd love to go back. I love that show, Razor's hysterical, I can go sing a few more songs and try to win that love triangle back. But Johnny [Pacar]'s such a good guy. I may have to just let him take the reins on that one.
Your work on Make It or Break It really shows a different side of you.
It's fun -- it's goofy! I'm such a goofy person in life that I feel like on Make It or Break It I was allowed to explore that more than in the more serious roles that I've played. But I would love to be a character actor; that's definitely the plan. Razor's more like the guy I am in real life than anything else I've played.
I get that idea watching the show just based on the pure, joyful dorkiness that you radiate.
Exactly! I'm a huge dork.
Because you're in this age group where every young actor in Hollywood must be going out for the next superhero fantasy series that comes up, what big franchise role would you love to get?
Hmm. There's a lot of good stuff out there right now. Because of Twilight there are a lot of supernatural projects out there. But probably a new one. Something that hasn't been established as a comic book. New and different, a story that hasn't been told yet. And I don't know if I've read tha
t yet. [Pause] There is one franchise in particular that I'd love to be a part of right now, and it's called Mortal Instruments. So I'll say Mortal Instruments.
Have you talked to the Mortal Instruments filmmakers?
[Pause] Mmm-hmm.
The other franchise on the level of Mortal Instruments that seems to be floating around to every young actor is The Hunger Games adaptation.
Great book, great script. And that's up there too, but I think I may be a little bit too old to play Gale.
I think it'll depend on how young they go to cast Katniss. But Mortal Instruments and Hunger Games -- good answers.
I'm just looking for something good. I'm in for all of it.
Pages: 1 2