Oscar Index: It's All Over But the Crying
Oh, wow. Five months of awards coverage flies by so fast, but believe it: The ballots are in, the tuxes are tailored and the jewels are being rented as we speak. And the 2011 Academy Awards are right around the corner. This means, of course, one final trip to Movieline's Institute for the Advanced Study of Kudos Forensics for the final Oscar Index of the 2010-11 season. Get the Kleenex, and let's see what there is to see...
[Click the graphs for larger images]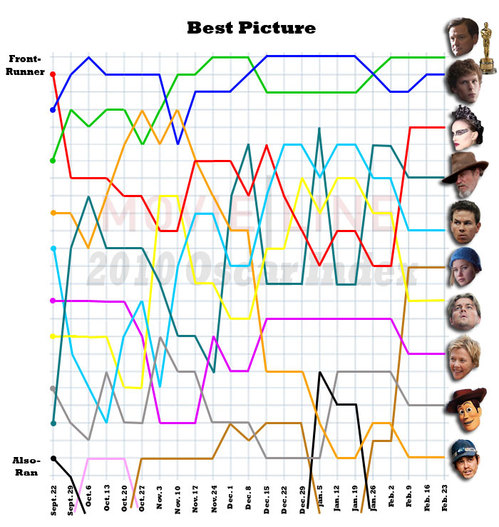 The Nominees:
1. The King's Speech
2. The Social Network
3. Black Swan
4. True Grit
5. The Fighter
6. Winter's Bone
7. Inception
8. The Kids Are All Right
9. Toy Story 3
10. 127 Hours
Notes: The most you can say about the last seven days of Oscar science is that a year that once seemed so preordained has plunged into a mess of last-minute hype, grandeur and not just a little frustration. The least you can say, meanwhile, is that even the most devastated TSN allies are almost all falling on the side of TKS for Best Picture, so at least we have this grudging certitude to work with. Experts at both Gold Derby and Gurus O' Gold have TKS running away with it, with Sasha Stone making the terrible reality of it all achingly clear: "There is no reason to assume it won't win. Except for that tiny needling truth that it isn't the best film of the 10."
There might be one reason it won't win, however: As Stone also notes, only A Place in the Sun and Traffic won Oscars for editing, screenplay and director while failing to win Best Picture. That's an intense stat made all the more potent by last weekend's Eddie Award for Best Feature Editing going to -- wait for it -- The Social Network. We could call that a kind of historical momentum, but then there is the continued progress of TKS in such high-profile venues as 60 Minutes, where, on the last weekend of voting, correspondent Scott Pelley had a heartfelt word with Colin Firth and showcased the original letters and diaries Lionel Logue kept from his relationship with King George VI. The integration of specific lines and details from the archives performs a minor counterbalance to folks like Christopher Hitchens, who loudly continued to rail against TKS's accuracy, motivation and point of view. And let's not forget this fun fact: No film about the U.K.'s royal family has ever won Best Picture.
Ultimately these are niggling factors, with the Oscar ballots in hand and the show four days away. But in the awards cosmos, where the idea of TKS having shared a set with a gay porn flick makes me not laugh but rather contemplate the calculus of imminent and unwanted publicity, it's hard not to believe everything counts. It's not hard to believe, however, it's too little too late for The Social Network and all its devotees.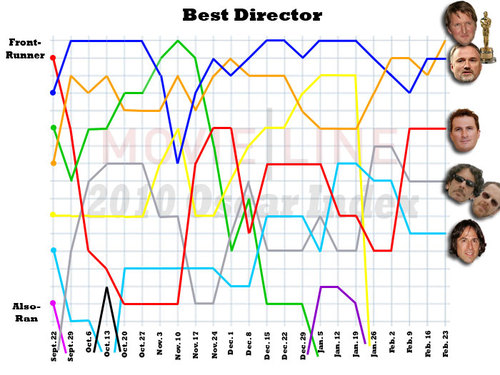 The Nominees:
1. Tom Hooper, The King's Speech
2. David Fincher, The Social Network
3. Darren Aronofsky, Black Swan
4. Joel and Ethan Coen, True Grit
5. David O. Russell, The Fighter
Notes: I have to go back to the earlier statistic about editing, directing, and screenwriting if we're to make any sense of the directors' race. Again, only twice has the film that won all three awards lost Best Picture. But what if TSN doesn't even get that far? Judging by The King's Speech's clean sweep at PGA, DGA and SAG, by what rationale are we actually believing Fincher -- who is nowhere to be found on the scene while shooting The Girl With the Dragon Tattoo -- is the front-runner here? A BAFTA Awards win? Really?
Really. Steve Pond, who actually filled out and mailed in a sample Academy ballot full of his ideal picks (including, in this category, Darren Aronofsky), explains:
Even if you disregard the fact that BAFTA splits picture and director far more often than the Oscars do, the move reinforced what I keep hearing from Academy voters. Many of them - probably even the majority, among ones I've talked to about this - fully expect that Fincher will win the Oscar for directing even while his Facebook flick loses Best Picture to the royal drama. [...] Remember: the picture and director ballots are counted differently now, and it's almost certain that The King's Speech is far too big a consensus movie to lose the top prize. So if Fincher wins here (I'm still on the fence about it), it'll be the closest thing his picture will have to a moment of Oscar glory.
A-ha! Still on the fence! Fence sitting was indeed a popular activity among the Oscar cognoscenti this week; Stone, as per custom, both predicted nominees that would win and selected others that she wanted to win, going with Hooper for the former and Fincher for the latter. Pete Hammond, who called the race for Fincher, acknowledged he'd been "vacillating" and echoed Pond's advisory that certain Academy members want to the "spread the wealth" among the year's most acclaimed films.
I don't know if I buy this; considering Hooper's relative visibility and TKS's unrelenting surge over the last month, I just can't see a split. It's all or nothing for this bad boy. Even Scott Feinberg's resident Academy-voting commentator refused to separate TSN and Fincher_ on his ballot, and yet another Academy member confessed taking The Fighter and David O. Russell. This kind of thing implies that if we're to accept the Academy's presumed methodological groupthink, they'll avoid a split where they can. And that means that if TKS is all-powerful in Picture, than Fincher should probably duck and cover in Director.