Quickly, Let's Name 50 Films That Can Never Be Remade and Save Their Souls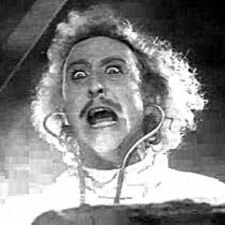 The dust has settled and it looks like they're really going to remake Logan's Run. With Ryan Gosling. Yep. You might remember that I mocked the original Logan's Run the other day. I was positive we didn't need to revisit it, actually! And yet, Logan Run's bastardization is a minor loss compared to what could be. The occasion calls for a rally: Let's name 50 movies that can't be remade for the following reasons: 1) They're perfect the way they are and belong in a time capsule; 2) they will seem grotesque in a 2011 update. Please add your own. Together, we can save some lives.
I've only chosen movies that I think are susceptible. The world knows you can't remake Gone With the Wind, right? Right. I won't list it. Add your own suggestions at the bottom. Feel free to print these out and cross them off as Hollywood finds their preserved corpses and eats them for a between-meals snack.
1. Grease
2. Working Girl
3. Young Frankenstein
4. National Lampoon's Vacation
5. Hoosiers
6. Ghostbusters
7. Thelma and Louise
8. Strangers on a Train
9. Vertigo
10. Notorious
11. The Lady Eve (I've decided this doesn't count.)
12. Some Like It Hot
13. The Goonies
14. Saturday Night Fever
15. Aladdin
16. The Adventures of Priscilla, Queen of the Desert
17. Clueless
18. Scream (It's about the only horror movie that hasn't been remade yet. You may make your Candyman argument elsewhere.)
19. Victor/Victoria
20. The King of Comedy
21. The Rocky Horror Picture Show (Ryan Murphy, hear this.)
22. Dirty Dancing
23. Tootsie
24. Witness for the Prosecution (I've decided this doesn't count.)
25. Airplane!
26. Desperately Seeking Susan
27. Cool Hand Luke
28. Teenage Mutant Ninja Turtles
29. Heathers (We can stop this.)
30. Weird Science
31. Rudy
32. High Noon (Haha. This.)
33. Network
34. They Shoot Horses, Don't They?
35. Who's Afraid of Virginia Woolf?
36. A League of Their Own
37. Top Gun
38. Paper Moon
39. Ordinary People
40. Animal House
41. Terms of Endearment
42. Clue (That Gore Verbinski version seems like it won't be based on the original.)
43. The Breakfast Club
44. Ferris Bueller's Day Off
45. Stand By Me
46. Rosemary's Baby (Sit down, Michael Bay.)
47. Chinatown
48. Laura
49. Bullets Over Broadway
50. Mrs. Doubtfire
51. What the hell. Gone with the Wind.