Oscar Index: OK, Everyone, Just Freaking Calm Down About The King's Speech
Hoo boy. A dramatic and turbulent week in awardsdom made for some long hours at Movieline's Institute for Kudos Forensics. Our researchers persevered, however, yielding the latest edition of Oscar Index for your review, enjoyment and/or comment. No wagering, though!
[Click the graphs for larger images]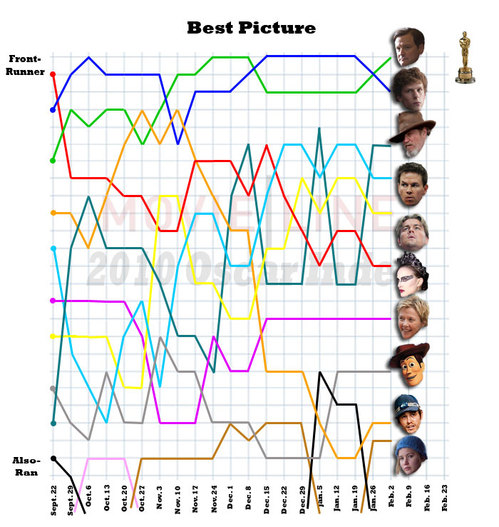 The Nominees:
1. The King's Speech
2. The Social Network
3. True Grit
4. The Fighter
5. Inception
6. Black Swan
7. The Kids Are All Right
8. Toy Story 3
9. 127 Hours
10. Winter's Bone
Notes: Where to begin? Let's see. How about here: Everybody chill the f*ck out about The King's Speech, already. Sheesh. I remember a couple weeks ago when Sasha Stone elaborated on The Social Network's unprecedented run through the critics' awards; she and I and the rest of the punditocracy all but handed TSN its Oscar laurels, certain that its lead was insurmountable. Then came the nominations -- 12 to 8, advantage TKS -- and mild queasiness set in. But no reversals! Then came Stone with The Call: "I am planning on predicting that Tom Hooper wins the DGA award on Saturday." Kristopher Tapley followed a few days later. They didn't go totally out on a limb; after all, the PGA Awards had already anointed TKS Best Picture, and the Academy-guilds overlap suggested a Hooper upset over Fincher would be surprising but not necessarily mindblowing.
I digress (more on director in a bit), but the takeaway remains the same as last week: It's a long race, and it's closer than you think. Stuff you never thought could happen can happen and will happen. Some folks on the beat are far more experienced and educated than others, but anyone who insists he or she has the answer is, in reality, the most clueless one in the bunch. Of course acknowledging that fallibility or vulnerability might look or feel like some kind of brand-tarnishing weakness, but consider the alternative: Mass panic, as evidenced in the torrent of shock that washed away so much of peaceful, quiet Oscar Village after The King's Speech's DGA and SAG two-fer last weekend. Jeffrey Wells descended into savagery ("Devotees of eternal cinematic Movie Godz justice are tonight contemplating the drinking of hemlock, the inhaling of lethal gas and leaping from high cliffs."), while sad, sad Tom O'Neil stood looking at the soggy ruins of his little pundit castle and dabbed a single tear before the SAGs: "Attention all Oscarologists: Time to go back to your laboratories and concoct some new theories. Just when you thought you'd finally figured out those crazy Oscar voters, they fooled you again."
Excuse me? Oscar voters haven't voted! The aforementioned guild overlap aside, there are literally hundreds of thousands fewer actors and directors in the Academy than in those guilds combined, and they don't even have ballots in their mailboxes yet! And still, allll the experts who so resolutely looked forward to a TSN victory have jumped ship (well, many of them, anyway) and all but renounced their faith in the Oscar process as whole. "I said on my last Oscar Poker podcast that if Tom Hooper won the DGA I would quit," wrote Stone, who foresaw the Hooper win in the first place. "The reason being, not out of disgust -- it is their choice, their club, their statuette. But because it would show that I learned absolutely nothing in the 11 years I've been doing this website. And that is absolutely true: I know nothing." Oy vey. Then this from Scott Feinberg: "I now have just as little cause to project The Social Network as others did when they were projecting The King's Speech before this past week's developments." Exactly! If their pick was good enough for them to stick with despite everything then, why isn't TSN good enough for the rest of us to stick with now?
In the end, this isn't the time to gloat if you had King's Speech and pout if you had Social Network. And it isn't the time to wonder if it's 1941 or 1956 all over again. It's the time to regroup and focus on the only award that really matters, if only because it's one for which we scan all this data and conjure so many historical flukes to begin with. In the scenario where The Social Network wins Best Picture and Director, nothing about the current awards landscape -- other than a gaggle of so-called experts desperately trying to land on the right side of history as opposed to influencing it -- is anything we haven't seen before. Stone apparently would disagree -- "This is the first film in Oscar history to win that many [preliminary] awards and not win Best Picture" -- but again, no one has voted for anything yet, and we have no idea if or how the Hooper/TKS guild showing might galvanize an Academy that has shown increasingly arty, sophisticated tastes over the last four or five years.
So float all the theories you want about Speech's ascendancy, sling all the mud you can at the new front-runner, and indulge all the hindsight you can muster. You may be right! But if this week has shown us anything, it's that you never know. Either way, everyone -- deep breaths! We've got three more weeks of this crap.