Oscar Index: And the Nominees Are...*
Er, make that "will be..." Maybe. Movieline's Center for the Advanced Study of Kudos Forensics has been working overtime to break down the last week of contention for Academy Award nominations, finding the most intense activity among actors on bubbles. The researchers' findings follow; report your own in the comments...
[Click the graphs for larger images]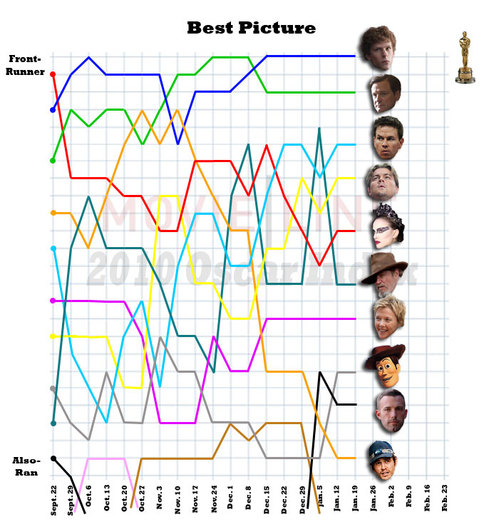 The Leading 10:
1. The Social Network
2. The King's Speech
3. The Fighter
4. Inception
5. Black Swan
6. True Grit
7. The Kids Are All Right
8. Toy Story 3
9. The Town
10. 127 Hours
Outsiders: Blue Valentine; Winter's Bone; Rabbit Hole; Shutter Island
Notes: So with maybe one exception -- Blue Valentine sneaking in to overtake 127 Hours -- this is how your Best Picture Class of '11 appears to be shaping up. Screw the Golden Globe/Critics Choice Awards pseudo-bellwethers and the more category-specific implications of the BAFTA nominations: The top half of these nominees are virtually guaranteed thanks to the historically precise recognition of the American Cinema Editors Eddie nominations, and as Sasha Stone notes, The Social Network is on a literally unprecedented tear at the front of the pack:
I have measured these important groups of early voting bodies: National Board of Review, Los Angeles Film Critics, New York Film Critics, National Society of Film Critics, Southeastern Film Critics, Critics Choice, Golden Globe - I am not even counting Chicago, Dallas Fort Worth, Boston, Florida and other groups that have been around a while. What I discovered is this: only one film has won them all: The Social Network. [...] The only Best Picture winner to win with virtually no awards for Best Picture prior to the Oscars would be Crash.
Now would be the time for those few remaining King's Speech loyalists to get to work, right? Wrong: While Dave Karger still has Speech as his favorite into the nominations, even he acknowledges the film's precipitous fade: "My No. 1 Best Picture pick is hanging by a thread." Other pundits, meanwhile, marveled at both the finesse (Scott Rudin and Aaron Sorkin softening Mark Zuckerberg's "unlikable" image during their Golden Globes speeches) and brute force (Sony has reportedly spent an also-unprecedented $5 million to date on TSN's Oscar campaign) of the Social Network juggernaut. Even Harvey Weinstein seemed resigned, maybe even adaptive to the changing Oscar tide, telling the NYT: "[A]s we're learning from the Academy, Hurt Locker is suited for Academy taste. Inglorious Basterds - you would never 10 years ago say, that's going to get eight Academy nominations. So I think today that stereotype of the classic movie is gone." There's always the chance Harvey's just urging the Academy to prove him wrong, but judging by the staggering TSN showing, I'll take him at face value for now.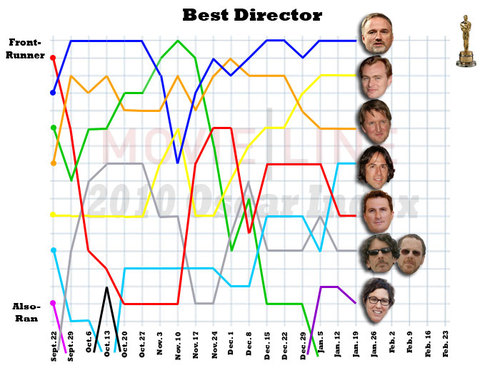 The Leading 5:
1. David Fincher, The Social Network
2. Christopher Nolan, Inception
3. Tom Hooper, The King's Speech
4. David O. Russell, The Fighter
5. Darren Aronofsky, Black Swan
Outsiders: Joel and Ethan Coen, True Grit; Lisa Cholodenko, The Kids Are All Right; Danny Boyle, 127 Hours; Mike Leigh, Another Year
Notes: OK, now here is where I would (and, er, did) probably point out a related clue from the BAFTA nominations: The Coens are probably screwed. We all pretty much knew this after the DGA nominations were announced, but tack on the voter overlap between US and UK Academies and... well, yeah. And again, True Grit didn't make the cut (ha!) with the ACE voters, either -- and these guys are their own editors. Tough luck, fellas; at least Scott Feinberg's got your back.
Oh, and a bonus: How classic is David Fincher, casually praising Black Swan last week between bites of french fries and arguments that "more money should be spent on movies, and less on marketing." And then there was this, from the same event: "I have a fueled Citation on the runway at Teterboro. As soon as the first snowflake hits me in the eye, I'm leaving. I have a big day tomorrow." Dude, you have a big day for next month and a freaking half. Keep that Citation fueled.