20 Questions About Last Night's VMAs...Answered!
America was faced with a very important decision last night: Watch Don Draper swim laps at the YMCA while delivering a haunting inner monologue about life, or tune into the 2010 Video Music Awards. If you have any self-respect, you chose the former viewing option, but a sea of you masochistic little monsters probably parked your television on MTV to see Chelsea Handler unleash one untrained white dove from her nether region. Because that was the least confounding moment arising from the Nokia Theater last night, Movieline has decided to answer some of the other questions that you undoubtedly shouted at your television during last night's 2010 VMAs.
*As always, feel free to submit your own questions in the comment section below.
1. During her monologue, Chelsea Handler said that she was the first woman to host the VMAs in 16 years. Did she forget Sarah Silverman?
No, Sarah Silverman performed the opening monologue three years ago but was not actually the host. Roseanne Barr was the last female VMA MC in 1994.
2. Who was the DJ with the Mickey Mouse ears?
That was house artist and Grammy Award-nominated producer deadmau5 (pronounced Dead Mouse).
3. Was Lindsay Lohan's cameo during the VMAs pre-taped opening everything that Michael Lohan had hoped for?
Yes! "Tonight, my prayers were met," Michael Lohan told Us. "On the MTV Music Awards, I saw, heard and KNOW that Lindsay IS back and I believe she will be better than ever."
4. But will her tongue-in-cheek performance help her get more work?
Probably not.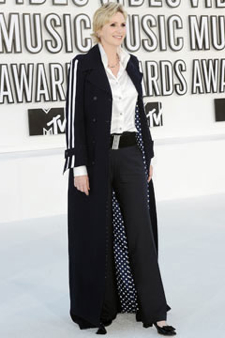 5. What the f*ck was Jane Lynch wearing?
According to Stylist.com, "the comedienne paired a floor-length trench-style cape boasting Adidas-style stripes and polka-dot lining with a silky white blouse, dark trousers, and a belt with a striped buckle."
6. Was Justin Bieber actually singing during his "Smile/Baby/Somebody to Love" medley?
Absolutely not.
7. Did any artists actually sing last night?
A few, including Eminem and Florence Welch of Florence and the Machines.
8. Can you translate what Sofia Vergara said onstage last night while presenting Eminem with the Best Male Video award?
No.
9. Was anybody else embarrassed when Justin Bieber could not figure out how to get onstage to accept his Best New Artist award?
Yes.
10. Speaking of Justin Bieber, did he take a date to the show?
Biebs walked the red carpet with his "mentor" Usher. (Bieber is signed to Usher's RBMG label).
11. Were people still talking about the Taylor-Kanye Incident of 2009 last night?
Yes. Chelsea Handler referenced it during her monologue with a lackluster demonstration on how to fend off a VMA acceptance speech hijacker. Taylor Swift performed a new song "Innocent," which was written about the artist ("Everyone of us has messed up, too ... I hope you remember today is never too late to be brand new"). Later, Kanye West toasted "all the douche bags" during a performance of "Runaway."
12. Why didn't anyone boo Kanye West?
Us Weekly reports that the Nokia Theater audience was booing the artist, who last year interrupted Taylor Swift's acceptance speech, and that "show runners quickly defused the situation by ushering a crowd of friendlier fans to drown out the boos with cheers."
13. Who was the best-dressed Jersey Shore cast member?
Pauly D, hands down.
Pages: 1 2