The Verge: Hutch Dano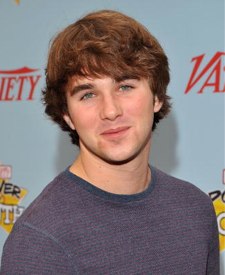 Some people decide to pursue acting on a whim -- maybe they saw a performance that resonated with them, or they're looking for a way to express themselves. For Hutch Dano, it was in his blood.
Dano comes from a long line of actors that stretches as far back as his great-grandmother, Ziegfeld Girl and film star Virginia Bruce, and also includes his grandfather, Royal Dano, and both his parents. In a way, then, it's no surprise that Hutch found so much success before his eighteenth birthday -- he's the lead on the Disney hit Zeke and Luther and stars opposite Selena Gomez in Ramona and Beezus, the film adaptation of Beverly Cleary's novels -- though as he told Movieline, it wasn't without a few bumps along the way.
This is your first film. How did you end up choosing this movie, or did it choose you?
I was just wrapping up the first season of Zeke and Luther and my agent called me with an audition for this movie called Ramona and Beezus. I heard I'd be playing Henry Huggins, and I pretty much Google anything like that, especially if it's based on a book, so I kind of researched the plot. I really enjoyed the script and I wanted to go after it, so I auditioned over a couple of months a good four or five times, and I finally booked it.
You didn't get some sort of Disney edge because Selena was already in the movie?
You know, it made me feel like there was a chance I could book it. You just never know, because when you're on Disney and shooting a show, it demands a lot -- which is a great thing, because Disney is such a great start and it really helps you hone your talent at the start of your career, but at the same time, it also makes it a little difficult to book other roles. I was happy because I felt like I had a better shot at booking the role just knowing that someone as big as Selena had already booked it.
Was it nice to go from a demanding TV show where you're one of the title characters to a film like Ramona and Beezus, where you're one of the members of an ensemble and you have a lot more time to relax?
You know, it's weird. It's one of those things where you have to transition yourself, because the work on Zeke and Luther is so constant -- it's twelve or thirteen-hour days of constant shooting -- and then you go from that to Ramona and Beezus, where you might have a few scenes but they're spaced out and you have downtime. I was kind of trying to find things to do with myself that were productive, and I'd never had to figure that out before because I'd only shot Zeke and Luther. It was a great learning experience to figure out how to use your time wisely.
And you're probably shooting a zillion pages a day on Zeke and Luther, right?
Yeah, between eight to ten pages a day.
Wow.
Yeah, it's a lot! [Laughs]
Had you read the books? Henry actually had his own series before Beverly Cleary started writing the Beezus and Ramona books.
He did. I read the very first one, Henry Huggins, and the funny thing is that I was trying to find the Ramona and Beezus book the film was based on, but it's called Beezus and Ramona in the book series. Google doesn't figure that out for you, unfortunately. Eventually I got to Vancouver and I was talking to Selena before we started shooting and I was like, "Is there just no way I can find the Ramona and Beezus book?" And she's like, "You mean Beezus and Ramona. The names are switched. Go on Amazon right now." I found the right book, and I didn't exactly feel like the smartest guy. [Laughs]
Pages: 1 2